Meetups for Book Worms
Campus book clubs gather throughout the academic year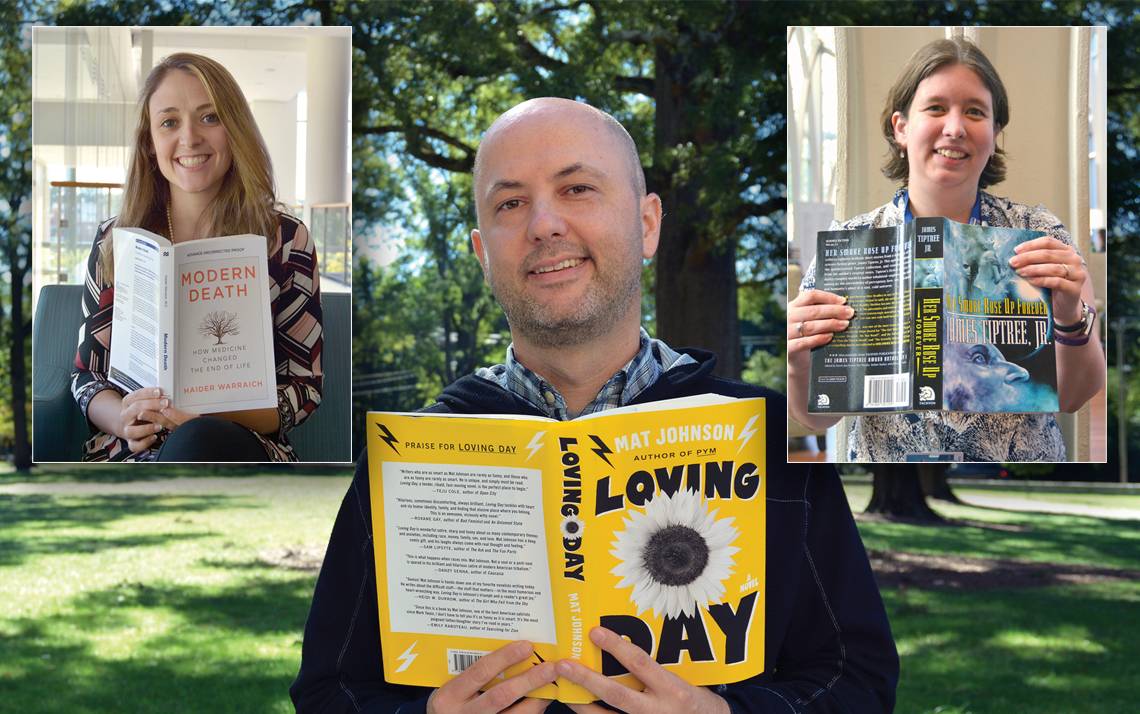 A discussion of the plot was underway in Bostock Library, where Low Maintenance Book Club members were investigating a murder mystery.
Virginia Webb and other readers had finished Sir Arthur Conan Doyle's first Sherlock Holmes story, "A Study in Scarlet," and were examining Doyle's influence on the crime drama genre over finger sandwiches and Earl Gray tea.
"It was fun to revisit the book, and many of the people attended because they loved Sherlock years ago," said Webb, a staff specialist with the Duke Cancer Institute. "It was like being reacquainted with a friend you haven't seen for a long time, and it was entertaining to be with people who also enjoyed the visit."
The Low Maintenance Book Club is one of about a dozen known campus groups that get together to discuss everything from literature to medical nonfiction.
Crack open a book and continue learning by joining (or starting) a group:
Low Maintenance Book Club
The group organized by Duke Libraries meets two or three times a semester and reflects on quick reads from mysteries to science fiction.
"We've deliberately made it so people don't have to read an 800-page book," said Arianne Hartsell-Gundy, Low Maintenance Book Club's organizer and head librarian of the Duke University Libraries Humanities Section.
The group is open to Duke community members and gathers in the Edge on the first floor of Bostock. Learn more.
Department of Medicine Book Club
Every three months, medical faculty and others meet in the Searle Center faculty lounge and bond over a book and a potluck.
In March, the book club will read "Modern Death: How Medicine Changed the End of Life" and hold a conversation with the author, who is Duke cardiology fellow Haider Warraich.
"Now that I've finished my residency and I'm faculty, it's nice to have this separate venue to get to know people in a much more informal way," said Dr. Laura Caputo, a medical instructor with the Department of Medicine and who leads the book club.
The group is open to the Duke community. Contact Caputo at laura.caputo@duke.edu to get on the email list.
Start a Book Club
The Kenan Institute for Ethics at Duke offers $500 grants to departments that want to form a staff book club. Kenan has funded 10 book clubs, from the Department of Political Science to the Franklin Humanities Institute.
Paige Vinson, assistant director for Duke's International House, received a grant in 2015, and her group has used the money to buy books and lunch for monthly discussions.
"The conversations get so rich and so meaningful," Vinson said. "Having more intellectual conversations with my colleagues, sharing our own personal experiences … is really a gift."