PUBLISHED
How Duke Students Welcomed the First Members of #Duke2021
Duke student social media team helped celebrate the moment with digital messages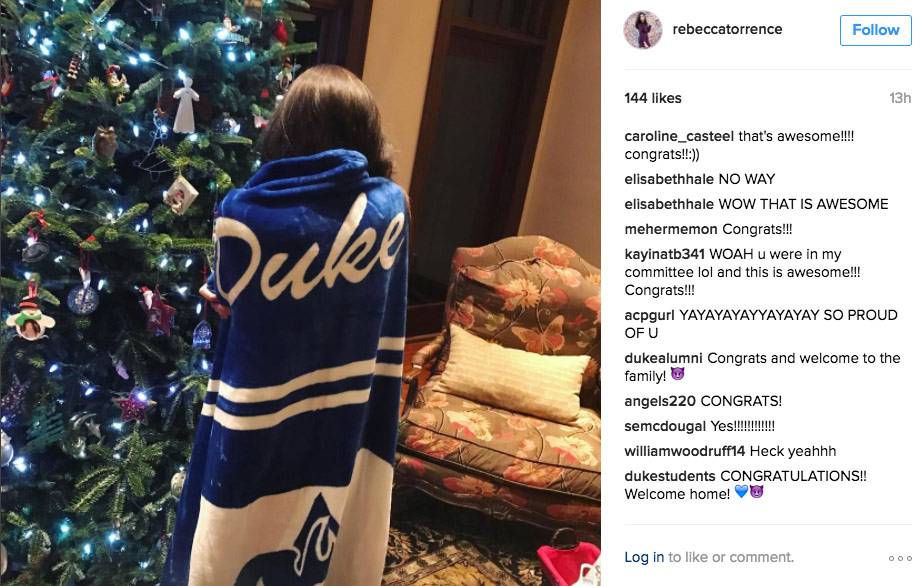 For the 861 student applicants who got good news about their admission to Duke University Wednesday night, the acceptance notice was just the beginning of the welcome they received.
For the Devil's Advocates, a Duke student social media team working with the Office of News and Communications, the notices were a highlight of weeks of work to create social media graphics and digital swag and to electronically greet the students.
Here's a replay of how last night played out: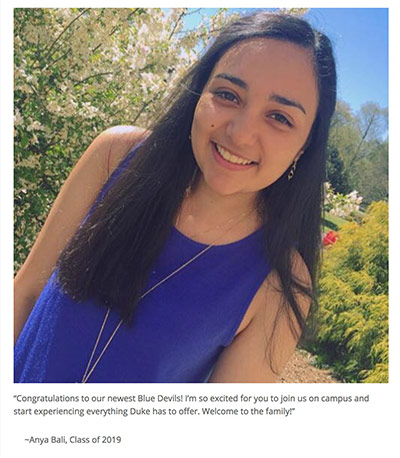 PREPARATION
The Advocates oversee @DukeStudents accounts on Facebook, Twitter, Instagram, tumblr, and Snapchat. When the Early Decision notices went live online at 7 p.m. Wednesday, the team was ready with personal greetings to the first acceptances of the Class of 2021.
Most of the greetings carried best wishes, but there was some early advice as well:
"When you arrive, make sure to talk to those around you; their life stories may be eerily similar or wildly different, and each person you come across will have something valuable to teach you. Keep your ears and heart open, and you'll learn just as much from them as you will in class." Jair Oballe, Class of 2019
The Advocates helped the Class of 2021 celebrate their news with a Spotify "Happy Dance" playlist around the theme of admitted students being "The One," a playlist that had no problem fitting in Orleans and Olivia Newton-John as well as more contemporary singers.
Leading up to 7 p.m., current Duke students shared words of encouragement and their own memories:
I remember exactly where I was and what I was doing when I found it. Relish this moment, y'all. You've done an amazing thing. #Duke2021

— Cody Parrott (@cparrottSQUAWK) December 14, 2016
Welcome #Duke2021. Enjoy your freedom while you can. When you come please bring food and more caffeine.

— Uwz... (@Mizz_Uwa) December 14, 2016
At 7 PM
When the admissions notices went live online at 7 p.m., Twitter was immediately filled with admitted students sharing their good news and posting photographs of their letter of admission (with their addresses blacked out). The first admitted student to tweet with the hashtag #Duke2021 was Michael Castro.
And the letter said … "Congratulations! Duke University is now your university." Officially, and happily, a Blue Devil! #Duke2021

— Michael Castro (@castromike_) December 14, 2016


The @DukeStudents Twitter, Instagram and Snapchat accounts immediately started sending congratulations and welcome messages to admitted students.
THE FIRST ACCEPTANCE!! Welcome to #Duke2021 and the #DukeFamily Michael!!!! https://t.co/DcC6uFyQ5Z

— DukeStudents (@DukeStudents) December 15, 2016
THE REST OF THE EVENING
Soon after the Class of 2021 started the celebration, parents, siblings and Dukies joined in:
I wish I could be admitted to Duke again just to get all of the #Duke2021 love from @DukeStudents

— Matthew T. King (@longlivethematt) December 15, 2016
It's awesome that @DukeU is so welcoming, engaged with, and excited for its new students. Congrats to the class of #Duke2021! #DukeFam

— Chip LeDuff (@ChipLeDuff) December 15, 2016
Dean of Undergraduate Admissions Christoph Guttentag tweeted: "Loving these #duke2021 tweets. Congrats to the first Blue Devils of 2017!" At one point, #Duke2021 was trending on Twitter in Durham.
To wrap the celebration up, the Devil's Advocates ended the evening with this tweet: