Winning Off the Field: Athletics' 2,500 Volunteer Hours
Staff helps Duke student-athletes change local communities through service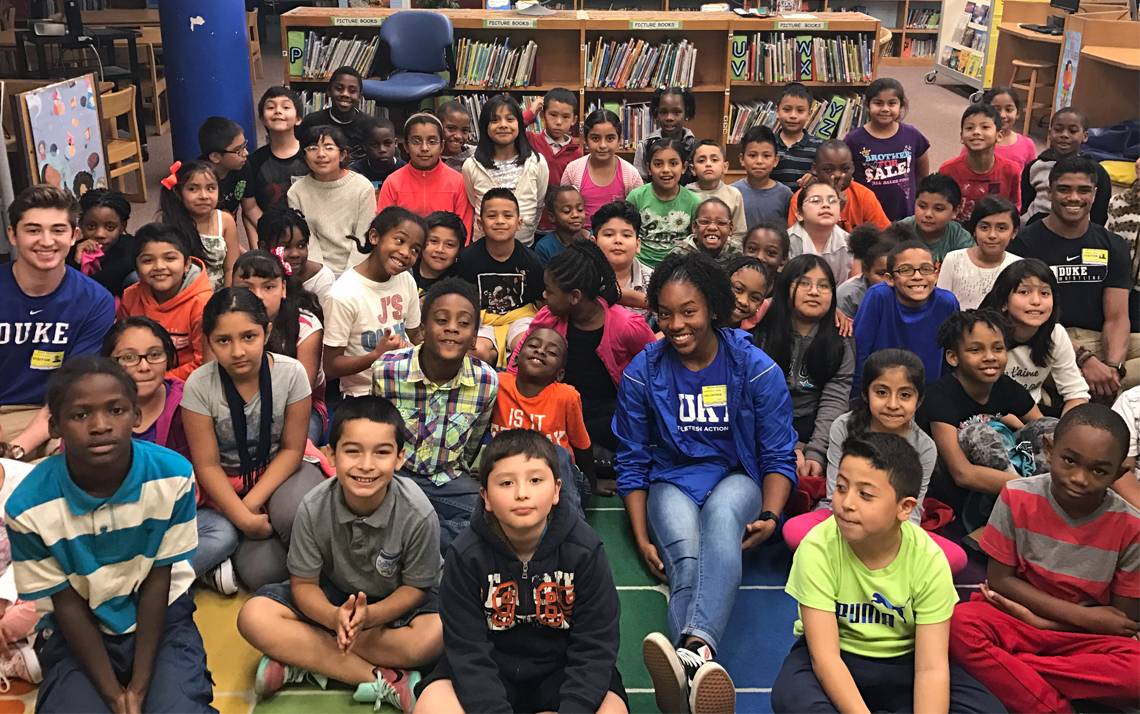 The holiday season may be the time most get active in giving back to the local community, but for Duke Athletics' employees Tony Sales and William Wright, it's a year-round endeavor.
Thanks to the work of the pair, hundreds of Duke student-athletes representing 27 varsity sports share about 2,500 hours annually of community service. Coordinating with coaches and players, Sales and Wright work behind the scenes to set up opportunities that are meant to help communities and the teams in creating lasting memories and stronger bonds between residents, fans and players.
"You can see the excitement kids and community members have to interact with our student-athletes," said Wright, student-athlete development coordinator with Duke Athletics. "They represent the best of college athletics and I get joy out of seeing younger generations sharing time with them and aspiring to be the same."
Over the course of each academic year, more than 600 student-athletes from all of Duke's teams take part in about 150 total service events. Activities range from "Read with the Blue Devils," in which players visit Durham schools to share stories with third and fourth graders, to wellness programming. In 2016, teams began volunteering with Bull City Fit, partnering student-athletes with youth to teach about the importance of a healthy and active lifestyle. Other events have included "college appreciation" meetings at local high schools, where Duke student-athletes talk to teens about the importance of college and encourage them to apply to further their education.
In each case, Sales and Wright will first meet with coaches or players to discuss potential service opportunities, and then coordinate with local groups to bring the ideas to fruition. On a monthly basis, that means ensuring a team is visiting Durham's Ronald McDonald House, but it also entails on-call help for new programming, too.
At the start of this school year, the baseball coaching staff, led by head coach Chris Pollard, approached Sales and Wright about making November an entire month of service, taking time each week leading up to Thanksgiving to volunteer. The idea built upon the team's 2015-16 year, in which the baseball team received an ACC Service Award for its commitment to community service. Duke baseball does about 10 volunteer activities every fall semester, coordinated in partnership with Sales and Wright, who make phone calls, send emails and hold meetings to make the activities happen.

Duke baseball players Graeme Stinson, left and Matt Mervis, right, are part a team that has been recognized by the ACC for its commitment to community service. This fall, they welcomed local elementary students to campus.
For its newest effort this month, the baseball team cooked and served meals at Ronald McDonald House and visited families at Duke Children's Hospital and Health Center. The baseball team also spent time with members of Cary's Miracle League of the Triangle, a local non-profit that helps children with special needs play baseball.
"We spend a lot of time focusing on ourselves, whether it's training or academics, so it's important to develop outside those confines," Pollard said. "It helps us build a bond with the community."
One connection that stands out the most to redshirt junior pitcher James Ziemba is a friendship with Diego, an 8-year old Durham boy he met at the Duke Children's Hospital. The pair met two years ago after Diego was diagnosed with kidney cancer. Diego has since spent time with the team at practices, games and sees Ziemba during occasional visits to the hospital.
This summer, Ziemba wandered campus with Diego as they played Pokémon Go, the popular smartphone-based game.
"Being able to connect with Diego and his mother is something that I won't forget for the rest of my life," Ziemba said. "When we have a tough day of conditioning or we get a bad grade on a test, these kinds of experiences puts everything into perspective."
Throughout the rest of the school year, Sales and Wright will continue to set up programming for teams, including weekly visits to Urban Ministries to serve food to the economically disadvantaged and homeless. Thanksgiving and Christmas will mark the ninth year teams participate in Project Share, sponsoring local families with food and presents to celebrate the holidays.
"We all play an important leadership role in civic engagement," said Sales, assistant director of athletics/student-athlete external affairs. "Our ability to help the community is something that benefits all of us and helps our student-athletes become better leaders."