Duke in Pics: Commemorating Veterans Day
Duke community and others gather as part of annual campus event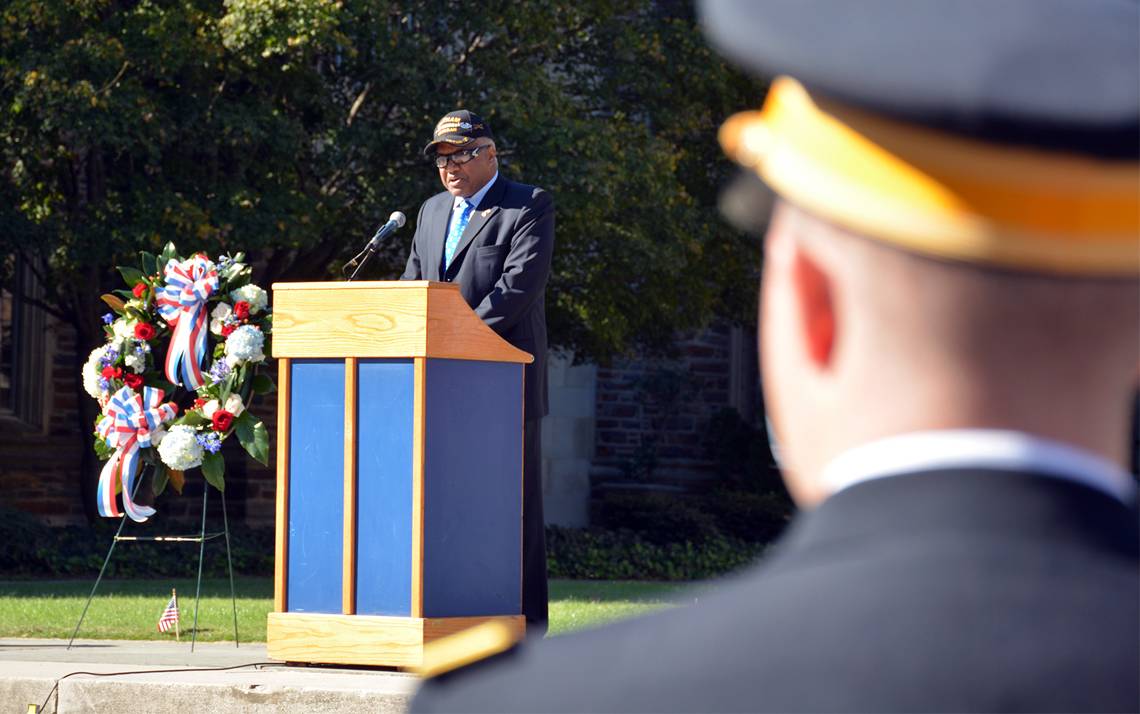 More than 100 Duke community members, local residents and veterans came together outside Duke University Chapel Nov. 11 as part of the annual Veterans Day commemoration service.
Sponsored by Duke Human Resources, the event featured a speech by Phail Wynn Jr., vice president of the Office of Durham and Regional Affairs who served six years as an officer in the U.S. Army, including a combat tour in Vietnam. Seen above, Wynn spoke to the crowd about the historical importance of the U.S. Armed Forces and Veterans Day itself, expressing thanks to those who have served and continue to serve.
"I have eternal respect and gratitude for all veterans throughout the history of our nation who have sacrificed being away from home and family, and in many cases, made the ultimate sacrifice in order to fulfill their patriotic duty to preserve freedom and protect the United States of America," he said. "And this brings to mind a saying that we had in the Vietnam War era, and that saying was, 'All gave some, but some gave all.'"
Wynn began his military career in 1970, when he was assigned as a platoon leader with the 4th Battalion, 68th Armor, the only airborne tank battalion in the world at the time, in the 82nd Airborne Division at Fort Bragg. His platoon of 20 crewmembers was in charge of five M551 Sheridan light tanks, which weighed about 17 tons apiece, which they would drop from aircraft.
He was sent in August 1970 to Vietnam, where he led the 1st Squadron, 1st Calvary "Black Hawks" during his one-year deployment and then served with Special Forces at Fort Bragg's John F. Kennedy Special Warfare Center and School. 
"Phail's leadership, service and sacrifice for others is what distinguishes him and those like him," said Kyle Cavanaugh, vice president for administration, in his remarks at the event. "We are very proud to call him a veteran, but also very proud to call him a member of our community and I'm personally proud to call hail a friend."
Below, members of Duke's ROTC units display the flags of their respective branches.
During the ceremony, they accompanied Sterly Wilder, associate vice president for alumni affairs, as she lay a wreath at Duke's Memorial Wall alongside Duke Divinity School.
"Let us all work together as a global community to ensure that all future military service will be peacetime service," Wynn said.
To see more images from the ceremony, visit the Working@Duke Facebook page.
---