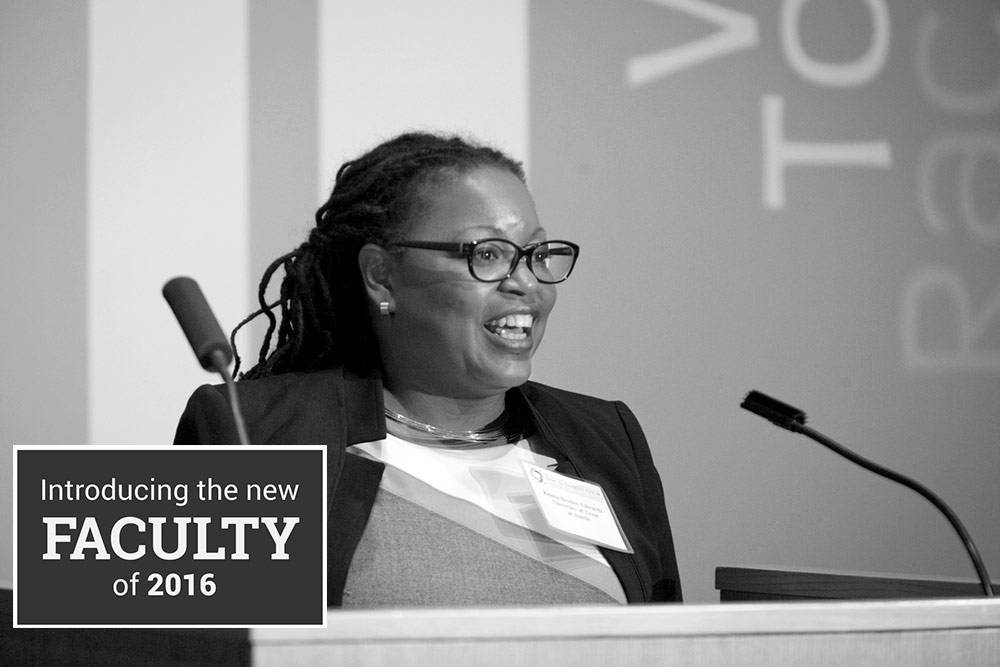 Keisha Bentley-Edwards excelled in high school, but it never felt right to her that many of her classmates weren't succeeding along with her. To Bentley-Edwards, too many people took the lower graduation rates of students of color as "normal."
That's a situation she will never accept.
"This just never seemed right. I was doing well academically, and went on to a good college, but I always felt like my academic success should not have been exceptional; I felt that it should have been the rule," Bentley-Edwards said.
This semester, Bentley-Edwards joined the Duke faculty from The University of Texas at Austin as director of the Health Equity Working Group for the Samuel DuBois Cook Center on Social Equity and as assistant professor of general internal medicine in the School of Medicine.
Her appointment marks the beginning of a campus-School of Medicine collaboration between the Cook Center and the Duke Center for Community and Population Health Improvement (CCPHI).
An expert on identity and adolescent psychological health, race-conscious research and interventions, and the interaction between race and child development, Bentley-Edwards will lead the Cook Center's and joins the CCPHI's efforts to understand and reduce health inequities, as well as to examine the relationship between exposure to racism and discrimination and health outcomes among members of stigmatized populations.
"We are thrilled to have a scholar of Dr. Bentley-Edwards' creativity, dedication, and productivity join us as the first faculty member hired jointly by the Cook Center and the School of Medicine," said Professor William A. ("Sandy") Darity Jr., founding director of the Samuel DuBois Cook Center.
Bentley-Edwards' research focuses on how race and racism stress influence social, physical and emotional health as well as academic outcomes throughout the lifespan, with an emphasis on childhood. Her work focuses on how cultural strengths can be used to minimize the negative outcomes related to bullying, racism stress, violence and aggression, and school/community stressors—research invigorated by Bentley-Edwards' work and personal experiences.
"I grew up in a working-class neighborhood, and it wasn't uncommon for people to have problems with diabetes or heart disease," Bentley-Edwards said. "Even when I was in high school, my parents and most of my friends' parents had problems with their blood pressure and things of that nature, even infant mortality.
"It wasn't until afterwards—while I was in college and started learning more about health and the statistics surrounding public health, and especially as I lived in different parts of the country—that I realized everyone isn't experiencing these types of health issues. This made me in interested in why, and in what can be done to improve health outcomes for people who come from disenfranchised communities."
A former Robert Wood Johnson Foundation New Connections Scholar, Bentley-Edwards has developed or co-developed measurements of racial/ethnic socialization, racial cohesion and same-race violence in the black community, and used these assessments to ascertain their influence on youth health and academic outcomes. She has also studied the racial socialization of white youth and its association with healthy interracial interactions, and the prevalence and context of bullying for ethnic minority youth.
Through a variety of initiatives, Bentley-Edwards has translated her research into programs to guide parents and practitioners in supporting the healthy functioning of black children and families.
"As I think about how my career has evolved, initially I wanted to focus on being a practitioner, but as I learned more about research and evidence-based practices and interventions, I felt like that was actually where I was needed more," Bentley-Edwards said.
She said she is thrilled to join a wide collection of Duke scholars, practitioners and community members from different disciplines who will study crucial health equity issues from an interdisciplinary perspective and work to develop viable solutions.
"Bentley-Edwards will provide critically needed expertise to address the social and life course determinants of health among disparity populations," said Ebony Boulware, CCPHI director. "Her arrival also represents an exciting opportunity to bridge the Cook DuBois Center with the School of Medicine through the Center for Population Health Improvement. We anticipate many exciting initiatives to come."
The appointment returns Bentley-Edwards to Durham, which she frequently visited and enjoyed. Her husband, Malik Edwards, is a professor at the North Carolina Central Law School.
She's currently conducting research related to the social-cultural contributions to health, with a particular focus on religion and spirituality. Working at the Cook Center and at CCPHI, she said she aims to forge a new generation of interdisciplinary scholars working in health, medical and social sciences at Duke.
"Bentley-Edwards will provide exceptional leadership to the Cook Center's and CCPHI's efforts to understand and reduce health inequities," Darity said. 
Read More: Bentley-Edwards writes in Time magazine about teaching black history.