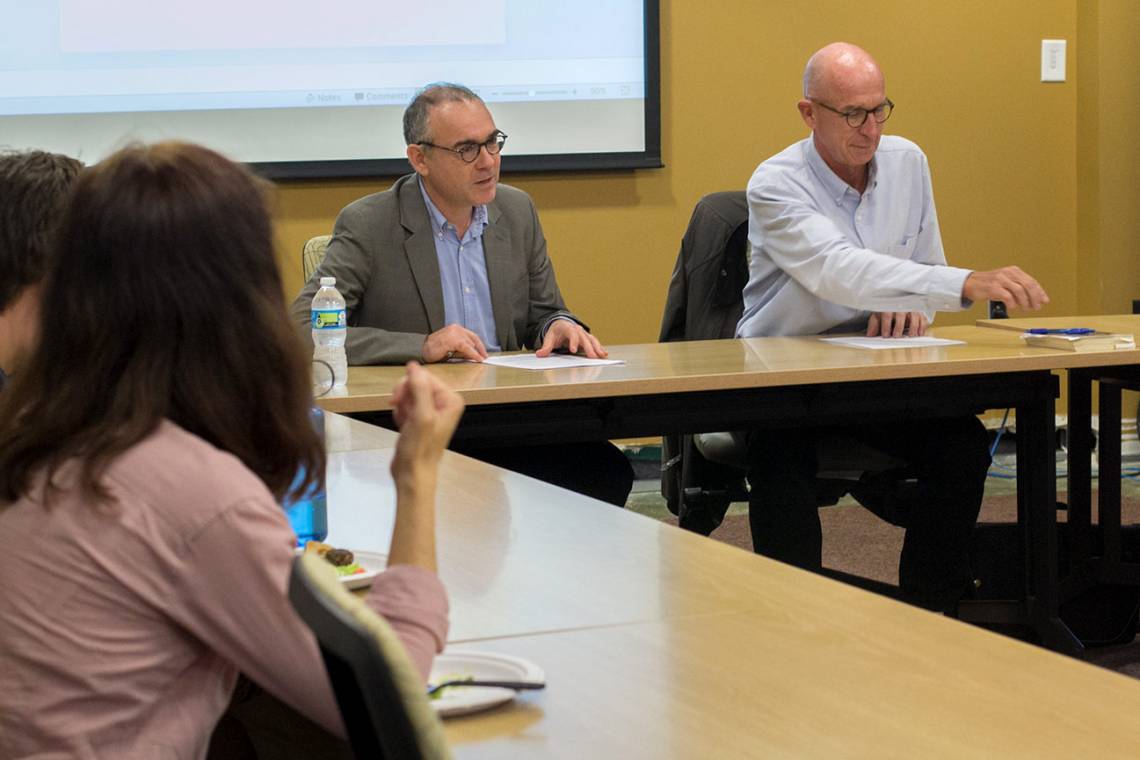 The many achievements of French writer and journalist Christophe Boltanski's family have some origin in a family trauma from World War II, a trauma that Boltanski understands still reverberates today.
When the Nazis occupied France, and the Vichy regime came to power, Boltanski's grandfather suddenly found himself under threat because of his Jewish heritage. Converting to Christianity to become, in his view, a better Frenchman, did nothing to help him. For two years he went into hiding, seeking sanctuary in a concealed space in the house where he had room only to crouch or sit. For safety reasons, his infant son – Christophe's father – was kept in the dark and was told only that his father had "gone away."
That event is a crucial moment in Boltanski's award-winning book La Cache ("The Safe House"). The novel follows the floor-plan of the house, getting closer and closer to "la cache," the place where Boltanski's grandfather hid from the Nazis for the duration of the German occupation of Paris.
A prize-winning best seller in France that will be translated into English by the University of Chicago Press next year, "La Cache" is more than a tale of wartime family trauma; it takes the story into the next generation – Christophe's own – and explores how the experience shapes a family across generations.
That family includes his father Luc, a prominent sociologist and poet; and two uncles, Jean-Élie, a noted linguist; and Christian, a renowned sculptor and photographer whose art grapples with the Holocaust. In different ways, Boltanski said, "their lives and work have been inspired by their biography."
During a visit to campus, Boltanski and writer-translator Laura Marris discussed bringing the family story to life as a novel and the ways it engages with larger issues facing France – and the United States.
Q: What did you know of the family story before you started writing the book?
BOLTANSKI: My family house was a fascinating place to be around as a kid. I always expected to find ghosts and treasures there. There were parts that I was forbidden to explore; as I child I was afraid if I went into them.
So, I knew the outline of the story, the general plot of it, but there were many details I had to find out. None of this had been told outside of the family. My grandfather never spoke about it. I only heard anecdotes and fragments.
Q: This is more than a story of a traumatic time. You take the story across generations to explore how the trauma played out over the years. What did you find?
BOLTANSKI: I'm telling the story of someone who had to hide. My grandfather had to hide in various places. I was thinking about him being in a 'safe place.' That's the origin of the story, being aware of a life lived in a safe place. It reminded me of the metaphor of a passenger or a stowaway on a ship. So this is more than a second generational memoir. It's a story of confinement.
My father was never told about my grandfather hiding because he was too young. He might have spoken to a stranger, a neighbor and given his father away. The main threat at the time was the neighbors, and he was simply too young to understand that.
That fear of neighbors has been passed down to me across generations. Even now I feel I have to be on my guard, careful in what I say, and formal in my relations with the people next door. So it's also a story of how things get passed down in families, even personal traits.
Right now in France, identity is a big question. In America as well. In writing this book, I realized how my family constantly changed its nature and identity. One reason I wrote it was to show that we are not trapped in one identity alone: and that's an important lesson for the national discussion.
But in this chameleon-like effort, there are issues that are still unresolved and show themselves through fears that were transferred across generations. There was joy, humor, of course, but a lot of fear too. And for me, this fear came in a nameless form, because the origin of that fear was something that didn't happen to me. That made it strange.
I wrote, in part, to make that fear real. I learned that sometimes living in a conflict zone is easier because the enemies are well known.
Q: Of course identity is essential to the story because your grandfather had thought he'd left behind his Jewishness until the Nazis and Vichy government made it central.
BOLTANSKI: It goes back to the 19th century, when many immigrant Jews settled in France. My grandfather's family was one of them. For his family, like many, it was a difficult transition; and when he started his new life in France, like many others, religion became less important to his identity.
Then during World War I, he undergoes a mystical and spiritual crisis. He was a doctor in the war, and the Somme, among other major battles, left him traumatized. The story is he went to a rabbi to talk it over, and the advice the rabbi gave him seemed too complicated; that's one way of putting it. So we like to say he crossed the street to the competition, met with a priest and ended up converting to Christianity.
Q: What were the challenges in getting the book translated?
MARRIS: It was a wonderful experience. There were some challenges: for one, the English language doesn't really have the historic present tense, which Christophe relied upon for a number of the historical sections, the parts about World War I in particular. It gives the story a particular immediacy that is important, but when you translate it into English it just sounds awkward.
My goal was to stay accurate to the story, but to make it come to life in translation. It doesn't do the book justice if you just go for the straightest line in translation. It has to live on its own.
BOLTANSKI: I found the translation to be both faithful in spirit and necessarily unfaithful, where it had to be!
During their time at Duke, Boltanski and Marris were accompanied by anthropologist Emma Aubin-Boltanski who presented her ethnographic documentary on a religious mystic in the Lebanon.
Their visit was organized by the Center for French and Francophone Studies, and co-sponsored by the Departments of Romance Studies and Cultural Anthropology, the Africa Initiative, and the Franklin Humanities Institute.