Clinic Offers Care, Support for Transgender Youth and Others Facing Gender Issues
Center assists patients and their families through challenging time with comprehensive care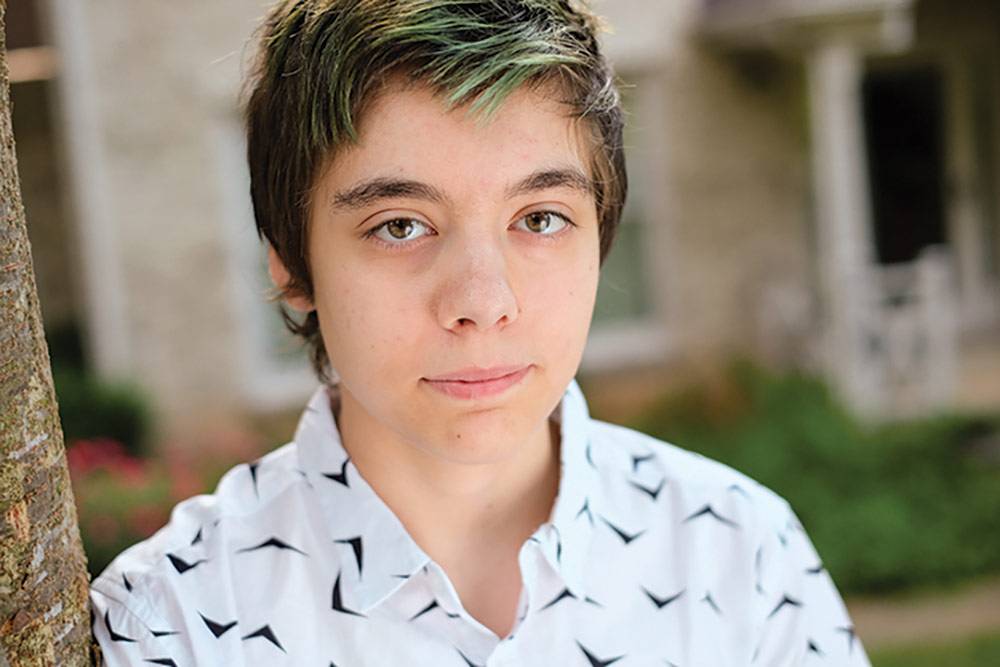 Adrian Chamberlin, 17, considers himself one of the lucky ones. Unlike many transgender teens, he has the support of his family and friends. The Raleigh teen experienced depression like many others in his situation; however, since coming out to his family last year, he's happier now than he has been in a long time.
"I needed to tell my family because I was keeping this whole chunk of my life apart from them," he says. "I felt like I was lying to them. I finally came out to them, and it was such a good response. It's been great being able to be open about who I am."
Being open to everyone about his identity was a big step for Adrian, who was born a girl. But that was only the begin­ning. Finding his way in the world as a transgender male will be a long process requiring lots of education, guidance, and support, not only for him but also for his parents and sister.
Having friends who are also transgender—both online and in real life—offered Adrian an additional layer of support, but he and his parents knew he needed more. However, they weren't exactly sure what "more" should entail.
They learned from Adrian's gender therapist of a resource only a few miles away in Durham: the Duke Center for Child and Adolescent Gender Care. The clinic, which first opened in 2015, serves two groups of children: those who are transgender and those born with conditions affecting internal and external sex organ development, called differences in sex development (DSD). The clinic is the first of its kind in North Carolina and only one of a few located in the Southeast.
The multispecialty clinic is made up of providers from an array of disciplines at Duke, including endocrinology, social work, urology, pediatric surgery, child and adolescent medicine, psychiatry, psychology and pastoral care. Their goal is to work together to provide evidence-based, patient- and family-cen­tered care.
Located on the second and third floors of Duke Children's, the clinic is open one full day and one half day each month. Patients come from North Carolina, South Carolina, Virginia, Georgia, and Florida. The clinic served 127 patients during its first year, and administrators anticipate nearly doubling that number next year.
TRANSGENDER TREATMENT
For the clinic's transgender patients, treatment focuses on gender dysphoria, a condition that occurs when a person's internal sense of gender does not match their physical sex and gender assigned at birth. Those with the condition often describe feeling as though they were born in the wrong body and become increasingly uncomfortable with their bodies as they approach puberty.
All transgender patients receive counseling, most often in their own hometowns. The gender care team at Duke aims to work closely with the children's therapists and other providers.
"Most of them we're treating because they have significant depression and anxiety from the mismatch between their gender identity and their assigned sex or their physical appearance," says clinic director Deanna Adkins, MD. "That depression and anxiety causes them to be at significant risk for suicide."
According to some sources more than 40 percent of young transgender people have contemplated suicide.
Adrian knows firsthand the struggles of gender dysphoria. Even though his experience coming out was a positive one, he hasn't been immune to all of the challenges that come with being transgender. He credits the gender clinic at Duke with helping him to understand the available options for transitioning and helping to improve his overall quality of life.
"They helped me to make plans on how to adjust my life and help me to physically transi­tion," Adrian says. "Otherwise I probably wouldn't have been able to do it."
In addition to counseling, care for transgender patients includes hormone therapy for those 16 and older. Those under 16 are treated with hormone blockers, which delays puberty.
Blocking puberty until age 16 plays a major role in helping the children transition successfully, says Adkins, who is also an assistant professor of pediatrics. It buys them time—keeping body dysphoria at bay and decreasing the chances of depression, anxiety, and suicide—until they are old enough to begin to transition physically. It may also allow them to have fewer surgeries as adults.
"In the past, people have tried to treat the depression and anxiety with traditional depression and anxiety medica­tions, and they still do," Adkins says. "But the problem doesn't go away. Only the symptoms of depression and anxiety ameliorate a little bit. They never ameliorate completely until the biological part is addressed."
Adkins adds that once the bio­logical concerns are addressed, outcomes are overwhelmingly positive. She says a few studies have shown that 75 percent to 80 percent of patients treated hor­monally experienced complete amelioration of their symptoms, and they were able to stop taking anxiety and depression medications whether they underwent surgery or not.
COORDINATED CARE
As with all of the clinic's transgender patients and their families, initial treatment at the gender care clinic begins with consultations with Adkins and the clinic's social worker, Kristen Russell, CSW.
During the consultations, Adkins and Russell assess where the child is with his or her transition. They get a baseline for how they're coping with anxiety and body image issues, and they check hormone levels. They also spend time talking with parents.
Although Adrian's parents, Nancy and Dave Chamberlin (left), supported their son's transition, they still had a lot of concerns and uncertainties. Initially, they were reluctant to attend the consultations. However, in the end, they found the talks—particularly their time with Russell— to be informative and helpful.
"For me transitioning meant surgery, and I wasn't anywhere near wanting him to have surgery," Nancy says. "But once we got there that was not what it was about. It was about hormone shots. While there are a couple of permanent changes, he could stop hormone shots at any time."
Dave says the consultations "made me a lot more comfortable, helped me come to grips with things." He adds, "I had kind of put my head in the sand—not ignoring Adrian's desire to be male but just not really trying to understand it better. They provided the perfect environment for me to sort things out. It helps to have one place to go where you have your social needs and physiological needs all rolled into one."
Adrian is currently getting testosterone shots, which he will have to have for the rest of his life. As for his next steps, he knows his transition will involve surgery, but he has yet to decide exactly when that will happen. For now, he is happy to have a team of caring professionals to help support and guide him.
"It made me feel great to know that people are on my side who just want to help me. I haven't had bad experiences with doctors, but a lot of them just don't understand what being transgender entails."
DIFFERENCES IN SEX DEVELOPMENT
In addition to treating transgender children and teens, the Duke Center for Child and Adolescent Gender Care also provides much-needed services for children with differences in sex devel­opment (DSD). These patients are usually infants who are born with conditions affecting their internal and external sex organ development. The dated term for these conditions is "intersex," but the term is now being reclaimed by some gender activists.
DSD is a broad term that covers a variety of medical condi­tions. Many conditions are diagnosed when the child is identi­fied at birth as having ambiguous genitalia or genitalia that are discordant with their genetic sex.
The most common DSD condition is 46, XX congenital adrenal hyperplasia (CAH). These babies are born girls biologically, but because their adrenal glands are making too much steroid, their genitalia have a masculinized appearance at birth. For example, they may have a clitoris that looks like a penis, or the labia may be fused, resembling a scrotum.
Treatment for DSD depends on which condition the baby has. Sometimes they are treated with surgery, or, as is the case with transgender children, treatment may involve a hormonal component. Regardless of the treatment, most result in consequences that parents and the children will have to deal with for years to come.
The major concern for parents is making the choice whether to proceed with surgical correction. "It's one of the biggest things the parents have to struggle with," says Jonathan Routh, MD, an associate professor of surgery and a pediatric urologist at the gender clinic.
Clinic Director Deanna Adkins and pediatric urologist Jonathan Routh often consult with one another while treating patients at the Duke Center for Child and Adolescent Gender Care.
"One of the big questions they have is, 'Do we fix this with the surgery?' There is a controversy whether ethically you can operate on a child's genitals before they are old enough to say, 'Yes I want to have surgery done.'"
The parents of babies with CAH often face the dilemma of whether to allow their child to undergo a surgery to correct a fused vagina and urethra. Without the surgery, the child will not have a properly functioning vagina or urethra. But with surgery, they may be left with a desensitized clitoris, which will become a major concern once the child becomes an adolescent and later in adulthood.
"The goal is to have a long conversation with mom and dad," Routh says. "There are potential consequences—negative and positive—whichever road you choose. If the parents decide they
want to have the surgery performed, we will discuss it with our ethicist and our team, and we will perform the surgery. But if there is a hint of a doubt, we will not perform the surgery."
Routh stresses that addressing mental health concerns for children with DSD—much like with transgender children—is crucial.
"That is the cornerstone of what we provide for these kids," he says. "Any urologist can do a surgery for a kid with congenital adrenal hyperplasia. That's relatively straightforward. Any endocrinologist can give a hormone blocker to an adolescent who is transgender. The tough part comes in trying to treat them as a composite human with mental health needs."
Because of the unusual and sensitive concerns of children with DSD, Routh says the best way to address all of their concerns is through a multidisciplinary approach like the one offered at the gender clinic.
"The surgical questions are the easy part of the equation," he says. "The hard part is everything that goes up to the surgery or deciding to not do the surgery. I can't do that on my own. I have to have a team of other professionals that provide a different input into the process than I can give. Without that support, these patients aren't getting fully treated."
LOOKING AHEAD
Routh, Adkins, and other providers at the gender clinic anticipate the demand for their services to increase substantially. They estimate 235 transgender patients will be seen during the clinic's second year. Currently the waitlist to be seen is three months long, but they are working to decrease the wait.
Other goals for the coming year include creating a family advisory panel that will be made up of parents who will advise the clinic on how best to serve families. Adkins says the clinic has started conducting clinical research. For instance, they recently received funding for a
study that will examine the intersection of transgender, body image, and eating disorders.
Routh says the clinic's ultimate goal is to help all their patients live healthy and fulfilling lives despite their differences. "The hope is that because we've done a good job taking care of them, it never enters into their consciousness that they are different or that they have to struggle with this."