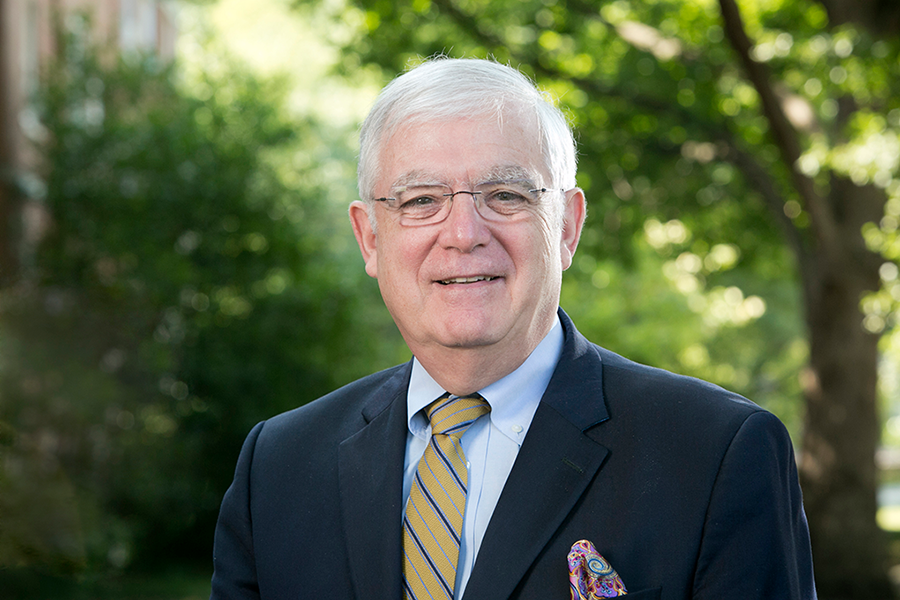 Michael H. Merson, founding director of the Duke Global Health Institute (DGHI), will step down on June 30, 2017.
Merson was named director in 2006, and over the past decade the institute has grown to be one of the top education and research institutions of its kind.
In a message to colleagues, Merson wrote, "The Institute has contributed to the University's commitment to bring the fruits of academic inquiry to bear on real-world problems and has been an integral part of Duke's efforts to become a leading global university with the understanding that global includes local … all in the spirit of collaboration and innovation."
Merson led DGHI from start-up to a well-established, collaborative institute that drew faculty from medicine and nursing, anthropology, psychology, public policy, engineering and environmental sciences, among others.
The institute's Master of Science in Global Health program welcomed its largest class this fall and the undergraduate program, which began in 2013, has grown significantly: there are more than 300 undergraduates now studying global health. DGHI also runs a program for doctoral students that allows scholars from across the university to do their dissertation research on a global health topic.
On the research side, DGHI's faculty collaborate with local partners in nearly 40 countries around the world on such projects as emerging infectious diseases, maternal, adolescent and child health, cardiovascular diseases and obesity, cancer, mental health, environmental health, and strengthening health systems.
Over the past decade, DGHI has raised nearly $34 million in gift income and pledges, including a $20 million grant from the Bill & Melinda Gates Foundation last year to address critical health issues.
"When Duke attracted Mike to be the founding director of the Duke Global Health Institute, he came with broad expertise and a distinguished record of leadership," said Duke President Richard H. Brodhead. "In addition, Mike's practical intelligence and superb organizational skills allowed him to turn the dream of Global Health into a compelling institutional reality, a program that has become a signature of Duke's interdisciplinary strengths and commitment to real-world problem solving. 
"With Mike at the helm, the Duke Global Health Institute has made vital connections to every Duke school and a range of partners around the world, establishing Duke as a leader in global health education, research, and innovation in health care practice. There has been no more energetic citizen of this university, and finding an excellent successor will be a high priority for the coming year." 
Merson, the Wolfgang Joklik Professor of Global Health, will remain in his role as vice president and vice provost of Duke's Global Strategy and Programs Office and plans to teach and continue to undertake studies on global health policy. He recently stepped down as vice chancellor of Duke-National University of Singapore Medical School, a position he held for six years, during which time Duke-NUS experienced significant growth.
"Dr. Merson's exceptional leadership has enabled our university community to connect with the world to improve health," said Dr. Eugene Washington, chancellor for health affairs at Duke and president and CEO of Duke University Health System. "His vision and insight have powerfully shaped DGHI -- from founding, to attracting top-tier faculty, to advancing health worldwide -- and positioned Duke as a recognized leader in global health. We are immensely grateful for his exemplary service and enduring legacy."
Merson came to Duke from Yale University where he was the first dean of its School of Public Health. Prior to that, he held leadership positions at the World Health Organization, most recently as director of the WHO Global Program on AIDS, which was responsible for mobilizing and coordinating the global response to the HIV/AIDS pandemic.
Merson has authored more than 175 articles, primarily in the area of disease prevention. He is the senior editor of "Global Health: Disease, Programs, Systems, and Policies," a leading global health textbook in the United States. He has served in advisory capacities for various United Nations agencies and foundations, and on several NIH review panels and advisory committees.
Merson has received two Commendation Medals from the U.S. Public Health Service, the Surgeon General's Exemplary Service Medal and is an elected member of the National Academy of Medicine.