OIE Forum provides outlet for discussion following attacks
In the aftermath of racially tinged shootings in Louisiana, Minnesota and Dallas and coming just hours after an attack that killed more than 80 people in Nice, France, a crowd of more than 90 employees – and a few students –  filled the Ahmadieh Lecture Hall in Smith Warehouse to allow members of the campus community to express their grief and sadness and share their stories and ideas.
"What do we do with all of these stages of mourning?" asked one Duke employee, who didn't give her name. "I see people in anger, denial, depression, numbness.  That's not the right action to take, but right now I think it would help if we all realize we are in a state of mourning."
The forum, hosted by the Office for Institutional Equity, was framed around large national and international events, but speakers also shared their personal stories .
One employee  told of two long-time colleagues of different races whose relationship was strained after a white woman belittled a black women's recounting of her personal experience with racism. Others talked about the office conversations that don't happen because of fear of such reactions. 
"People want to talk with someone of a different race, but they are afraid to because they don't want to offend people or they don't want to disrupt a working relationship," said Gina Streaty, a Duke Clinical Research Institute employee.
Several asked for help in what they should do when confronted with demeaning situations. Cindy Rogers, director of operations at Duke University Affiliated Physicians, spoke from her personal experience and training on issues of inclusion and equity to recommend strategies when confronted with a demeaning situation.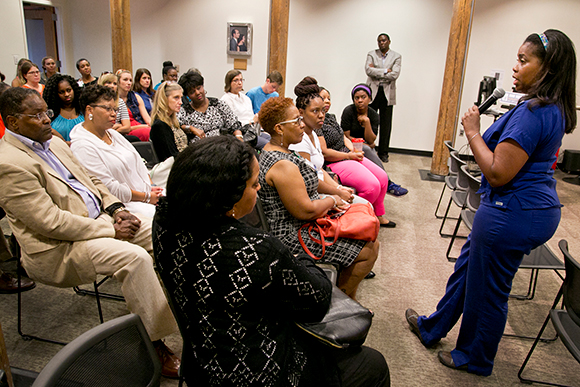 Duke employees share stories and ideas at the OIE Open Forum Friday. Photo by Chris Hildreth/Duke Photography
"Learn the art of pushing back," Rogers said.  "Speak to the person, let them know you were hurt, but also tell them, 'Let me give you a chance to explain what you mean.' 
"When you establish healthy boundaries, you'll find people won't cross them," Rogers added.
As more speakers said they wanted to continue discussions across racial lines, a number of participants spoke up and shared email addresses so that the conversation could continue in the future.
Several people also spoke about a desire for improved relations between police and minority communities following protests across the country focused on how African-Americans experience police interactions differently than whites.
"We need police, we need the ability to feel safe," said Duke employee Angie Jones, who is African-American.  She said she didn't want the discussion to be "about us versus them" and that she wanted to provide support and care for the police in her community. She echoed a comment from the Dallas police chief who expressed concern that police are asked to solve too many social problems.
"It's about us not putting everything on their shoulders, about finding more community resources to deal with mental health and other issues," Jones said.
But, Jones added, she can't help being concerned when she sees so many disparate outcomes between police encounters with whites and African-Americans. 
In the end of the hour and a half forum , Reese said he left with positive feelings that people felt they were heard and comfortable in expressing both pain and hopefulness. 
"I thought that it went very well," he said. "I'm not surprised that so many of the deeply moving comments were about day-to-day life at Duke or in their community.  As concerned as people are about national and international issues, their joy, pain and hopes are for themselves and their family. 
"I don't think this represents any lack of engagement or interest in broader societal issues, but it represents the 'immediate' … what they can influence, or try to influence."