Mlyn Reappointed Executive Director of DukeEngage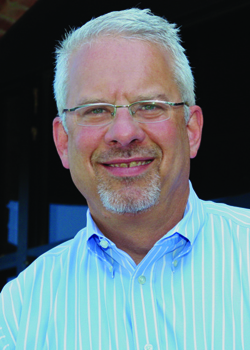 Eric Mlyn has been reappointed to a third term as the Peter Lange Executive Director of DukeEngage, announced Steve Nowicki, dean and vice provost for undergraduate education.
Duke regularly conducts five-year reviews of deans and senior administrative positions, and Mlyn's recommendation for reappointment follows an evaluation by a faculty committee headed by sociology Professor Martha Reeves.
"Eric lives his belief in the transformative power of experiential and civic education and has been with DukeEngage since its creation in 2007," Nowicki said. "He and his team have made DukeEngage a national model for service programs, one that has helped attract civic-minded students to Duke. I am grateful he has agreed to serve another term."
DukeEngage was founded in 2007 with support from The Duke Endowment and the Bill & Melinda Gates Foundation.  Its mission is to empower students to address critical human needs through immersive service, in the process connecting student learning to real-world problems, advancing the university's educational mission, and assisting communities in the United States and abroad. As of summer 2016, more than 3,600 Duke students had volunteered more than 1 million hours through DukeEngage, serving more than 600 community organizations in 35 U.S. cities and in 76 nations on six continents.
Mlyn also serves as assistant vice provost for civic engagement, where he oversees other civic initiatives at Duke including the Duke Office of Civic Engagement (DOCE), which coordinates civic engagement initiatives at Duke.  
A political scientist with a B.A. from Tufts University and a Ph.D. from the University of Minnesota, Mlyn's academic and administrative work over the past 25 years has concerned itself with the role that society plays in fostering and strengthening democracy.  In addition to his administrative role at Duke, Mlyn is a lecturer in the Sanford School of Public Policy and teaches in the Focus program and the new Certificate in Civic Engagement and Social Change.