Duke in Pics: Blue Devil Football Goes Green
Duke players prep handouts for zero waste game day initiative
About 60 members of Duke's football team gathered inside the Yoh Football Center this week to support efforts to create zero waste game days for the upcoming season.
Gathered around tables in groups of four or five, players wrapped 10,000 collections of bags for tailgating fans, each specially marked for compost, recyclables and trash, as well as a small flier explaining what waste goes into each. Above, teammates Zavier Carmichael, Twazanga Mugala, Shaun Wilson and Trevon McSwain form an assembly line-like process as each took turns rolling up the bags and flier.
Carmichael, a junior, said the team often practices a mantra from head coach David Cutcliffe, who reminds players to always leave campus a better place then they found it.
"It's a habit now for us to pick up trash we see on the ground when we're walking around campus," he said. "It's an important lesson to live by so it's not just Duke football players doing it, but others see us and do it too, so we can help change campus." 
Entering its third year, the zero waste game day initiative sets a goal for each Duke home game to divert at least 90 percent of recyclable or compostable material. Duke fans have so far composted more than 14,000 pounds and recycled more than 62,000 pounds during home events and achieved the first-ever zero waste game day in the Atlantic Coast Conference last November. The zero waste effort was created out of a partnership between Duke Sanitation & Recycling, Sustainable Duke and Duke Athletics.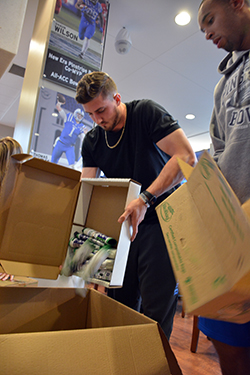 Thomas Sirk, left, and Anthony Nash.
"It reflects everyone having common efforts and goals to do something good," said Bob Weiseman, assistant athletic director for athletic facilities, game operations, and championships.
At right, Thomas Sirk, and Anthony Nash dump rolled up waste bags into a larger box, to be stored until Duke's Sept. 3 home opener against North Carolina Central University. At each game, volunteers roam parking lots to handout bags, some of which include autographs from the players.
"The idea for this event is to give football players a sense of ownership and help them better understand what's happening off the field," said Arwen Buchholz, Duke's recycling program manager. "It creates momentum, interest and excitement among fans to work toward our goal of being zero waste for the whole season."