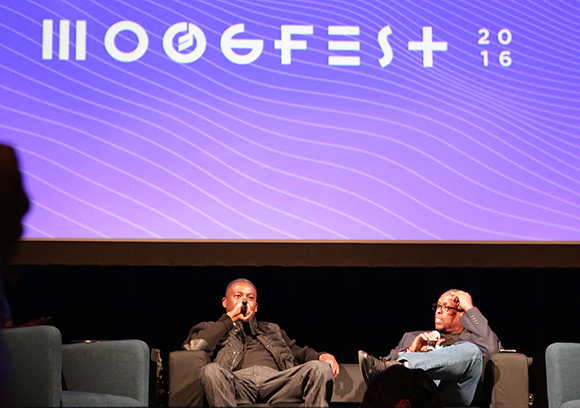 Noted rapper GZA joined Duke Professor Mark Anthony Neal at a panel discussion at Moogfest. Photo by Dominque Benjamin
Duke's Innovation & Entrepreneurship Initiative (I&E) played a prominent role in Durham's first hosting of Moogfest last weekend.  More than 4,000 artists, entrepreneurs, futurist thinkers, musicians and engineers came to downtown Durham for four days of an eclectic variety of musical acts, panels, workshops and fun activities.
From the Bullpen in downtown Durham, just a block from the heart of the festivities, I&E was host to nine panels and workshops in the David M. Rubenstein Classroom. They ranged from artist talks to hands-on sound and video development workshops. Nearly 300 guests from all over the country and world participated in programming in the Bullpen. 
Notable guests to the Duke I&E space included: CEO of the American Association of Independent Music Richard James Burgess, Steven Marks (Chief, Digital Business and General Counsel for the Recording Industry Association of America), Aly Khalifa of SPARKcon, Matthew Ganucheau of the Gray Area Foundation, Jennifer Juniper Stratford of Telefantasy Studios and Undervolt & Co., the global design firm IDEO, and artist Ed Bear. Duke alumnus and I&E coach Jake Stauch, founder and CEO of NEURO+, was a panelist on "Found the Future Of…," a panel presented by ExitEvent.
Duke University and the Durham community joined together to support the festival's first year in Durham.  Moogfest, listed as one of the top summer music festivals by Rolling Stone magazine, has previously been held in Asheville  and New York City.
Kicking off the first day of #Moogfest2016 with a workshop on "Sound Sculpting in a Website" here at the Bullpen! pic.twitter.com/U0q7kFfWWU

— Duke I&E (@EshipAtDuke) May 19, 2016
@EshipAtDuke Thanks for the great workshop space! Great place to learn together.

— Rachel Weidinger (@rachelannyes) May 19, 2016
Here is a complete list of Moogfest workshops held at the Bullpen:
Sound Sculpting in a Website  - Matthew Ganucheau (Gray Area) • Hacking Sound (Systems)
Video Synthesis + Collaboration  - Jennifer Juniper Stratford (Undervolt & Co) • Stephi Duckula (Undervolt & Co.)
Software as an Extension of the Creative Process -  Andrew Benson  Undervolt & Co.
Founding the Future Of… Presented by Exit Event
IDEAS to ACTION: Exploring Creative Design Methods with IDEO  - IDEO
Build Your Own Optoelectronic Sequencer with littleBits  - Ed Bear • Hacking Sound (Systems)
New Terrain: Record Labels and the Evolving Digital Landscape - Richard James Burgess • Steven Marks
Sonifying Data  - Jonathan Dinu (Gray Area) • Hacking Sound (Systems)
Artist Talk: The Making of 'Convergence' - Floating Point Collective
For more information on Moogfest, go to www.moogfest.org