How Your Garden Can Beat the Heat
Duke experts share insight on growing flowers and produce
With spring in full swing and Durham crawling toward the first day of summer on June 21, the days are getting longer, the sky clearer and temperatures are rising.
Between April and June, the average high temperature rises 13 degrees, hitting 84. That's certainly enough to get most humans sweating, but flowers and plants may be spotted wilting, too.
Read More
"We'll plan months in advance with what we're going to plant and where to make sure we can keep everything healthy," said Andy Currin, Facilities Management's assistant superintendent for landscape services. "The heat and sun mean we coordinate a lot of planning from varieties of plants to preparing planting areas." 
You don't have to be an expert – or have lots of prep time – to be a successful gardener in the spring or summer. As warm weather returns, Working@Duke chatted with a few planting pros to offer tips on how to keep a home garden green. 
Getting Started
Whether you plan on a few pots on the porch, some raised beds in a backyard or have a quarter-acre of free land, scaling a gardening space to ability and need is important, especially when plants and flowers may require a little more attention in the hottest parts of summer. It's about quality, not quantity, said Becky Hoeffler, an avid gardener and program coordinator for Sustainable Duke.
"No matter how little the amount of food you are growing, it's important and amazing," she said. "It shatters the paradigm that you are just a dependent consumer, no matter how small the produce or harvest, it is important to know you can be a producer of your own food."
Need tips on how to prepare the right size space for you? Hoeffler recommends searching Pinterest for diagrams and building tips.
Pick the Right Produce…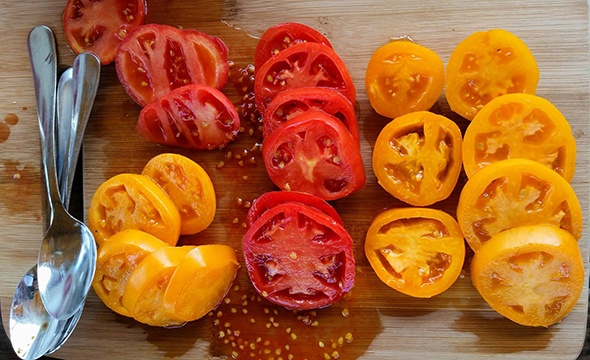 Emily McGinty, fellow at the Duke Campus Farm, noted that spring is a great time to plant a variety of seasonal favorite greens, including lettuce and kale. She recommended buying seed packets, reading the packets' suggested seed spacing, then spreading and lightly covering seeds over a garden area.
McGinty also said radishes and beets are good because they're hearty enough to withstand North Carolina heat and are easy to plant directly into the ground. "Tomatoes are a hallmark summer fruit," she added, saying a trellis for tomatoes can easily be created from sticks, wood or fences, allowing the fruit to grow up and off the ground.
To increase success, McGinty suggested buying tomatoes as seedlings for transplanting, preferably at a farmers market. "Tomatoes - in addition to peppers and eggplants - produce greater yields with a jump start rather than sowing their seeds directly in the ground," she said.
… and Keep Flowers 'Local'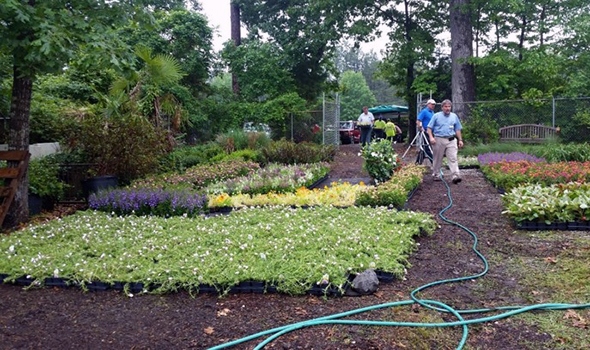 A big reason Currin and his team at Facilities Management have success catering to 27,000 new flowers every spring and summer is because they use native plants, reducing worry about flora bred to withstand the state's climate. 
Azaleas are a favorite at Duke for their array of colorful pedals and ability to thrive in Durham's slightly acidic soil, so long as the flower has good drainage and some shade. Currin said pollinator flowers are also good because they attract beneficial insects that help an entire space. Try options like bee balm or a plant like the Chinese holly. 
Durham County Library patrons can sign up for free to get seeds at five library locations.
Dealing with NC's Soil
Because of the area's red clay soil, gardeners should take extra steps for success, Currin noted. Facilities staff always tills the soil to make planting easy and also adds natural compost from matter like leaves raked up on campus. 
McGinty, from Duke Campus Farm,  added that an easy way to prep compacted soil during warm months is with a garden fork, which can aerate and break up the dense clay.
"The ideal soil moisture when you plant should be that of a wrung out sponge," McGinty said. "You know it's too try when it's crumbly and dusty, how we see it in the summer. You don't want it to be so saturated you can pack it into clay bricks, either."
Photos courtesy of Duke Campus Farm, Sustainable Duke and Facilities Management.