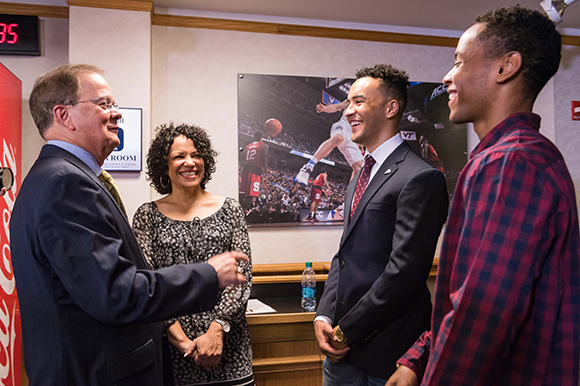 Football coach David Cutcliffe talks with Leslie Holliday and her sons Blair and Chase Holliday. Blair will graduate Sunday nearly four years after a jet skiing accident nearly costing him his life. Photo: Reagan Lynn/Duke Photography
This Sunday's commencement exercises mark a milestone for thousands of Duke students.
For Blair Holliday, though, the prospect is especially sweet, because graduation day almost didn't come.
Holliday arrived at Duke in 2011 as a promising young athlete on a football scholarship. In summer 2012, he was looking forward to being a starter on the team. Then on July 4, his life took a sudden sharp turn.
Holliday and a teammate were jet skiing on Lake Tillery near Charlotte when the two collided. Holliday lost consciousness and lay motionless in the water.
A nursing student happened to be swimming nearby, and saw what happened. She rushed to Holliday's side and delivered CPR while her mom called 911. Soon Holliday was being flown to UNC Hospitals, where he would lie in a coma for days.
From that moment on, a remarkable team of people rallied around him again and again, Holliday said Thursday at a press conference attended by members of that team who were on hand to celebrate his return and his successful graduation from Duke.
"I feel like standing up and cheering and going wild," said Duke head football coach David Cutcliffe. "I'm feeling every emotion.
"In all my years of athletics I've never been around so many heroes."
Following the accident, Cutcliffe sat vigil by Holliday's hospital bedside , as did many others. Family members and teammates took shifts, reading to him from his favorite books, such as "The Great Gatsby."
Holliday regained consciousness five days after the accident and was eventually moved to the Shepherd Center, a recovery facility in Atlanta. His mother Leslie was grateful just to have her son alive, but now had to watch him relearn everything, including how to walk.
Leslie Holliday describes the nerve-wracking act of getting her son to practice walking on neighborhood streets with a safety belt attached.
"It's like having a toddler that was over six feet tall," she said. "You don't want them to fall."
When Holliday was ready to return to Duke, Steve Nowicki, dean and vice provost of undergraduate education at Duke, pulled together a support team of university athletic, medical and academic experts to help him transition back to the classroom.
Duke neurologist Joel Morganlander oversaw Holliday's medical progress once he was back on campus. Playing football was out of the question, Morganlander said, but Holliday continued working out with the football team and coaching his fellow teammates from the sidelines.
"Coach Cutliffe said, 'This guy's still on my team'," Morganlander said. "And he's out there dressed for every game, going out with the team, coaching people, trying to help in whatever way he can. That was tremendous."
Holliday started slow, with just two courses. By 2015, though, he was up to a full load and wrapping up his degree in psychology.
On Sunday, he joins Duke's December 2015 graduates in the university's official commencement ceremonies. Holliday is currently pursuing a Master of Arts in Liberal Studies from Duke. This summer, he heads to Atlanta to begin an internship with Fox Sports South.
"It was a family feeling that got me to come to Duke," Holliday said Thursday. "That family got me through this traumatic accident."
Lee Baker, dean of academic affairs for Trinity College of Arts and Sciences and Associate Vice Provost for Undergraduate Education, said Holliday was an inspiration.
"Blair showed courage and conviction as he returned to complete his degree at Duke," Baker said. "He defied the odds by working hard, not making excuses, and having a great attitude. He is truly an inspiration and we are so proud that he is one of our alums."
For his mother, this weekend is bittersweet. Leslie Holliday knew her son had turned a corner when he re-took his driver's license test six months after the accident, and passed.
On the way back to Durham from Atlanta, she said, she swallowed hard, and let him drive.
"It was hairy," she said with a laugh. "But here we are."
Now her son is really on his own.
"When Blair was injured, he was put in a situation where he had to start his life all over," she said. "He was transitioning from being an athlete to a non-athlete, then seeing all his friends move on with their lives while he was still here recovering 
"Now he gets to move on. I'm sad because I'm going to miss Coach Cut and everyone. But I'm also happy, because he finally gets to find his way."