A Baby Boom at the Kenan Institute
Five of nine Kenan Institute for Ethics staff members welcome a new baby into the family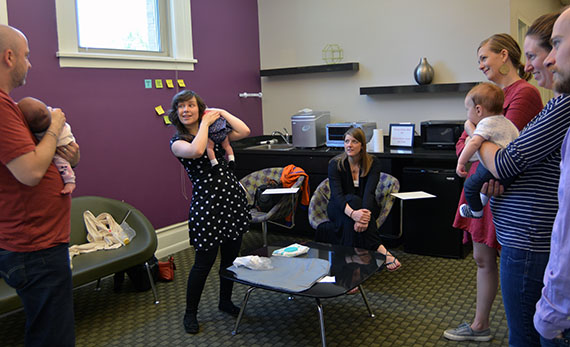 Duke business manager Dana Hall now considers herself the office grandmother.
In January, she and other staff members threw a baby shower for five of their Kenan Institute for Ethics colleagues, all of whom shared due dates within 10 weeks of each other. They made diaper cakes and printed onesies with Kenan logo colors and little animals on them.
When the babies started to arrive in mid-January, Hall printed photos of the swaddled bundles of joy and taped them to the office doors of her colleagues on parental leave.
Word is spreading about the Kenan babies, especially around the institute's offices in the West Duke Building on East Campus, where employees are jokingly turning to a particular tagline to explain the recent baby extravaganza.
"'Don't drink the water at West Duke,'" Hall said. "Everybody just hears about all the births. They're like, 'Are you kidding?'"
Three Kenan staff members gave birth and two men in the office welcomed new babies into their families this semester. With five employees on parental leave around the same time this spring, the Kenan staff began planning last fall for major events such as lectures, advisory board meetings, graduation, and faculty and student conferences.
Suzanne Shanahan, co-director of the Kenan Institute for Ethics, described the staff as "all hands on deck."
"It's a real testament to how well the group works as a team," Shanahan said. "It's been really extraordinary, just the support that they've been giving each other as they go through this transition, but also how fabulous the planning has been, and the folks left standing are really stepping up and just doing a great job of pitching in."
Meet the new moms and dads of Kenan: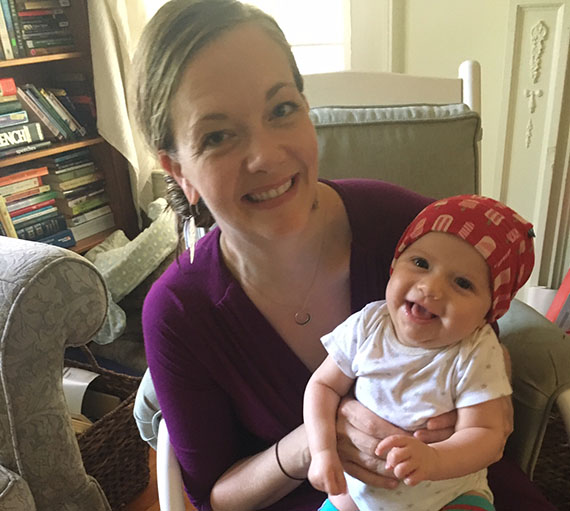 Amanda FlaimPostdoctoral associateBaby Ingrid born on January 16, 2016
What parental advice you want to share with the other Kenan parents? My advice to Kenan parents is to trust yourselves and to do whatever works for you until it doesn't work anymore, and then try something else! Kids are astonishingly resilient. (Flaim is also the mother of a 3-year-old son, Simon.)
Christian FerneyProgram directorBaby Genevieve born on Jan. 28, 2016
How would you describe the baby situation at Kenan? It's a really strange thing because we're a small shop. We know each other pretty well, and most of the time when I talk with my colleagues, it's about work things. There has been this kind of collapse of our work and personal lives, in a funny way, just because everybody's been away, going through the same experience, and that has been really fun to share.
Amber Díaz PearsonResearch scholarBaby Rowena born on March 1, 2016
What's interesting about being a new mom? How everything changes so quickly from week to week. Rowena's almost a new person every week, and it's like unlocking a new level in a video game. There's always something new to discover, so having the time off has been wonderful to experience all those developments.
David SteinbrennerInternational Programs coordinatorBaby Anneliese "Liesl" born on March 22, 2016
What's it like being a new dad? All the clichés are true, meaning the first time I heard her little cry in the hospital and saw her, it was the most beautiful experience I've ever had in my life. Frankly, I wanted to have kids but was really kind of afraid of what it was going to be like and not have the same amount of free time anymore to go out, and interestingly enough, I don't even care anymore. This is the greatest thing that's ever happened to me.
Katherine ScottCommunications and advancement managerBaby James "Jojo" born on March 25, 2016
How did Kenan colleagues support each other through the pregnancies? I do think that there has been more sympathy and understanding since so many of us are in the same boat. I keep joking that we need an in-office daycare. Once I go back to work, I think it will be helpful that there will be many of us dealing with the lack of sleep and daycare issues.