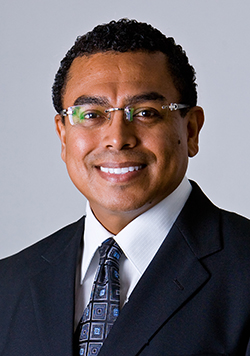 Mathematical physicist Arlie Petters has been appointed dean of academic affairs and associate vice provost for undergraduate education, effective July 1. He will serve through June 2020.
Petters holds Trinity College appointments as professor of mathematics and physics and an appointment at Duke's Fuqua School of Business as a professor of business administration. He succeeds Lee D. Baker, who is returning to the faculty as a professor of cultural anthropology after serving two terms as dean of academic affairs.
"Petters' life experiences make him especially well suited to shepherd Duke's undergraduate academic program," said Valerie Ashby, dean of Trinity College of Arts & Sciences. "He was born in Dangriga, Belize, and came to live in New York as a teenager—living first hand the challenges of being an international student. He was also the first in his family to attend college. As a minority man in the sciences, he has learned how to thrive and crafted a deeply successful career."
Through his research, Petters has pioneered applications of gravitational lensing in physics, predicting effects that probe the nature of space-time around black holes and developing tests for theories of gravity such as Einstein's general relativity.
He has written four books and has a forthcoming textbook on finance. He earned a B.A. and an M.A. in mathematics and physics from Hunter College in New York, and a Ph.D. in mathematics from the Massachusetts Institute of Technology.
He has been a member of the Duke faculty since 1998, held a Bass chair from 1998-2003, and was named the Benjamin Powell Professor in 2009. Before coming to Duke, Petters served on the faculty at Princeton University and the Massachusetts Institute of Technology.
He has received numerous awards for his research, including an Alfred P. Sloan Fellowship, a National Science Foundation Career Award, and the first Blackwell-Tapia Prize in the Mathematical Sciences. In 2006, the National Academy of Sciences inducted him into its Portrait Collection of Distinguished African American Scientists. His portrait is on permanent display in the National Academies Keck Center in Washington, DC.
Petters has served as a faculty in residence for six years at Duke, in the Wilson and Bassett dorms. He says he has enjoyed learning about the intellectual journeys of the students, and watching them mature during their first year in college was inspiring. He has also been a pre-major adviser, directed many undergraduate senior thesis' projects, and been the director of undergraduate studies for the Department of Mathematics. He previously directed Duke's Reginaldo Howard Scholars program.
While at Princeton, he served as the director of graduate studies.
"Education is the great equalizer and I don't correlate a humble beginning with the idea that you won't do well in life," Petters said. "Mentoring needs to be in the DNA of our undergraduate experience, and it is extremely important for minority and international students who are dealing with so much in addition to the curriculum.
"I was raised by my grandmother, and I credit her with teaching me to be resilient and entrepreneurial in life. It has been my pleasure and privilege to create opportunities for students from diverse backgrounds, both here in the U.S. and in my hometown of Dangriga."
He founded the Petters Research Institute in 2005 as a way of giving back to Belize. The institute is a center of excellence in mathematics, science and technology, and fosters national development through entrepreneurship in these fields. He also served as chairman of the Council of Science Advisers for Belize from 2010-2013 and was named a member of the Most Excellent Order of the British Empire by the Queen of England.