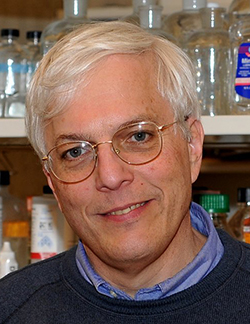 Cellular and developmental biologist Dan Kiehart has been reappointed to a second term as dean of natural sciences, announced Valerie S. Ashby, dean of Trinity College of Arts & Sciences. Kiehart will serve until 2019.
"Dan has the experience and vision to help us advance our science departments, and ultimately, this sustains the overall eminence of Duke as a top research university," Ashby said. "He is a thoughtful leader, and is deeply committed to increasing excellence, leadership and diversity in our science faculty."
Under his leadership, the division launched the Natural Sciences in the 21st Century Colloquium Series, aimed at highlighting the contributions of distinguished researchers in the natural sciences at Duke. Kiehart has also been engaged in development, helping to shape a compelling case for donor support for the sciences.
Over the past year, Kiehart has partnered with the Office of Research Support to provide better grant reporting tools for department chairs—enabling more data-driven management decisions around faculty mentoring and support. And he shares oversight of the Office of Research Development, which provides grant writing services to faculty in the natural and social science departments.
He is partnering with Vice Provost for Research Larry Carin on the Quantitative Initiative, aimed at building strength broadly in quantitative sciences and establishing Duke as an internationally recognized center of excellence in the methods and applications of quantitative sciences. The initiative will deepen our faculty base of quantitative faculty in Trinity College department and increase collaboration between those departments and Duke's School of Medicine.  
Kiehart holds a B.A. and Ph.D. in biology from the University of Pennsylvania, and has published more than 80 peer-reviewed journal publications. He was awarded the 2015 Newcomb Cleveland Prize by the American Association for the Advancement of Science for his paper titled "Lattice light-sheet microscopy: Imaging molecules to embryos at high spatiotemporal resolution," published in Science 24 October 2014. 
He is a fellow of the American Association for the Advancement of Science, and has been a member of several National Institutes of Health study sections, including one he chaired. He recently served on the council of the American Society for Cell Biology and now serves on their Women in Cell Biology committee.
He joined Duke's School of Medicine in 1992 as an associate professor of cell biology after serving on the faculty of both The Johns Hopkins University and Harvard University. He became a professor in the Department of Biology in Trinity College of Arts & Sciences in 2000 and was appointed the department's chair in 2007. He has a secondary appointment in Cell Biology in the School of Medicine.