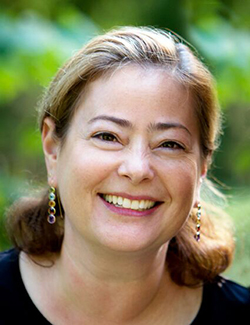 Gennifer Weisenfeld, professor in the Department of Art, Art History & Visual Studies, has been appointed dean of the humanities within Trinity College of Arts and Sciences, effective July 1. She will serve through June 2019.
"Gennifer is an accomplished scholar and an experienced administrator," said Valerie Ashby, dean of Trinity College of Arts & Sciences. "She is naturally a big picture thinker with deep roots in the humanities and this makes her such an excellent choice to represent the humanities departments."
Weisenfeld succeeds Richard Powell, who completes his two-year term as divisional dean in June.
Weisenfeld works on modern and contemporary Japanese art history, design and visual culture and was recently described as "a veteran and pioneer of the field" in The Art Bulletin art history journal. Known for her cross-disciplinary approach to a range of visual materials, her research draws from both the fine arts and mass media, and includes the built environment, performance, and scientific visualizations. She is the author of two books.
Her 2012 book "Imaging Disaster: Tokyo and the Visual Culture of Japan's Great Earthquake of 1923," which examines how visual culture has mediated the historical understanding of Japan's worst national disaster of the 20th century, was translated into Japanese in 2014.
She is currently writing a new book titled The Fine Art of Persuasion: Corporate Advertising Design, Nation, and Empire in Modern Japan that examines the history of Japanese advertising, commercial design and visual propaganda from 1900 to the 1964 Tokyo Olympics.
Weisenfeld is completing her second year serving on the Advisory Committee for Appointment, Promotion, and Tenure. She previously served six years as the director of graduate studies for the Department of Art, Art History & Visual Studies. She has been a member of the executive committees for the Graduate Faculty (ECGF) and the Asian/Pacific Studies Institute. Committed to improving learning through new and innovative models of instruction, Weisenfeld is a core author for MIT's major digital humanities project Visualizing Cultures.
In 2015, in addition to being one of nine faculty participating in the Center for Instructional Technology's Active Learning Fellows program, she was also a fellow in the Duke Trillium Project on sustainability education.
Weisenfeld received the university's Thomas Langford Lectureship Award for faculty excellence. Her work has been supported by organizations such as the National Endowment for the Humanities, the National Humanities Center, the Association for Asian Studies, the Graham Foundation for Advanced Studies in the Fine Arts, the Andrew Mellon Foundation, and the Duke Kenan Institute for Ethics. She is a member of the College Art Association, Association for Asian Studies, and the Japan Art History Forum.
Weisenfeld holds M.A. and Ph.D. degrees from Princeton University and a B.A. from Wesleyan University. She joined Duke's faculty as an assistant professor in the Department of Art, Art History & Visual Studies in 1998.
"I have tremendous admiration for my dedicated colleagues and that inspires me to invest in the humanities at Duke," Weisenfeld said. "It is an honor to become an advocate and facilitator for this rich community of scholars."