Download Duke's New Safety App, LiveSafe
Submit safety tips and virtually walk friends to destinations with the app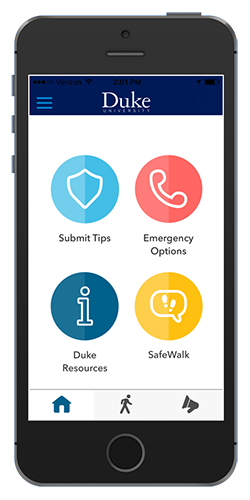 For Moria Montalbano, Duke's new mobile safety app brings a measure of comfort if she has to walk across campus after dark.
Read More
With LiveSafe, Montalbano can ask a friend to virtually monitor her whereabouts through the app as she walks, and if Montalbano has any concerns, she can quickly get in touch with the Duke University Police Department.
"The fact that you can basically have someone monitor where you are, when you ask them to, is a really good way to provide a sense of safety," said Montalbano, associate dean for administration in the School of Medicine.
LiveSafe, which is free for Duke students, staff and faculty, allows community members to submit various real-time tips through the touch of a button – everything from assault/abuse to suspicious activity – to Duke Police, which monitors messages 24/7 in its dispatch center. With the "SafeWalk" feature, the app uses GPS technology that enables individuals to invite others to "virtually escort" and monitor their location on a real-time map.
Individuals can choose to send tips anonymously and can add picture or video evidence. App users are reminded to enable location services to allow the app's geo features to function properly and to call 9-1-1 in a life-threatening emergency.
LiveSafe is available for download through Apple and Android app stores.
"LiveSafe is another way for us all to work together to keep our campus safe," said Duke Chief of Police John Dailey. "This new app allows students and employees to quickly connect with us and let us know if they have a concern or are facing an immediate emergency."
Pre-law freshman and Duke Student Government senator Michael Brunetti recently downloaded the LiveSafe app. He said it's useful to have emergency numbers stored in one place. App users can call 9-1-1 or directly connect with Duke Police by phone call or text message.
The app user's location is also shared when a call is placed or a message is sent through LiveSafe, even if a tip is sent anonymously. Duke Police cannot see an app user's location unless that person reaches out for help.
"It turns every cell phone into a blue light phone on campus," Brunetti said. "I don't know Duke Police's number off the top of my head, and I think most people don't. All the numbers are right there, easy to access."
In addition to submitting tips and virtually walking someone to a destination, the app also provides quick access to Duke and local resources:
The Duke campus map
Emergency procedures in case of a tornado, armed intruder, winter weather and more
Real-time tracking of Duke campus buses
Numbers and information for safety/wellness resources
DukeALERT information in case of a campus emergency