The Innovators
Duke staff and faculty take initiative to solve problems, serve society
On any academic campus, there are great minds to be found all over.
Whether a staff assistant or Nobel Prize-winning scientist, Duke employees take their jobs one step further out of interest and passion to create something novel and productive to help an office, the university and world at-large.
"Ideas are the currency of the 21st century," said Eric Toone, vice provost and director of the Innovation & Entrepreneurship Initiative. "Ideas have power and impact in their application, and Duke excels at helping its entire community turn them into real things that have real impacts on campus and in the service of society."
Innovation isn't just a buzzword at Duke, it's something that staff and faculty practice and preach every day. Of all the ideas that come to fruition, here are just a few making a difference.
Finding New Efficiencies
As every semester starts anew, students file into classrooms and faculty stand in front of them, prepared to share hours of expertise.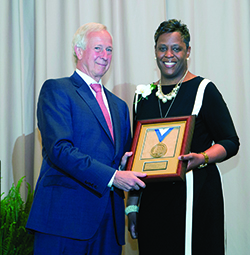 But there's a lot of legwork to create and place a class before teaching begins. That's why in 2013, Tiwonda Johnson-Blount took a new approach to collaborate with faculty to streamline a process of sharing information and registering classes.
Instead of back-and-forth emails and calls with faculty in the Program in Literature, she created an online submissions system to capture all required data in one swoop, saving hours of follow up for her and others.
Now, about a dozen pieces of information for each class – from course type, syllabus and room characteristics – are all electronically sent to Johnson-Blount, assistant to the director of graduate studies in the department. She took the initiative to create this new process through Qualtrics, a widely used survey tool at Duke.
"I felt like I needed to make it easier for faculty as well as myself to get the job done better," said Johnson-Blount, who has worked at Duke for 18 years. "Being able to implement something that can help others makes me feel like I've accomplished something."
In 2014, Johnson-Blount received a Presidential Award in part because of her initiative to create the new process.
"Her ability to put in place procedures to make it easier for faculty to adapt quickly to changes in curriculum protocols makes all the difference in the world to hard-pressed instructors," said Wahneema Lubiano, director of graduate studies for the Program in Literature.
Reaction has been so positive that Johnson-Blount will roll out a second online submission form to ease the burden of creating course numbers with each faculty member in the department.
"It's given me the confidence I can do more," Johnson-Blount said. "If this worked, I knew it would make me feel like I can find more problems to tackle, too." 
Empowering Women, Highlighting Duke
In recent years, several polls have tried to estimate the number of women who act as editors for Wikipedia, the online, crowdsourced encyclopedia. At best, the figure reaches 16 percent, while many cite a survey by the Wikimedia Foundation noting that 9 percent of editors are female.
Kelly Wooten wanted to do something about that.
Two years ago, she created the "Women at Duke Wikipedia Edit-a-thon," a gathering of students, faculty and staff to encourage more women to get involved as editors for Wikipedia, while also creating new entries on prominent Duke women from the university's history.
Wooten has organized the Edit-a-thon with Duke community members each year, helping to spark the creation of a dozen entirely new entries to highlight Duke women like Julia Grout, who served as chair of the Women's Department of Health and Physical Education at Duke from 1924 to 1964. The event has enhanced other Duke women's Wikipedia pages with stronger citations. She's now contributing to a toolkit for state archivists to host similar edit-a-thons.
"Capturing the contributions of women is an essential component of understanding how Duke became the institution it is today," said Bridget Booher, director of Duke Women's Impact Network. "Future scholars and students can connect the dots to see how they're part of this powerful historical legacy."
In addition to the Edit-a-thons, Wooten prepared Duke to host the Zine Librarians (un)Conference in 2014, marking the first time the gathering of national librarians and enthusiasts for homemade books or magazines came to the South. Along with Sallie Bingham Center for Women's History and Culture colleagues, she helped sponsor Durham's own zine festival.
"There aren't a lot of librarians who may have the kind of institutional support we receive at Duke," said Wooten, research services and collection development librarian at the Sallie Bingham Center. "But I never feel like I have to make a hard sell to try something new."
Medicine and Teamwork Collide
When Guillermo Sapiro came to Duke four years ago, little did he know he would create something special with his office neighbor, Dr. Helen Egger.
In Fall 2015, Sapiro, the Edmund T. Pratt, Jr. School Professor of Electrical and Computer Engineering, along with Egger and 23 other faculty and staff from the university and health system, including co-investigators Dr. Ricky Bloomfield and Geraldine Dawson, launched an Apple ResearchKit app with help from the tech company. Called "Autism & Beyond," the program tests the reliability of smart phone questionnaires and video analysis of facial expressions as a possible screening tool for autism and other developmental disorders of children.
Sapiro said the creation of the app – developed over four months by programmers, scientists and students – exemplifies the innovative and interdisciplinary spirit of Duke. Together, the group was recognized with a Teamwork Award at Duke's 2015 Blue Ribbon Awards.
"I don't think this kind of thing could have happened at any other institution other than Duke," Sapiro said. "It's an attitude that we, as faculty and administrators, are not going to let any smart idea go by because it's challenging or we don't have the resources."
On top of daily responsibilities of teaching, caring for patients and maintaining Duke's technology, the Autism & Beyond team put in work to bring the app to fruition. Sapiro said he felt empowered thanks to support from Lawrence Carin, vice provost for research, and Information Initiative at Duke Director Robert Calderbank, who continually told Sapiro the app was an important part of Duke's effort of research and service to society.
"That's the right attitude I see at Duke every single day," Sapiro said. "It's why we're proud to tell everybody what we can accomplish here."