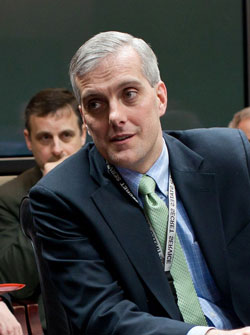 Retired Chairman of the Joint Chiefs of Staff Gen. Martin Dempsey and Denis McDonough will deliver the Ambassador Dave and Kay Phillips Family Lecture on Monday, Feb. 15, at Duke University. 
A long-time member of the Obama administration, McDonough currently serves as the White House Chief of Staff. Prior to this role he served as the Deputy National Security Advisor. Previously he was a senior fellow at the Center for American Progress and worked in the Congress, including as foreign policy adviser for Senate Democratic leader Tom Daschle.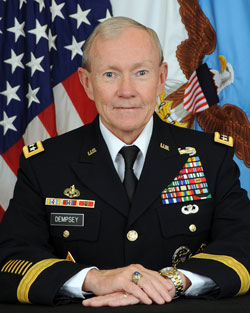 Gen. Martin Dempsey, Rubenstein Fellow.  Photo credit: Department of Defense
Dempsey is a 2016 Rubenstein Fellow at Duke who is teaching courses this semester at the Sanford School of Public Policy and the Fuqua School of Business this semester. The Rubenstein Fellows program is a university-wide initiative that brings thought leaders to campus. 
The talk, "Global Leadership: Change, Complexity and Cost: A Conversation with Denis McDonough and Gen. Martin Dempsey," will begin at 5 p.m. in Geneen Auditorium at the Fuqua School of Business.
The event is free and open to the public, but tickets are required. Tickets are available online at www.tickets.duke.edu ($1.50 processing fee) or in person at the Duke Box Office (no fee) starting Feb. 8, at 11:00 a.m. for students and 12:00 p.m. for the general public. Tickets will be limited to two per person.
"Denis McDonough is nearing the completion of eight years working on the most challenging international and domestic issues facing our country with and for President Obama," said Gen. Dempsey. "He has a remarkable grasp of the issues, and works tirelessly to bring the executive and legislative branches together to solve them." 
 "It is hard to identify two people who have been more involved or more influential in the crucial conversations of recent American foreign policy," said Peter Feaver, professor of political science and public policy and director of the Duke Program in American Grand Strategy.  
"And it is hard to think of a time in recent memory when the questions of American foreign policy have been more fraught and interesting. This is an exceptional opportunity for Duke to hear from two remarkable public servants, one recently retired and the other still on the job."
The event will be live-streamed at https://www.youtube.com/user/DukeSanfordSchool. 
The Ambassador Dave and Kay Phillips Family International Lecture series brings prominent figures in international security, foreign policy and diplomacy to Duke to engage with students, faculty and the larger Duke community about issues of international importance. 
The Phillips Lecture is co-sponsored by the Duke Program in American Grand Strategy, Duke Office of Global Affairs, Triangle Institute for Security Studies, Duke Political Science Department, Sanford School of Public Policy and Fuqua School of Business.