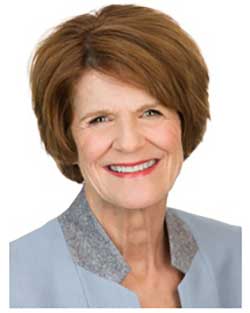 Empowering women to lead in any context is the vision for the new Penny Pilgram George Women's Leadership Initiative, funded by Duke alumna Penny Pilgram George, WC'65, via a gift from the George Family Foundation.
The Initiative, managed by the Center for Leadership Development & Social Action at Duke, will deepen women's understanding and practice of authentic leadership through programs, experiences and opportunities for female-identified undergraduate students over the next three years.
"We live in an exciting age of advancement for women and gender parity in which there are positive societal changes, new opportunities and more role models," said Sanyin Siang, Executive Director, Fuqua/Coach K Center on Leadership & Ethics (COLE).
According to available campus data on student leadership, Duke undergraduate women are engaged in formal leadership learning at higher rates than their male counterparts, but have lower opinions of their leadership abilities than males.
Initiative programs will empower female-identified students to lead confidently in any context, at Duke and beyond.
"How do we leverage the opportunities and highlight the role models? How do we empower and unleash the talents of our students during one of the most formative periods of their lives?  All of this requires a concerted approach across different parts of Duke," said Siang.
All Initiative programs and events will address challenges that women at Duke face, incorporate the high-impact practices of mentoring, create dialogue across difference, encourage reflection, and include wellness components. Many programs are small group experiences for personal development, an approach shown to facilitate the strongest development in women.
All student participants will be included in common leadership assessment.
"I am so excited to work on an Initiative that not only recognizes women's leadership on campus, but that also celebrates, encourages, and facilitates it," said Divya Dhulipala, a student who plans to take advantage of the programs the Initiative will offer.
"There are already tons of woman leaders at Duke that have blazed trails and broken barriers in their own rights. This initiative has so much power because it has the potential to strengthen the individual, create an unprecedentedly strong network, further the institution as a whole, and ultimately take women's leadership on campus to new heights."
The initial year of the Penny Pilgram George Women's Leadership Initiative offers undergraduate women in all fields a diverse set of opportunities for personal and leadership development. The calendar of events present offerings from many University offices, including Innovation and Entrepreneurship, Duke Chapel, Women's Center, DUWELL, Fraternity and Sorority Life and Center for Leadership Development and Social Action.
"The Duke women I know are strong, determined and capable," said Deborah Hackney, associate director, Center for Leadership Development and Social Action.
"We hope the Initiative will help them believe without reservation in their own power to attain their goals and positively influence their communities. "
For more information on the Penny Pilgram George Women's Leadership Initiative, visit the Penny Pilgram George Women's Leadership Initiative website.