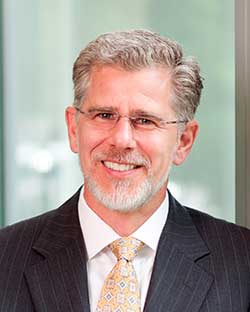 Richard Newell, the founding director of the Duke University Energy Initiative at Duke and a leading expert on energy policy, will be stepping down from his position to pursue new opportunities in research and public service.
Newell, the Gendell Professor of Energy and Environmental Economics at the Nicholas School of the Environment, launched the interdisciplinary Energy Initiative in 2011 after serving as administrator of the U.S. Energy Information Administration. He previously served as a senior economist on the President's Council of Economic Advisers before joining the Duke faculty in 2007.
"Working with other leaders on campus, faculty, students, alumni and dedicated staff, we've been tremendously successful in integrating and building Duke's energy education, research and engagement endeavors," said Newell. "I am now eager to center my efforts on new possibilities for making a difference and look forward to focusing my attention on opportunities in research and service that will help navigate a complex and shifting energy and environmental landscape for the public good."
Under Newell's leadership, the Energy Initiative has grown to encompass more than 130 faculty and researchers in six schools, offering 55 courses to 1,400 students. The Energy Initiative participates in six different degree or certificate programs, and is also the home for the Energy theme within Bass Connections -- a team-based experiential learning program involving students at all levels and faculty from multiple disciplines.  In addition, the initiative supports energy-related research across the university, and collaborates with government, industry and non-profit partners on research and education efforts.
"I am grateful to Richard for his vision and drive in turning a good idea into a thriving reality," said Sally Kornbluth, Duke's provost and Jo Rae Wright University Professor.  "Richard connected the intellectual resources of many schools and departments with his broad and deep knowledge of all facets of energy, from science to policy.  He brought quick and vital credibility to Duke in this important area."
Brian Murray, currently research professor at the Nicholas School and director of the Environmental Economics Program at the Nicholas Institute for Environmental Policy Solutions, has been named interim director of the Energy Initiative. A widely recognized expert on the economics of climate change policy, Murray came to Duke in 2006 after serving as a senior economist and director of RTI's Center for Regulatory Economics and Policy Research.
"I am grateful to Brian for stepping in and providing continuity as we continue to develop an overall plan for energy at Duke," said Kornbluth.
A faculty committee will soon be convened to consider future directions of the Energy Initiative and its collaboration with schools and institutes, she added.