JB Duke Hotel Opens
Guestrooms, conference facilities and more get state-of-the-art upgrades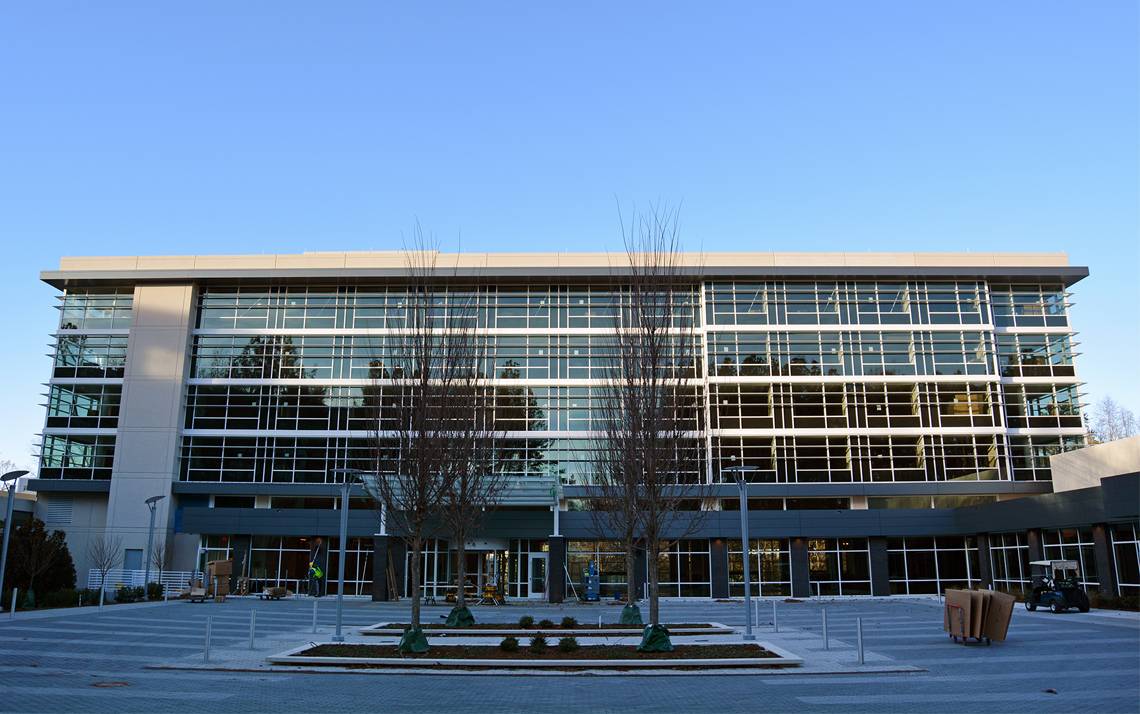 Nearly two years after the start of a project to fully renovate Duke's flagship on-campus accommodation, the JB Duke Hotel is set to open its meeting spaces and guestrooms to the Duke community and visitors.
On Jan. 8, the 207,000-square foot hotel will open with a new ballroom, doubled overall footprint, enclosed guestroom corridors and walkways, and five-story guest room tower.
About 21,000-square feet inside the hotel is dedicated meeting space, from two 16-seat boardrooms with full audio and AV capabilities to tiered classrooms modeled after those found in the Fuqua School of Business.
The JB Duke joins the Washington Duke Inn in providing first-rate accommodations and conference facilities to the Duke community and local area. The space will be open to the public beginning Jan. 8.
"We are thrilled to have a state-of-the-art facility that matches our exceptional programs educating business leaders and meets the standard of excellence Fuqua has established," said Fuqua Dean Bill Boulding. "The JB Duke Hotel will help us accommodate a new degree program in data analytics, our MBA programs for working professionals and our portfolio of continuing education programs. Duke as a whole will also benefit from the JB Duke and the excellent accommodations, dining, meeting and event space it will provide."
Work to renovate the former R. David Thomas Center began in March 2015, and construction specifications have followed "Global Quality Standards" by the International Association of Conference Centers, which highlight enhanced areas of technology, lighting, sound and meeting areas. Total cost of the project was $62 million.
Among the many changes to the hotel is the addition of glass walls throughout public spaces. About a third of the entire building is glass. That addition is paired with new flooring, which has carpeting designed to mirror the shadows cast from trees surrounding the hotel, creating a complement to the natural environment even when inside, noted Gregg Hilker, general manager of the JB Duke.

Carpets are meant to mimic the shadows created by trees outside.
In all, there are 198 guestrooms at the JB Duke, including 11 suites. Other highlights include:
A renovated and full-service dining area that seats about 200 with specific areas for soups, salads and sandwiches, a hot food bar with chef and an area devoted to desserts.
Two full-service bars: One in the lobby to serve as a main gathering space and another adjacent to the main dining room with views to showcase Duke's athletics campus.
A 5,400-square foot ballroom that can be partitioned to create up to five enclosed meeting spaces.

A look of one of the nearly 200 guestrooms at the JB Duke Hotel.
One well-known aspect of Duke will also be featured in the main lobby, as its staircase has wrapped panels set on top of brown metal to mimic the appearance of Duke stone across campus.
"We wanted to have Duke integrated into the space, but not be the exact same thing," Hilker said.
The hotel was named in honor of James Buchanan "JB" Duke, son of Washington Duke, for whom the university was named. The hotel is owned by Duke and will be managed by Durham's WDI Hospitality, LLC, which also oversees the Washington Duke Inn & Golf Club.