Photos Show a Year in the Life of Duke
Community captures 2015 experiences in Document Duke 360 project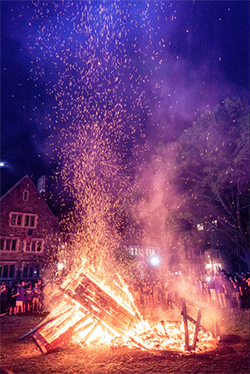 After one full year and 2,306 submitted photos, Duke community members from across campus and the globe have thoroughly shared the way they see Duke. 
Read More
Dec. 31 marked the end of "Document Duke 360," a yearlong, crowd-sourced project that invited students, employees and alumni to contribute to an ongoing visual conversation about Duke. From Durham to China, 194 photographers had their work selected as a "photo of the day" while nearly 1,500 people followed daily posts on the Document Duke 360 Instagram account.
"When we started we were worried how we could maintain momentum and keep people interested in contributing," said Chris Hildreth, director of Duke Photography. Along with a partnership with the Center for Documentary Studies, Hildreth helped manage the project with coworkers Megan Mendenhall and Bill Snead. "But there are a lot of people taking pictures every day and this became a natural, organic way to share photos."
Among the contributors, 102 students and 53 employees had photos selected. One of the most published photographers was Carol Jackson, a digital communications strategist at the Sanford School of Public Policy.
Jackson had nine photos published across 2015, and her favorite was a portrait of Jacqueline Lyon, a housekeeper at Sanford. Jackson said she wanted to highlight Lyon because the housekeeper was so friendly and good at her job she deserved recognition.
"We had tried a few different positions when I climbed up on a chair to get a little higher than her," said Jackson, who shot the picture on her iPhone 6. "We wanted to get her cleaning supplies in the shot because they were her tools of the trade." 
Three staff members were the most prolific photographers for Document Duke 360, with Michael Palko, Shaun King and Audra Ang each with 12 photos published. Ang found inspiration from the Von der Heyden Pavilion , Duke Chapel and a line of lockers at the Fuqua School of Business.
"I was excited about the community and global aspects of Duke 360 from day one," said Ang, a senior public relations specialist in Duke Development. "The potential to see Duke through the eyes of so many different people - both on a macro and micro level - was tremendous."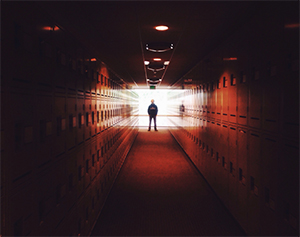 Audra Ang's photo of a hallway at the Fuqua School of Business was among 12 of her pictures selected as "photo of the day" for the Document Duke 360 project.
The full archive of photos will remain online in reverse chronological order (latest photos from December listed first) and can be perused for a variety of eclectic scenes. Some popular images ranged from reading of A Midsummer Night's Dream with a student wearing a unicorn mask to President Richard Brodhead photobombing a student's selfie at Cameron Indoor Stadium. The most "liked" image on Instagram came on April 6 – a photo of a bonfire after the Duke men's basketball team won a national championship.
"Not only were the images exquisite, powerful and in many cases surprising," said Mike Schoenfeld, vice president of public affairs and government relations, "but the engagement of so many members of the Duke community made Document Duke 360 even more meaningful."
See every photo of the day from 2015 in the video "Document Duke 360 in 60 Seconds":