Members Named to Committee Studying Recognition for Julian Abele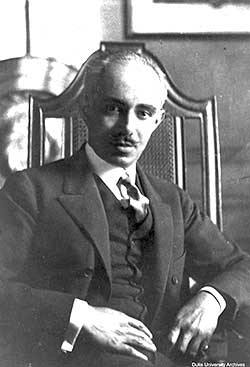 Eleven Duke faculty, alumni, staff and students will join Executive Vice President Tallman Trask on a committee that will advise President Richard H. Brodhead on how the university can best recognize pioneering African-American architect Julian Abele.
Abele, who in the 1920s was the chief designer of the Philadelphia architectural firm of Horace Trumbauer, played a central role in the design of Duke's West Campus.  He continued to contribute to the design of the growing campus into the 1940s.
His contributions weren't widely known on campus until the mid-1980s, when Duke students made Abele a centerpiece of their racial justice activism.
This past semester, at two community forums on issues or race and bias on campus, students passionately argued that Duke's institutional history had neglected the contributions of African Americans and other people of color. They pressed for a campus building to be named after Abele.
Brodhead said the new committee is meant to ensure that Abele is commemorated in the most appropriate way. To date, Duke has recognized Abele's work in several ways. Abele's portrait was placed in the lobby of the Allen Building, the university's main administration building, in 1988.
In early 2015, another portrait of Abele was hung in the newly renovated Gothic Reading Room in Rubenstein Library, joining former Duke presidents and board chairs and other university dignitaries, including historian John Hope Franklin.
"Julian Abele envisioned the physical world of Duke University," Brodhead said in appointing the committee. "It is time to ensure that his legacy is clearly known so that future generations of students and faculty can be inspired by his genius."
Trask will chair the panel.  Other members are: Phil Freelon (architect), Rick Powell (dean of humanities), Annabel Wharton (art, art history and visual studies), Valerie Gillispie (university archivist), Sarah Schroth (Nasher Museum), Michael Marsicano (trustee), Oscar Dantzler (Duke Chapel) and students Michael Norwalk, Keizra Mecklai, Alisha Hines and Seth Pearson.
The committee is holding its first meeting this week. The president has asked Trask to report to him and the Board of Trustees' Committee on Facilities and Environment at its February 2016 meeting.
Suggestions and comments can be sent by email to Trask.