Employees Honored with Teamwork, Diversity Awards
Annual awards presented to faculty and staff from across Duke
From bringing together students of different backgrounds to autism research, a collection of Duke faculty and staff were recognized this week for their efforts to promote diversity and teamwork, two of Duke's hallmark guiding principles. 
Each year, Duke recognizes university and health system employees as Teamwork and Diversity award winners for contributions to Duke and Durham.
This year, Kulpreet Singh Koura, team lead at Duke Health Technology Solutions, and Julie Cusatis, senior manager of international programs in the School of Nursing, received Diversity Awards.
Teamwork Awards for collaborative workplace environments went to Duke Raleigh Hospital's TeamSTEPPS Steering Committee and a collection of 25 faculty and staff from across the university and health system for work on an autism research app.
Duke President Richard H. Brodhead honored all the award recipients during an event at Sarah P. Duke Gardens on Tuesday.
"The secret of what makes Duke able to do the different things that it does in its mission is pretty simple, which is you actually just need outstanding people to make these things possible," said Brodhead, who spoke about Duke's commitment to academics, research and patient care. "You need people who are skilled, people who are devoted…they have to be people who have a sense of the values of this place."
Here are the Teamwork and Diversity award winners from the university and health system:
Diversity Awards
Promoting an Inclusive Environment
Since arriving at the School of Nursing in 2011, Julie Cusatis has taken on a variety of roles to support and enhance diversity at Duke and elsewhere.
For three years, she served as program coordinator for a summer program designed to diversify the background of nursing students while also serving in the same role for another program to support development of joint programing between Duke and Winston-Salem State University for the purpose of facilitating doctoral study among students at the historically black university. 
Cusatis has also acted as co-chair for the School of Nursing's advisory committee on diversity, which developed the school's credo on diversity and production of a video to highlight that commitment.
"Her positive spirit, her contributions to the crafting and refinement of our school's diversity statement, and her leadership in our efforts to strengthen an inclusive environment where the uniqueness of each individual is valued, celebrated and maximized, have helped to improve understanding," wrote Theresa Valiga, director of the School of Nursing Institute for Educational Excellence, in her nomination.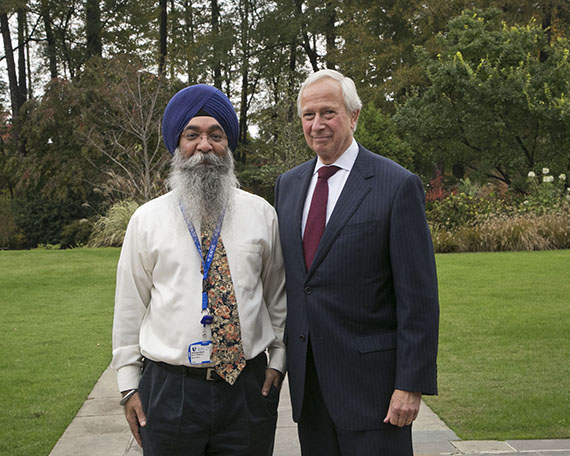 Contributing to Duke and Durham
In nearly 14 years working at Duke, Kulpreet Singh Koura has held several jobs within Duke's medical center and health system, but all the while, he's also focused his attention to the people of Durham and North Carolina.
Koura, an active member of the Sikh community, was part of a team that formed the constitution and by-laws of Sikh Gurudwara of North Carolina, a worship and gathering space for people of the Sikh faith. Through the group, Koura has organized numerous community events, from blood and food drives to children's programs and learning opportunities for Durham Public Schools.
"Kulpreet's faith teaches him to treat all individuals with equal respect regardless of gender, race, religion or any other distinction," Tammy King, senior manager for the Duke Medicine Service Desk, wrote in her nomination. "These teachings help him to be a great team member and have led him to contribute to an already diverse environment at Duke."
Teamwork Awards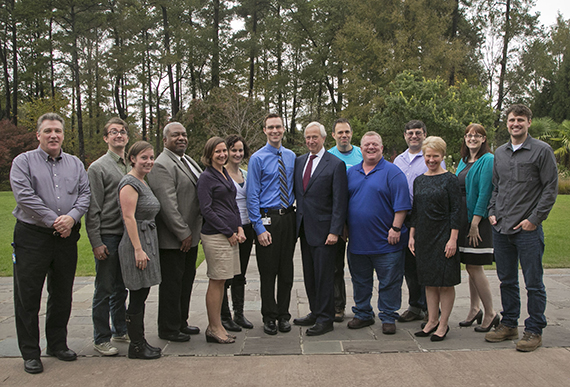 A New Way to Research Autism
This past spring, Apple released a new open source software framework known as ResearchKit, which allowed for the creation of new apps geared toward medical research. Duke immediately planned to get involved.
Bringing together 25 faculty and staff from across 11 schools and departments, a group of employees came together to donate time and resources to create an app that uses video analysis and machine learning techniques in children to potentially develop a screening tool for autism and other mental health and developmental challenges. Released in October, the "Autism & Beyond" app offers a novel way for families to better determine the needs of children.
"This collaboration across the various teams enabled us to quickly deliver a robust, high-quality app that will significantly impact our understanding of autism," read the nomination from Paula Morrison, assistant dean of application development at Duke's Office of Research Informatics. "A bonus side effect of this project is that we have all built collaborative relationships that will serve us well in the future." 
Team members: Richard Adrian, Richard Bloomfield, Samuel Brotkin, Rebecca Brouwer, Kathleen Campbell, Kimberly Carpenter, Chet Corey, Jamie Daniel, Geraldine Dawson, Helen Egger, Steven Espinosa, Matt Gardner, Jordan Hashemi, Darin London, Darrin Mann, Sal Munguia, Johanna O'Dell, Jeff Paynter, Qiang Qiu, Mike Revoir, Guillermo Sapiro, Jana Schaich Borg, Marissa Stroo, Mariano Tepper, Stephen Woody
Upgrading Hospital Safety
In August 2014, Duke Raleigh Hospital created a steering committee based on a model created by the Agency for Healthcare Research and Quality known as Team Strategies and Tools to Enhance Performance and Patient Safety. The goal was to find ways of embedding teamwork behaviors and structured communication into daily work culture in order to improve safety. 
Using data compiled from surveys with employees, the steering committee, made up of 10 hospital staff, offered training courses to 150 team leaders with a focus on communication and creation of unit-specific goals to implement a culture of safety. 
"I am impressed with their level of collaboration in developing department and unit-specific strategies by collaborating with the leadership of those teams to achieve their goal," wrote Priscilla Ramseur, chief nursing and patient care services officer at Duke Raleigh Hospital, in her nomination. "Their outcomes have been very successful due to their efforts of creating open dialogues and trust to ensure team cooperation throughout the Duke Raleigh Hospital campus."
Team members: Claudia Lelewer, Lee Craddock, Nancy Davis, Tammi Hicks, Elaine Long, Kristine Merritt, Priscilla Ramseur, Michael Spiritos, Margaret Sturdivant, Alex Sy