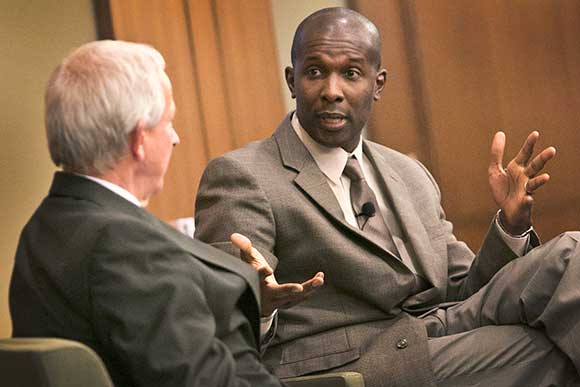 President Richard H. Brodhead listens as Dr. Damon Tweedy shares thoughts on how racial bias is found in many facets of the health care system. Photo by Chris Hildreth/Duke Photography.
When Dr. Damon Tweedy presented President Richard H. Brodhead his newly published memoir, he warned Brodhead it wasn't entirely flattering to Duke.
"I don't expect it to be flattering," Brodhead recalled telling Tweedy. "I would be interested in reading it if it was truthful."
The book, "Black Man in a White Coat," is filled with true stories from Tweedy's medical training and practice, both as a student at the Duke School of Medicine and as a current assistant professor of psychiatry at Duke. In retelling his journey from a low-income Maryland neighborhood to becoming a doctor, Tweedy presents challenging insights on the many ways race and poverty affect health issues and our health care system in general.
Tweedy sat down with Brodhead Thursday in Rubenstein Library for a public conversation about his book and the issues it raises. More than 150 people filled the new Holsti-Anderson-room in the library. 
Tweedy said he didn't grow up dreaming of becoming a doctor. Few kids in his neighborhood went into professions, and several neighbors ended up in prison. He didn't meet a black doctor until he was an undergraduate in the prestigious Meyerhoff Scholars Program at the University of Maryland at Baltimore County. (UMBC President Freeman Hrabowski received an honorary degree from Duke in 2005 and is renowned for his efforts in boosting minority enrollment in the sciences and mathematics.)
Tweedy came to Duke Medical School "as an insecure young man. I have great parents, but neither went to college. I looked around at the other students and wondered how would I fit in here."
He arrived at Duke in a period of transition at the medical school. Today the school has one of the highest minority enrollments in the nation, but when he arrived in the late 1990s, Tweedy was only one of a handful of black medical students. Pediatric cardiologist Dr. Brenda Armstrong, herself one of the pioneering African-American undergraduates at Duke, had just been named associate dean and was helping to recruit and mentor black medical students.
Early on at Duke, Tweedy recalled, came humiliation. A medical professor mistook him for a facilities worker who had come to replace a burned-out light.
"First, I internalized the idea that I had done some wrong," Tweedy said. "Then the professor got irritated and kept after me. He asked me why I hadn't I fixed this yet, that the request had been made last week."
Tweedy said he didn't know what to do afterward and kept mostly quiet about the painful incident. It reinforced his insecurities about whether he fit at Duke. "I decided the only thing I could do to prove that I belonged there was to excel. I holed myself up in (my) room. I left only to go to class. And in the end, I got honors in the class."
He told Brodhead that he knew these kinds of humiliations were common among African-Americans, "but this wasn't some stranger that I would never see again. This was a professor, someone with real power." 
This was the first in a series of episodes he recounted that underscored the way racial bias, both conscious and implicit, plays out in health care. There was the dying white man, his family wearing clothing with Confederate flags, who didn't want to be treated by a black doctor. Tweedy came to win the family's confidence and in turn realized he had made his own presumptions about them.
He also told of his medical colleagues, who, when faced with a black patient with chest pains, attempted to label him as "obsessive" simply because he was reluctant to go on medication, asked good medical questions and showed a strong knowledge of his condition.
Beyond the personal anecdotes, Tweedy said in his practice, he found regular reminders of the systematic difference access to medical care made and how race influenced that access. Noting the many racial gaps in health outcomes, he said being black "can be bad for your health."
"One time I did ask a professor, what (are these racial gaps) all about? She could just say, 'This is the way it is.' It was disheartening.
"Once I started seeing patients, I could see all these different factors.  I could see the different level of care black people were getting, the impact of poverty, the effects of different access to doctors.
"Then there are issues of relations between doctor and patient. A lot of times I would wonder if the doctor and patient were on the same page. Black patients had the feeling the white doctors didn't understand them.  They would bristle at routine treatments. It comes out of this whole history of using blacks in unethical medical experiments. That history still plays out in reality."
But he also presents a note of optimism, "that race is not destiny." He noted he himself had been diagnosed with very high blood pressure -- common among African Americans -- but had managed it through nutrition and lifestyle.
To Brodhead, Tweedy's memoir showed the value of caring for patients "by showing humanity first. The medicine can come afterwards."
Brodhead added that though Tweedy's journey was unplanned and filled with unexpected turns, at every point, he overcame challenges. 
"I'll note that you pounded and pounded away in spite of these challenges," Brodhead said. "And through those challenges you developed wisdom that you have shared with us.  I'm delighted to have you as a colleague."