Texting Service Connects Duke Police, Community
Students and employees can write in to share tips, report incidents
In case of suspicious activity, making a call to the Duke University Police Department isn't the only way students and employees can help keep campus safe.
Duke community members can also confidentially type a text message to contact police through the "Emergency" icon on the Duke Mobile app, which is available for free through the Apple and Android app stores. All text messages are monitored 24-hours-a-day, 7-days-a-week through a web interface in the police department's dispatch center.
Read More
Those without a smart phone can text Duke Police directly by texting 67283 and using the keyword "HelpMe" as the first word in the body of the message.  
"We know there might be situations where people don't feel comfortable being on the phone to report a suspicious person or an unsafe incident," said Tara Taylor, emergency communications manager for Duke Police. "It may be easier for them to text versus being seen or heard talking on a phone."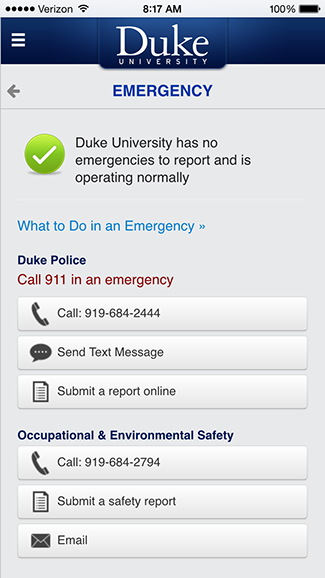 A screenshot of the DukeMobile app, where students and employees can send an emergency message via text.
It's another layer of convenience the department wants to offer students, faculty and staff as part of a shared effort to making campus a safer place. Duke Police already offers a way to file reports online and can be reached at any time by calling (919) 684-2444. 
The emergency texting service, which has been in place for a year,  isn't meant to replace calling 9-1-1 in case of immediate emergencies but any received texts are handled with the same urgency as if someone were to call 9-1-1 over the phone.
Texting isn't just a benefit to students and employees who use it, but to Duke Police as well.
"This service is another way we hope to partner with the Duke community in order to provide the most comprehensive collection of communication tools," said John Dailey, chief of Duke Police. "Campus safety is our top priority and this gives us another way to achieve that."