An artist's rendition of the new arts center, as seen from Campus Drive.
A $25 million gift and a new, $50 million building will provide a robust boost to Duke University's fast-growing arts community. 
The gift comes from David M. Rubenstein, chairman of the university's Board of Trustees and a longtime supporter of the arts.  It will help create and sustain programs, activities and performances across the range of performing and visual arts at Duke.
At the same time, the 71,000-square-foot facility on the northeast corner of Anderson Street and Campus Drive, near the Nasher Museum of Art and Duke Gardens, will give Duke a true headquarters for the arts -- providing space for rehearsal, performance, video production, classroom instruction and other uses.  Construction was approved this weekend by the university's Board of Trustees and is expected to take two years.
"We are grateful to David Rubenstein for his visionary gift, which will ensure that the arts continue to thrive as a significant dimension of a Duke education, while the new space will set the stage for a thousand forms of creativity and innovation," said Duke University President Richard H. Brodhead.  "The arts building represents a major step in Duke's commitment to supporting the artistic work of our students and faculty."
"Duke has made great progress in recent years in bringing the arts to the same level of excellence we expect in anything that the university does," said Rubenstein.  "I look forward to this new building, and the programs and performances that will take place in it, becoming an essential part of every Duke student's experience."
Rubenstein, a 1970 Duke graduate, is one of the leading arts philanthropists and advocates in the country.  He currently serves as chairman of the John F. Kennedy Center for the Performing Arts, a trustee of the National Gallery of Art, and a member of the board of the Lincoln Center for the Performing Arts, and he has made significant gifts to expand all three institutions.  Rubenstein's previous contributions to Duke have included major support for the Sanford School of Public Policy, athletics, fellowship and faculty programs, and the libraries, which recently dedicated the newly completed David M. Rubenstein Rare Book and Manuscript Library.
The new arts center at Duke is the largest and most recent in a series of university investments in arts facilities, programs and faculty that total close to $100 million over the last decade. This commitment to arts education, training and performance is a reflection of rising student interest and a desire to make the arts a more central element of the overall Duke experience, said Scott Lindroth, a music professor and vice provost for the arts.
"The arts can play a key role at a research university," Lindroth said. "They can be an activity for students, but they can be much more than that as well. We're positioning the arts to be a real partner in academic inquiry."
The new center will sit prominently along Campus Drive, a central artery connecting Duke's East and West campuses. It will be within a quick stroll of the Nasher Museum and the arts annex -- a workspace for student arts groups -- as well as the Center for Documentary Studies, the MFA in Experimental and Documentary Arts program and Smith Warehouse, where many arts faculty are headquartered. This corridor is bookended by newly renovated performance venues -- Page Auditorium on West Campus and Baldwin Auditorium on East Campus. 
The center will be the latest evidence of Duke's steady investment in the arts dating to the opening of the Nasher Museum in 2005. The Nasher's instant popularity made clear there was an appetite for a more expansive arts culture at Duke, Lindroth said.
"It was the real moment of reckoning," he said. "It pushed Duke to take the arts very seriously and make a strategic investment so the arts could play a more central role in the campus culture."
Soon after the Nasher opened, a new strategic plan named the arts as a priority. Lindroth's administrative position was created to provide campus-wide leadership, facilities needs were identified and arts departments began hiring more professors.
Student interest has followed. Today, three times as many prospective students include arts portfolios with their applications as did a decade ago. Two new certificate programs in the arts, along with the four-year-old MFA program, have been approved in recent years, and the number of student arts organizations has increased to 75 – of which 18 are dance-related.
Duke's Dance Program will be one of two academic departments -- along with Arts of the Moving Image -- that will relocate to the new arts center. About 300 students from majors across the academic spectrum enroll in dance courses each semester. Many belong to student groups that lobby for time in one of two dance rehearsal spaces, one on East Campus, the other in a studio just off campus.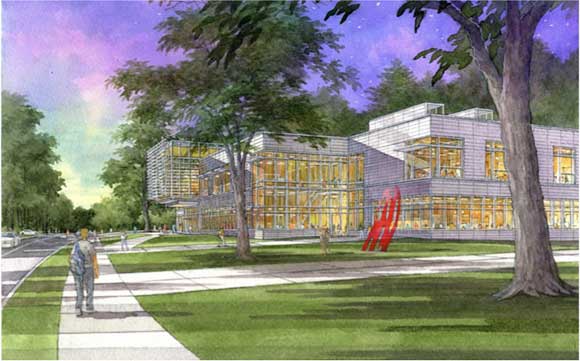 The arts center, view looking west.
Using Your Whole Brain
Collaborations among students and faculty from seemingly disparate academic backgrounds lie at the core of Duke's arts renaissance. In weaving the arts into the fabric of the Duke experience, the university has created scores of courses, projects and out-of-classroom experiences where the arts and sciences, mathematics, engineering and even medicine intersect. For instance, a Bass Connections project examines the effect of music on the brain. Art history and archaeology students use high-tech digital tools to re-create ancient Italian ruins.  A dance student's final project examines dance as a therapy for Parkinson's Disease patients.
"You need to develop both sides of your brain," said Purnima Shah, chair of Duke's Dance Program. "You can't do a science experiment without developing the creative side of your brain. The arts are imperative."
The new center will feature a dance studio along with a dozen multi-use studios, a 200-seat performance theater, a 100-seat film theater, a garden, lounge, library, reception space, a painting and drawing studio, offices and classrooms. Though it will provide an administrative home for the dance and film programs, it is not intended as a solely academic facility. 
"The arts center sends a really strong message that Duke has made the arts a serious and central priority," said Aaron Greenwald, director of Duke Performances, the university's professional performing arts presenting organization. 
Artists featured by Duke Performances often spend time in Duke arts classes working with students and faculty; the new center will certainly add to those experiences, Greenwald said.
"The arts are this incredible interdisciplinary tool," he said. "They teach storytelling, teamwork, critique and other real-world skills. But the arts also capture the sublime. The new center will help both of those ideas thrive."