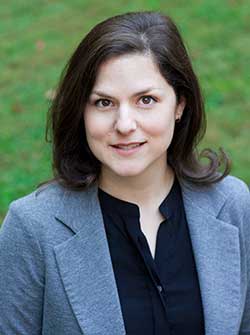 Graduate students have a lot of ideas, says Mary Caton Lingold, who is nearing completion of her Ph.D. in English. What they often lack is status and access to resources, which can make it hard to innovate on a larger scale.
So tapping into structures designed to bring scholars together from different areas is a smart move, Lingold says. "Fostering interdisciplinary collaboration helps to capitalize on the energy that grad students bring to their field."
Inspired by her interest in early Caribbean literature, Lingold took a course on the history of Haiti with Laurent Dubois and joined the Haiti Lab at the Franklin Humanities Institute, directed by Dubois and Deborah Jenson with graduate, undergraduate and faculty collaborators. The lab focused on innovative thinking for the country's recovery from the 2010 earthquake and for the expansion of Haitian studies in the United States and Haiti.
"What hooked me was standing next to Edouard Duval Carrié, a world renowned artist who created Haiti in Amber, decorating the libretto of an early Haitian opera," Lingold says. "An undergraduate premed student was also next to me, and we're gluing sparkly things onto a research document. I thought, this is the kind of research I want to be involved with! It was the sense of all working alongside each other that I found inspiring. It's about the community that's formed, the conversations you're having…I was plugged into a community with a sense of purpose, and I really liked being part of something bigger than my own research."
Lingold also got involved in the Audiovisualities Lab, where she pursued her idea for an open-access archive of sounds. "The Sonic Dictionary project was a pipe dream that I couldn't have realized without the lab structure. Eleven courses at Duke and Oberlin have contributed to it so far." She conceived of and taught a related course, Sounds of the South, to engage undergraduates in the burgeoning field of sound studies.
"The students loved working on a collaborative digital project," she recalls. "Writing for a public audience really motivated them. It was galvanizing. They like work that's bigger than themselves."
In the humanities, a student's work may often result in an essay that only his or her professor will read, Lingold points out. Her students were excited to make "a contribution to public knowledge."
She applied to the Graduate Digital Scholarship Initiative, which led to Provoke!, a collaboration with colleagues in English and music.
"Scholars can use sound in digital spaces, but usually it's lots of text and a little audio clip," Lingold says. "What kinds of innovations could more meaningfully integrate sound?" She and her colleagues put out a call for projects, provided funding for groups at Duke and other institutions and designed a website to showcase the projects.
Stemming from this experience, Lingold is coediting a book for Duke University Press about digital sound studies.
And in collaboration with Laurent Dubois and David Garner, who recently received his Ph.D. in music composition, she coproduced a digital project called Banjology and is working on Musical Passage: Voyage to 1688 Jamaica, a website that animates the earliest musical notation documenting African vernacular music in the Americas.
Currently Lingold is finishing her dissertation on representations of early Afro-Atlantic music in literature. She's thriving in an environment that supports her creative pursuits across fields with a rich array of faculty and student partners: "I have felt at home here because Duke supports interdisciplinary work."