Staff Recognized During 'Housekeeping Week'
Celebrations held throughout week for housekeepers across university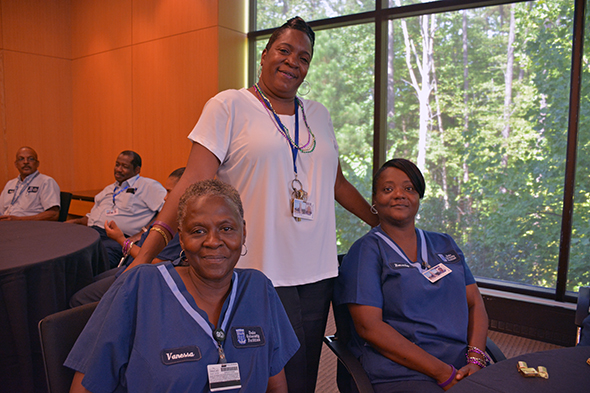 Duke's Facilities Management Department celebrated International Housekeeping Appreciation Week, with special breakfasts and lunches to recognize the work of the roughly 400 university housekeeping staff that care for offices academic buildings and more.
Above, Annie Smith, standing, senior supervisor for second shift housekeepers, poses Wednesday afternoon for a photo with Vanessa Bass, left, and Beverly Jordan, housekeeper specialists at the building. The trio joined about two colleagues for a lunch in Fuqua's Esbenshade Meeting Room.
Bass said she was excited for this year's events because it allowed her to have lunch with her coworkers who all work the second shift, which lasts from 2 to 10:30 p.m. 
"We don't get a chance to do stuff like this often, so today meant a lot," she said. "It's nice to get together to talk and laugh."
At the Fuqua event, Michelle Vaughan, manager for the building's housekeeping services, said housekeeping staff are often the most important people to a facility and can have all kinds of impacts, even influencing a prospective student. 
"A lot of times things can go unnoticed," she said. "But when you walk into a building and the outside is clean, the restrooms are clean, the grounds are clean, it helps them to make that decision to come here." 
Additional celebrations for housekeeping staff took place this week at the Washington Duke Inn & Golf Club, Scharf Hall and in individual departments across the university.
Below, housekeeping specialists Argin Mason, left, and Sesly Chavis pose by a poster they made with coworkers to display at the Levine Science Research Center, where they work.
"Our housekeepers clean up some substances most people would cringe at the sight of," said Albert Scott, senior director of grounds, housekeeping and sanitation. "This celebration shows that Duke cares about its employees and the level of effort exhibited by the many departments that are showing appreciation to their housekeeping staff members this week."