A Roundup of Fall Books by Duke Authors
Explore Catholic life, the Las Vegas Strip and 'a politics for the anthropocene'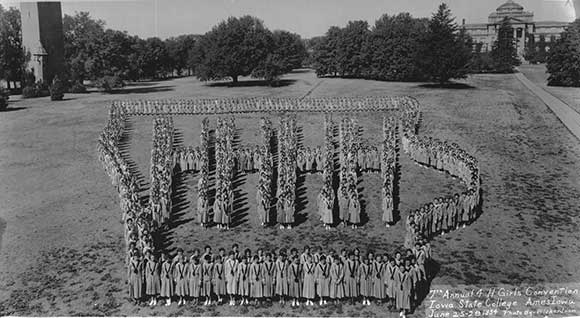 A picture of the 1934 Iowa 4-H Girls Convention.  Duke Professor Gabe Rosenberg explores the history of the iconic American club and its influence on culture and gender. Courtesy Iowa State University Historical Archives.
Read More
Bring on the cooler weather, football Saturdays, and most importantly, the fall books by Duke writers. It's publishing's high season. Here are the new releases, spanning anthropology, biopolitics, world literature and poetry.
Many of the books, including new editions of previous titles, can be found on the "Duke Authors" display shelves near the circulation desk in Perkins Library. Some are available as e-books for quick download. Most can also be purchased through the Gothic Bookshop. 
[Duke Today will provide similar updates in the future. If you are a member of the Duke faculty or staff who will be publishing a book of interest to a general audience, send us a message about it along with your publisher's brief description.]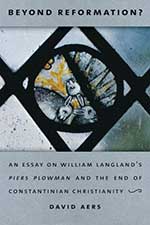 David Aers: "Beyond Reformation?  An Essay on Langland's 'Piers Plowman' and the End of Constantinian Christianity" (University of Notre Dame Press)
Aers, a James B. Duke Professor of English and Historical Theology who works especially on medieval and early modern literature, theology, ecclesiology and politics in England, explores the final version of William Langland's "Piers Plowman," the most searching Christian poem of the Middle Ages in English. His reading explores the relations of Langland's poem to both medieval and early modern reformations together with the ending of Constantinian Christianity. "David Aers, as a master interpreter, shows us how he reads Langland and, while doing so, instructs us in how to read," notes Villanova University philosophy professor James Wetzel in a publisher's endorsement.
Anne Allison, co-editor: "Japan: The Precarious Future (Possible Futures)" (NYU Press, Dec. 15)
Anne Allison, a professor of cultural anthropology and women's studies, marshals the insights of Japanese economic, political and cultural scholars to examine the various roads that might lie ahead for Japan as it grapples with multiple challenges. Her earlier book, "Precarious Japan" (2013), argued that decreasing job stability, a shrinking population and nuclear contamination had radically altered how Japanese relate to one another.
Julie Tetel Andresen, co-author: "Languages in the World: How History, Culture, and Politics Shape Language" (Wiley-Blackwell, Nov. 23)
English professor Andresen and her co-author provide an interdisciplinary account of the evolution of language over the past 200,000 years. A companion website features sound files and a host of additional supplementary material.
Carla Antonaccio, co-editor: "Classical Archaeology in Context. Theory and Practice in Excavation in the Greek World" (de Gruyter)
The Duke archaeology professor presents a series of case studies to address the current state of the field, the goals and direction of Greek archaeology, and its place in archaeological thought and practice.
Carol Apollonio, translator: "The Mountain and the Wall" by Alisa Ganieva (Deep Vellum Publishing)
Apollonio, professor of the practice of Slavic and Eurasian Studies, brings to English language readers the debut novel by a young Russian writer telling the story of the decline of a society torn apart by its inherent extremes. "Never before has Russian literature produced such an honest and complete picture of today's Caucasus," noted Kommersant Weekend (Russia).
David Banks, co-author: "Adversarial Risk Analysis" (Taylor & Francis)
A relatively new area of research, adversarial risk analysis informs decision making when there are intelligent opponents and uncertain outcomes. Banks, a professor of the practice in statistical science, presents methods developed for allocating defensive or offensive resources.
Juliana Barr, co-editor: "Why You Can't Teach United States History Without American Indians" (UNC Press)
Barr, an associate professor of history, brings together scholars who make it clear that Native American histories are central to American history. Barr's own essay -- the first in this sourcebook for teachers -- shows how modern textbook maps of early America have erased the reality of the Native American nations even though they were reported on the maps of early modern European settlers and explorers.
Mary T. Boatwright, co-editor and co-author: "History of the ICCS: The First Fifty Years (1965-2015)" (Centro Press).
Boatwright, chair of the Department of Classical Studies and a professor of ancient history, recounts the development of the Intercollegiate Center for Classical Studies, founded as an experiment in providing North American classical studies majors a semester in Rome.
Marc Brettler, co-editor: "The Jewish Studies Bible," Second Edition (Oxford University Press)
At 2,300 pages and featuring 54 contributors and 42 essays, the second edition of "The Jewish Study Bible" represents a monumental scholarly achievement. For the podcast "New Books in Biblical Studies," Brettler talks about the complexity of that undertaking and the foundations upon which it was built. Brettler is a professor in the Department of Religious Studies and Bernice & Morton Lerner Professor in Judaic Studies.
Richard M. Burton, co-author: "Organizational Design: A Step-by-Step Approach" Third Edition (Cambridge University Press)
Burton, professor emeritus of strategy, adds a new chapter on managing change on a practical level, new case studies, extended discussions of new organizational forms, and architecture design and knowledge systems.
Andrew Byers, co-editor: "Biopolitics and Utopia: An Interdisciplinary Reader" (Palgrave Macmillan)
Byers, a visiting assistant professor of history, addresses a range of biopolitical issues in this addition to the Palgrave series in bioethics and public policy. One section reviews science fiction texts as expressions of cultural and social fears about scientific progress.
John Clum, co-editor: "Awkward Stages: Plays About Growing Up Gay" (Cambria Press)
Clum, a professor emeritus of theater studies, teamed with a colleague at UCLA to select five plays that have received powerful productions across North America and that offer insightful perspectives on gay adolescence. The book, detailed in a publisher's video, serves as both an introduction and a catalyst for a deeper examination of the plays.
Using portraits of free blacks in the early 19th century, Jasmine Cobb traces the emergence of Black freedom as both an idea and as an image during the early 19th century.
Jasmine Cobb: "Picture Freedom: Remaking Black Visuality in the Early Nineteenth Century" (NYU Press)
In the decades leading up to the end of U.S. slavery, many free blacks sat for daguerreotypes decorated in fine garments to document their self-possession. Cobb, assistant professor of African & African American Studies and Art, Art History & Visual Studies, explores these and other early illustrations of free blacks and reveals the complicated route through visual culture toward a vision of African American citizenship. 
Ellen Davis, contributing essayist: "I (Still) Believe: Leading Bible Scholars Share Their Stories of Faith and Scholarship" (Zondervan)
Davis, a professor of Bible and practical theology at Duke Divinity School and interim dean for the 2015-16 academic year, reflects on how academic Biblical study affects faith.
Joseph Donahue: "Dark Church" (Verge Books, Oct. 15)
Donahue, a professor of the practice of modern poetry, delivers the third volume of an ongoing poetic sequence called "Terra Lucida." A collection of commentaries on Donahue's "rich and rewarding body of work" appeared recently in Jacket2, describing him as "a poet who listens with intense generosity, a voice that hears voices."
Matthew Floding, co-editor: "Brimming with God: Reflecting Theologically on Cases in Ministry" (Pickwick Publications, Wipf and Stock)
Flooding, the director of Ministerial Formation and Field Education at the Divinity School, provides a resource for teaching theological reflection in a range of settings.
José M. González, editor: "Diachrony: Diachronic Studies of Ancient Greek Literature and Culture" (DeGruyter, October)
González, an assistant professor of classical studies, collects papers that show both the difficulty and the promise of diachronic analysis, in this case the study of the evolution of Greek literature and culture over time.
José M. González:  "The Epic Rhapsode and His Craft: Homeric Performance in a Diachronic Perspective" (Harvard University Press)
In this book, part of the Hellenic Studies Series, González studies Homeric performance from archaic to Roman imperial times, revealing a shifting dynamic of performance and interpretation among actors, orators and rhapsodes (performers of epic Greek poetry).
Arianne Hartsell-Gundy, co-editor: "Digital Humanities in the Library: Challenges and Opportunities for Subject Specialists" (Association of College and Research Libraries, a division of the American Library Association)
Hartsell-Gundy, head of Duke Libraries' Humanities Section and librarian for Literature and Theater Studies, co-edited this collection of essays about the role of subject specialist librarians in creating, supporting and promoting digital humanities projects.
Stanley Hauerwas: "The Work of Theology" (Wm. B. Eerdmans Publishing Co.)
A "how-to" book on theology from the Duke Divinity School theologian. Revisiting some of his earliest philosophical and theological views to better understand what he has said before, Hauerwas explores how theological reflection can be understood as an exercise in practical reason. In discussing the work of theology, Hauerwas seeks to recover that "sense of the oddness of what we believe as Christians."
Stanley Hauerwas and William Willimon: "The Holy Spirit" (Abingdon, October)
Hauerwas and Willimon, professor of the practice of Christian ministry at the Divinity School, challenge readers to rediscover and "prayerfully embrace" the gift that created the church. "When these two long-time theologian-friends and disciples of Jesus, gather in a room to write, you can be sure that you will hear a sound of a rushing mighty wind, feel the heat of holy fire, and be ignited by dynamite on the page as you read," says Duke Chapel Dean Luke Powery.
Dr. Barbara S. Hertzberg, co-author: "Ultrasound: The Requisites," Third edition (Elsevier)
Hertzberg, a professor of radiology and an associate professor of obstetrics and gynecology at Duke, offers an image-rich introduction to the field of ultrasound. The accompanying online e-book includes a collection of video clips depicting the real-time features of ultrasound findings.
Oscar Hijuelos: "Twain & Stanley Enter Paradise" (Grand Central Publishing, Nov. 3)
A posthumously published novel by the former Duke faculty member and Pulitzer Prize winner was inspired by the real-life, 37-year friendship between famed writer and humorist Mark Twain and legendary explorer Sir Henry Morton Stanley, with Lady Stanley serving as a ballast between these two turbulent souls. Hijuelos blends correspondence, memoir and third-person omniscience to explore the intersection of these towering Victorian figures in a long vanished world.
Fredric Jameson: "The Ancients and the Postmoderns: On the Historicity of Forms" (Verso)
Jameson, a professor of comparative literature and professor of Romance studies, sweeps from the Renaissance to "The Wire" in his latest book of cultural criticism.
Deborah Jenson, co-editor: "Poetry of Haitian Independence" (Yale University Press)
Jenson, a professor of Romance studies and global health, gathers together Haitian poetry that has remained largely unknown and difficult to access since its original publication two centuries ago. Featuring translations by Norman R. Shapiro from the original French and a foreword by the Haitian-born novelist Edwidge Danticat, this volume stands as a monument to a turning point in Haitian and world history.
James A. Joseph: "Saved for a Purpose: A Journey from Private Virtues to Public Values" (Duke University Press, Sept. 11)
In this autobiography, Joseph -- who was active in the civil rights movement, an executive of a Fortune 500 company, the undersecretary of the Department of the Interior and the U.S. ambassador to South Africa -- shares the development of his philosophies of morality and leadership.
Miree Ku, contributor and preface author: "Handbook for Korean Studies Librarianship Outside of Korea" (Committee on Korean Materials of the Council of East Asian Libraries in North America)
Korean studies librarian Miree Ku served as an editorial board member for this handbook project.
Frank Lentricchia: "The Morelli Thing" Essential Prose Series (Guernica Editions)
The latest novel by the professor emeritus of literature hinges on the unsolved murder of Fred Morelli, in Utica, New York, in 1947, and the mayhem that breaks loose after a 15-year-old hacker encounters one of the original suspects in the murder.
Anne-Maria Makhulu: "Making Freedom: Apartheid, Squatter Politics, and the Struggle for Home" (Duke University Press, October).
Makhulu, an assistant professor of cultural anthropology and African and African-American studies, explores how squatters on the outskirts of Cape Town engaged in an important form of resistance that helped to end apartheid.
Sam Miglarese, David Morgan and Lucas Van Rompay, editors: "The Long Shadow of Vatican II: Living Faith and Negotiating Authority Since the Second Vatican Council" (University of North Carolina Press, Sept. 28)
On its 50th anniversary, essayists examine Vatican II's aftermath and its effects on the lived religion of American Catholics. Rompay is professor of religious studies at Duke. Miglarese is adjunct instructor of religious studies and education and director of community engagement at Duke. Morgan is professor both in the departments of religious studies and art, art history and visual studies.
David Morgan: "The Forge of Vision: A Visual History of Modern Christianity" (University of California Press, Aug. 25)
Morgan argues that the history of religions may be studied through the lens of their salient visual themes. He is also the author of "The Embodied Eye: Religious Visual Culture and the Social Life of Feeling" and co-editor of the journal Material Religion.
David Need: "Offshore St. Mark / Songs In-Between the Day" (Three Count Pour Press)
Need, a visiting instructor in the Department of Religious Studies, has included two suites in his new book of poetry. "Songs In-Between the Day" is a selection of unrhymed sonnets that explores the way both language and the world are structured in layers of time, place and imagination that lay palimpsest to each other. "Offshore St. Mark" is a long poem written alongside the Gospel of Mark. The book is available through the author's profile page.
Miguel A. Nicolelis: "The Relativistic Brain: How It Works and Why It Cannot Be Simulated by a Turing Machine" (CreateSpace Independent Publishing Platform)
Duke Center for Neuroengineering co-director Miguel Nicolelis joins forces with a mathematician to address one of the most crucial and controversial scientific questions of our times: can the exquisite capacities of the human brain be simulated by any digital computer? In a Q-and-A with The World Post, Nicolelis says, "The bottom line is that aptitudes of the human brain are unique to the human brain. We need to focus on preserving them rather than replacing them."
Wei Pan, co-editor: "Propensity Score Analysis: Fundamentals and Developments" (The Guilford Press)
Pan, associate professor in the School of Nursing, brings together experts who introduce underlying concepts and current issues and review relevant software programs for PSA statistical methods.
Henry Pickford: "Thinking With Tolstoy and Wittgenstein: Expression, Emotion, and Art" (Northwestern University Press, Nov. 2015)
In this interdisciplinary study incorporating close readings of literary texts and philosophical arguments, the associate research professor of Germanic Languages develops a theory of meaning and expression in art intended to counter the meaning skepticism most commonly associated with the theories of Jacques Derrida.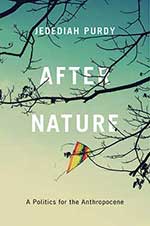 Jedediah Purdy: "After Nature: A Politics for the Anthropocene" (Harvard University Press)
Law professor Purdy develops a politics for a post-natural world, proposing that we create ways to rally devotion to a damaged and ever-changing world. He previews the book in this Bloomberg View commentary. Open Letters Monthly reviewer Steve Donoghue says Purdy's book "may very well be the Silent Spring of the 21st century." In this Duke Law story, Purdy traces critical changes in our relationship with the natural world.
John Anthony Quinterno: "Running the Numbers: A Practical Guide to Regional Economic and Social Analysis" (Routledge)
Quinterno, a visiting lecturer in the Sanford School of Public Policy, will use his new book in teaching his course, "Special Topics in Leadership and Management."
Jim Rogers: "Lighting the World: Transforming our Energy Future by Bringing Electricity to Everyone" (St. Martin's Press)
The former Duke Energy CEO and current Rubenstein Fellow at Duke honed his ideas for this book while co-teaching a seminar on renewable energy and the world's poor at Duke last fall. Rogers shows why bringing clean, sustainable electricity to remote villages across the world is the key to our energy future. Nicholas Institute for Environmental Policy Solutions director Tim Profeta, Rogers' teaching partner, tells The Charlotte Observer that the book will be a springboard for training leaders, crafting model energy codes and engaging with entrepreneurs.
Alex Rosenberg: "The Girl from Krakow: A Novel" (Lake Union Publishing)
Rosenberg, a professor of philosophy, has written a saga that spans from Paris in the '30s and Spain's Civil War to Moscow, Warsaw and the heart of Nazi Germany.  He expresses his ideas about philosophy through a dramatic tale that includes the Polish and Allied effort to decode the German Enigma machine.
Gabriel Rosenberg: "The 4-H Harvest: Sexuality and the State in Rural America" (University of Pennsylvania Press, Oct. 2015)
Rosenberg, who teaches women's studies at Duke, has written the first comprehensive history of 4-H, the iconic rural youth program run by the U.S. Department of Agriculture. Rosenberg argues that public acceptance of the political economy of agribusiness hinged on federal efforts to establish a modern rural society through effective farming technology and techniques as well as through carefully managed gender roles, procreation and sexuality.
Philip Rupprecht: "British Musical Modernism: The Manchester Group and Their Contemporaries," Music Since 1900 series (Cambridge University Press)
Rupprecht, an associate professor of music who has published on 20th century British music, provides a group portrait of 11 leading figures in post-war British art music. Rupprecht explores the music of the Manchester Group and other composers in works spanning Sixties theatricality through to Seventies pop, electronic and post-minimalist music, showing that 1960s pop music and art music have much more in common than is usually thought.
Philip Stern, co-editor, "The English East India Company at the Height of Mughal Expansion: A Soldier's Diary of the 1689 Siege of Bombay, with Related Documents" (Bedford/St. Martin's, Dec, 11)
Stern, an associate professor of history, helps capture a moment when the competing ambitions of the Mughal Empire and the English East India Company brought them into armed conflict.
Michael Tennesen: "The Next Species: The Future of Evolution in the Aftermath of Man" (Simon & Schuster)
Tennesen, a science writer and media fellow at the Nicholas School of the Environment and Earth Sciences, traveled to rain forests, canyons, craters and caves around the world, and interviewed scientists to explore the potential winners and losers of the next era of evolution that will follow the next mass extinction.
Robyn Wiegman, co-editor: "Queer Theory without Antinormativity," a special issue of differences (Duke University Press)
Wiegman, professor of literature and women's studies, brings together contributors who offer an affirmative answer to the seemingly simple question: can queer theory proceed without a primary allegiance to critiques of normative values such as heterosexuality, family values, marriage, and monogamy?
William Willimon: "How Odd of God: Chosen for the Curious Vocation of Preaching" (Westminster John Knox Press)
Willimon, professor of the practice of Christian ministry at Duke Divinity School, has written his 62nd book for all pastors who wonder why they drag themselves into the pulpit every Sunday or worry that their sermons aren't reaching past the front pew.
Susan Willis, co-author:  "Strip Cultures: Finding America in Las Vegas" (Duke University Press, Oct. 2).
The Project on Vegas, a team of scholars composed of literature professor Willis and three others, shows how the four-mile long Las Vegas Strip concentrates and magnifies basic aspects of American culture.  The book connects the use of surveillance, large-scale branding, mass consumer consumption and the transformation of nature to larger trends and practices throughout America. The "chapter on surveillance and 'security aesthetics' is downright chilling," according to Publishers Weekly. Co-author Stacy M. Jameson, an instructor of film and media at the University of Rhode Island, is the daughter of Willis and literature professor Fredric Jameson.
Norman Wirzba: "From Nature to Creation: A Christian Vision for Understanding and Loving Our World," The Church and Postmodern Culture series (Baker Academic, Oct. 1)
Wirzba, professor of theology, ecology and rural life at Duke Divinity School, engages philosophers, environmentalists and cultural critics to show how the modern concept of nature has been deeply problematic. He explains that understanding the world as creation rather than as nature or the environment can heal our lands and communities through an ethic of responsibility and gratitude.