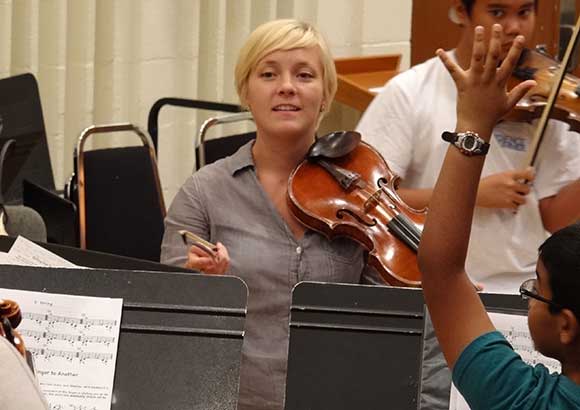 Erica Shirts instructs young violin students in a DUSS technique class. Photo by Geoffrey Mock
The scene has played out on the Duke campus for nearly 50 years: Dozens of young musicians hold their cellos and violins, violas and basses in place, ready to practice Beethoven's Coriolan Overture to start a new season of the Duke University String School (DUSS).
What's new this year is the young woman in the back of Biddle Building's Bone Hall. Erica Shirts, the school's second director in its history, watches the students, quietly observing their technique and taking mental notes.
For Duke, she represents a reaffirmation of the university's commitment to one of the most successful community arts programs in the Triangle following the retirement of founding director Dorothy Kitchen.
"This is my dream job," Shirts said of the school, which enrolls more than 250 local children.  "I love working with young musicians, particularly those at the beginner level. I want to help them feel passionate about the music and let them get started with good technique."
Shirts was selected by a committee of Duke music faculty. Music Professor Eric Pritchard, a member of Duke's Ciompi Quartet, said faculty members were excited that Shirts could continue the tradition set by Kitchen, while also "reimaging the school." The school receives support from the department and Duke's Office of Durham and Regional Affairs.
"There were a lot of strong candidates and we felt that we needed someone who had a strong sense of what string pedagogy was all about and skills to implement it," Pritchard said. "Erica, even though she doesn't have years of experience, is coming from a background that is really going to be a great mix with the DUSS tradition."
That background is anchored by several years of study at Indiana University's acclaimed Jacobs School of Music. As an IU graduate student, Shirts studied string pedagogy and taught young musicians at the university's string academy led by noted music instructor Mimi Zweig.
That experience is at the heart of her plans for the school. Already she is tweaking DUSS instruction, revising the introductory ensembles, introducing special technique classes for more individual training, establishing stronger uniformity in instruction across the school's different ensembles and planning master classes involving area and visiting musicians.
Shirts says her IU training taught her an expectation of excellence and "the steps necessary to meet those high expectations, all while having a great time making beautiful music."
Following her work in Indiana, Shirts and her husband moved to Raleigh where she worked with Katherine Wyatt and the Durham-based Kidznotes program to launch it in three Raleigh elementary schools. Modeled on a Venezuelan effort called El Sistema, Kidznotes aims to promote social change by supporting music education in underserved schools.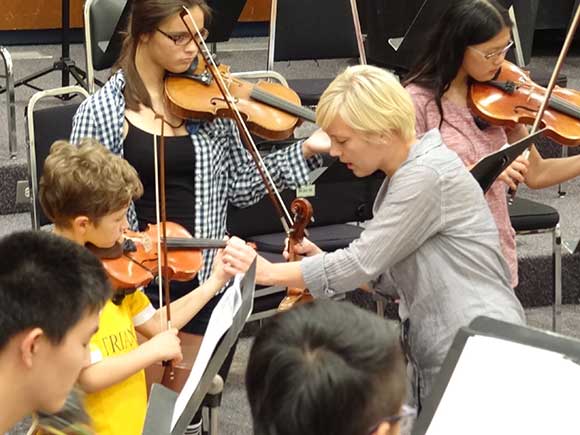 Shirts says she brings a strong emphasis on technique to the DUSS program.
Shirts says working with Kidznotes simply strengthened her interest in youth music education. One of her goals will be to build upon the DUSS' community outreach efforts, including developing a partnership with Kidznotes. Watching those children perform, she said, reminds her of the joy she felt when she first started the violin at age 5.
"Music education is imperative to a child," Shirts said. "The child learns how to listen and how to play with others, but they also learn to fail. The best musicians in the world make mistakes.  Children have to understand that and understand that they best learn from their failures."
"But I also simply believe music sets the mood for our lives.  Music is everywhere and if we want beauty in our lives, it behooves us to have the youngest generation supporting that."
Shirts will teach beginning violin and violin technique classes, but most of her first year will focus on observing and learning about each of the children at all levels in the program. While she's not conducting any of the DUSS ensembles, she'll be a regular observer in the school's Saturday practices, as she did recently during the run-through on the Beethoven piece.
"My goal this year is for every ensemble every concert to be as well prepared as possible," she said. "My focus is on instrumental technical aptitude; I really put emphasis on excellence in performance."
In succeeding Kitchen, Shirts says she "is in awe of what Dorothy has done with the school."
"When I first came to Raleigh, I sent out emails to everyone involved in music training in the area.  Dorothy was very kind, invited me to concerts and introduced me to many of the DUSS teachers.  Over the next couple of years, every time I heard her name, it was clear she was a mainstay of the community; and when I came to the DUSS concerts in Baldwin, it was clear that she is a mainstay of the community.  Keeping that, keeping the school as part of the community is something that is very important to me."