U.S. Senate Chaplain Barry C. Black to Preach at Duke Sept. 20
Other guest preachers at Duke Chapel worship services to include bishops, writers, theologians and local pastors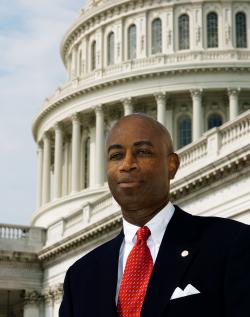 Rear Adm. Barry C. Black (Ret.), chaplain of the United States Senate, will preach at Duke Chapel's worship service Sunday, Sept. 20, in Page Auditorium on Duke University's West Campus. 
The ecumenical service begins at 11 a.m. and is open to the public. Free parking is available in the Bryan Center garage at 125 Science Drive. Handicapped access is available at the side of the auditorium off of the Bryan Center parking lot. 
Black plans to preach a sermon titled "Making Room for Greatness," based on the ninth chapter of the Gospel of Mark. 
"Dr. Black approaches the pulpit with humility, grace, courage and faithfulness, speaking the truth in love in the power of the Spirit," said the Rev. Luke Powery, dean of Duke Chapel. "We anticipate with great joy his presence and preaching." 
As its chaplain, Black opens the Senate each day in prayer and provides counseling and spiritual care for senators, their families and staff. Commissioned as a Navy chaplain in 1976, he served throughout the U.S. and in Japan, retiring as chief of Navy chaplains. 
Black is a native of Baltimore and an alumnus of Oakwood College, Andrews University, North Carolina Central University, Palmer Theological Seminary, Salve Regina University and Alliant International University.  
In addition to earning master of arts degrees in divinity, counseling and management, he has received a doctorate degree in ministry and a doctor of philosophy degree in psychology. In the 1970s, he was a pastor at a Seventh-day Adventist Church in Durham, N.C. 
In addition to Black, Duke Chapel is hosting guest preachers on numerous dates throughout the academic year, including: 
-- Sept. 13: Anna Carter Florence, Peter Marshall Associate Professor of Preaching at Columbia Theological Seminary-- Oct. 11: Amanda Diekman, co-pastor of Durham Church-- Nov. 8: Lauren Winner, assistant professor of Christian Spirituality at Duke Divinity School-- Jan. 17: Jonathan Walton, Plummer Professor of Christian Morals and Pusey Minister in the Memorial Church at Harvard University-- Jan. 24: Thomas G. Long, Bandy Professor of Preaching, emeritus, at Emory University's Candler School of Theology-- Jan. 31: James Forbes, senior minister emeritus of The Riverside Church and president of the Healing of the Nations Foundation-- Feb. 21: Barbara Brown Taylor, author, professor and Episcopal priest-- Feb. 28: an undergraduate student will be selected to preach as this year's Duke Chapel Student Preacher-- March 13: Curtis Freeman, research professor of theology and Baptist studies and director of the Baptist House of Studies at Duke Divinity School-- April 3: William Willimon, professor of the practice of Christian ministry at Duke Divinity School and a former dean of Duke Chapel-- April 10: Sarah Jobe, author, pastor and prison chaplain in Durham, N.C.-- April 24: Ellen Davis, interim dean and Amos Ragan Kearns Distinguished Professor of Bible and Practical Theology at Duke Divinity School-- May 11: Hope Morgan Ward, a bishop in the Southeastern Jurisdiction of the United Methodist Church. 
Find a complete schedule of Duke Chapel services and events at chapel.duke.edu.