Brodhead to the Class of 2019: Constructing Your Duke Education Begins Today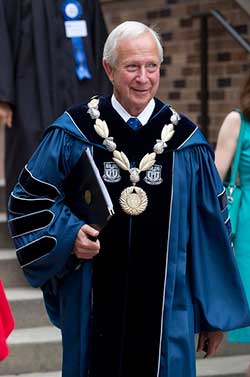 My friends: This year, we are staging your official welcome in a different way. Usually, the Freshman Convocation is held in Duke Chapel, a majestic space suited to solemn ceremony. This year, we've decamped to Cameron Indoor Stadium, the boisterous home of Duke school spirit, where fans go crazy and foes wish they could just go home.
Why the change? Well, the talent of our famous basketball team is just shorthand for the talent of our whole student body, so maybe we're here to introduce the whole Duke team, all 1750 members of the Class of 2019, in Cameron Indoor fashion! At the top of the alphabet: A freshman from Cairo, Egypt, who enjoys ballet, writing and tennis, HADEEL ABDELHY! Fast forward to the end: An engineering freshman from Mendham, New Jersey, MATTHEW ZYCHOWSKY!
The real reason for the change of venue is far more prosaic. We're gathered in Cameron because Duke Chapel is closed for repairs. Indeed, just about everything at Duke is closed for repairs. If you came to campus last spring or summer, you saw a wilderness of cranes, construction fence and beep-beeping earthmovers. As you faced Duke Chapel, closed for repairs, to your right you saw the Rubenstein wing of Perkins Library, closed for repairs; to the left, Page Auditorium, our largest lecture and performance space, closed for repairs; then West Union, our central eating and social collision space, closed for repairs. The great West Campus quads were closed for repairs; you couldn't get through to the plaza, our other great gathering spot—that entrance was closed for repairs. Up behind West Union, our future student wellness center is a big hole surrounded with construction fence. Cameron is open, but don't try using the south exit: its closed for repairs, part of a construction project encompassing the football stadium as well.
Construction at Duke Chapel. Photo by Duke Photography
I'm grateful that you chose Duke, given that when you came for a campus visit, all you saw was construction. Today I ask, what does it mean to have all this construction going on at your new home? For one thing, it makes you a witness to history. When Duke's gothic West Campus and the brick Georgian East Campus were built at the start of the Great Depression, this university was the largest construction site on the North American continent. The reconstruction we're engaged in marks the biggest building boom on campus since Duke was created. You are seeing it with your own eyes.
Second, you're the lucky ones. We're not just doing fix-ups: we are engaged in a transformational renovation of this campus, restoring beautiful exteriors while creating new interiors to meet the needs of today's education in extraordinary new ways. There has been disruption galore on our way there, but you will enjoy the fruits of our labor. Lots of projects are finished and waiting for you. The West Campus quad is green again, the renovated library will open its doors on Monday, Page is open and will soon be hosting the sorts of speakers and performers that make it a luxury to go to a great university, the football season will kick off in the renovated Wallace Wade stadium, and there's plenty more to come. The East Campus Marketplace, closed for renovation all summer, reopened Monday, and when the basement is completed, we'll have virtually doubled that shared activity space for our freshman class. A new student arts center is about to arise on Campus Drive across the street from the Nasher.
But I have a third thought, and it's my real message to you. Please sear the sight of all this construction indelibly in your mind as an image of what your work here could be.
Duke exists for two purposes. We are here to push the boundaries of human understanding through our research activities, and we are here to help talented young people develop the most broadly knowledgeable, thoughtful, capable, resourceful version of themselves that they can become. We take trouble with physical structures because they serve the real construction project this great university is engaged in: the building of capable men and women, eager to deliver on their promise in the life of their times. Buildings are inanimate; we can renovate them whether they want it or not. But we can't work that transformation on you unless you actively reach for it—unless you come here with the will to be the builder of your best self.
Here are some tips for you as builders. One thing contractors know is that the materials assembled on the worksite were put there so you would use them. Walking past a handsome new library won't do much to change you; for that, you have to go inside, learn how to frame an interesting question, and seek materials that might help you to an answer that question. Why come to a school with great faculty if you don't seek them out? With these as with every Duke resource, you have to engage the opportunities around you to unlock the door to future growth.
Next, we've done a ton of demolition here, accompanied by a lot of noise and inconvenience, because we couldn't build the things we're creating without disrupting what had been there before. I am not recommending that you take a jackhammer to your life, but if you want to make room for a new, improved version of yourself, you have to tolerate disruption—of your personal habits, of your preexisting networks, even of assumptions that seemed certain because you have never heard them challenged. If nothing here is disrupting you, that probably means that you are stuck in the status quo. Disruption is not fun but it is the opener of possibilities, so don't be scared when it approaches. 
Last, there may be solo architectural geniuses, but construction is always a massive group effort, and if you want to build a fully empowered self at Duke, you should be thinking how this community can assist in that project. Duke has succeeded in drawing top talent in a hundred forms from across every known social boundary—regional, national, racial, cultural, religious, political, socioeconomic, and more. As sociologists of knowledge have long recognized, from Renaissance Florence to the startup hotspots of today, the places where smart, energetic people from different starting points have been drawn together and allowed freely to collide have been the places where world-changing ideas are hatched and new human energies released. Today you become a citizen of just such a place. From today, every one of you will contribute to the dynamism of a massively diverse community, and every one will get a growth boost from the others here with you.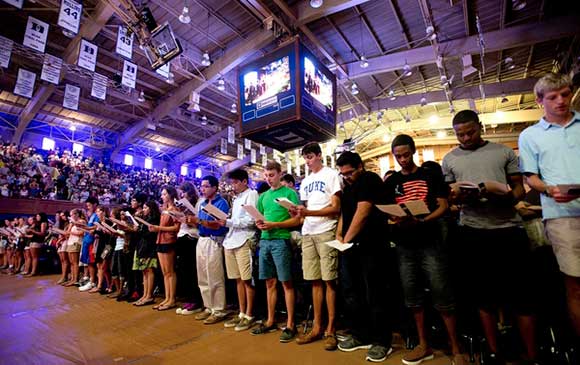 The Class of 2019 gets its first taste of Cameron Indoor Stadium. Photo by Jon Gardiner/Duke Photography
You could not insulate yourself from this energy if you tried. But if you want to build to your full potential, you're going to have to use this resource in an intentional fashion, seek out and open yourself to this human richness, even if that means venturing outside what's comfortable. After the first diversity buzz wears off, you'll face inevitable temptations to fall back on communities that you subliminally perceive as "like you." And in even the healthiest communities, things can happen that pull people back from the things they share.
Duke is committed to being a community where everyone is respected and has an equal right to thrive. Therefore, Duke requires that each of you take responsibility to build such a community, treating every other with the respect that you wish for yourself.  But since no human world could guarantee you a life free from all social ills, if frictions do arise, I hope you will find a more constructive way to engage with differences than recoiling in resentment or withdrawing in defensiveness, human as both impulses powerfully are. In this country and around the world, we see the price millions pay when differences harden into conflict and estrangement. Let's do better than that at Duke. Let's make it be part of your education to learn how to enter into points of view fundamentally different from your own and open your own point of view to those not already equipped to grasp it, and to practice this hard human skill not just on good days but even in times of challenge. This will make Duke a better place, and will equip you to be a constructive social contributor long after you leave this place behind.
Let me close with a personal word. I was drawn to Duke by its distinctive builder's spirit. This school has always taken pleasure in what it was, but kept reaching for the further thing it could become. In this spirit, the Durham fairground—today's East Campus—was rebuilt as Trinity College. In the late 1920s, that college threw up a comprehensive university on what had been a forest and an adjacent pig farm. Over the past ninety years, that school has built itself into a global beacon in a hundred fields. By now Duke is rich in tradition, but we're not conservators of tradition. We're still reaching, trying to envision the even better form research and education could take, and using our power to put those dreams into practice. That's the spirit that has fueled Duke's construction. I welcome you into the company of that spirit. We admire and applaud what you are already, but you didn't come to Duke to stay that same. You came to catch sight of further possibilities, and to win strength and joy from the struggle to reach them.
That construction starts today. I welcome you to Duke.