Archives Alive: Students Dive Into the Rubenstein
Initiative aims to make collections a stronger part of the undergraduate experience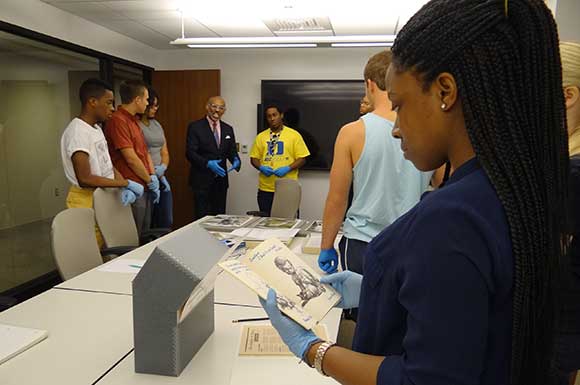 Students in Richard Powell's course handle materials from the Rubenstein Library related to African-American artists. Photo by Geoffrey Mock
Philosophy professor Andrew Janiak can't have his students travel nearly 300 years back in time to talk to Emilie Du Châtelet, but he can have the students do the next best thing: hold the books that she wrote.
Art historian Richard Powell can't have his students experience the Harlem Renaissance, but they can hold posters, photographs and drawings from the great moments of that era.
This semester, Janiak, Powell, and historian Trudi Abel, together with her colleague Victoria Szabo (AAHVS), are all teaching classes built around special collections in the newly renovated Rubenstein Library.  Arts & Sciences and Rubenstein Library developed the "Archives Alive" initiative to integrate special collections into Duke courses; these teachers hope to excite students by exposing them to real objects, rather than relying solely on textbooks and virtual representations.
"You can't totally understand history by looking at a computer screen," said Janiak, who is teaching "Gender and Philosophy."  "I've created websites, and they're useful.  But nothing can give you a sense of history as much as holding a book in your hand and seeing what was being thought at a particular time."
Last year in a pilot project, Professor Laura Lieber taught a course on Germans and Jews that made wide use of Rubenstein materials, from early editions of the Luther Bible to Passover haggadahs, the Jewish liturgical books for the Passover Seder service.
For students, the experience of having the documents they were studying before them changed the classroom experience, she said. "Almost every class meeting had some moment that was really stellar," Lieber said.  ​"The Luther Bible was great because the book was 'so old' and because the students responded so much to the tactility of the book -- its texture and heft and smell."
Introducing undergraduates to the Rubenstein special collections turns traditional library behavior upside down, said Abel, who is an archivist at the library and oversees "Archives Alive." "When I was in college, the special collections were all hidden on the sixth floor at the University of Pennsylvania library, and undergraduates had no idea how to find them," Abel said. "We want the special collections to be a pivotal part of the undergraduate experience; we want people seeing the undergraduates in our space using the collections in research."
The classes are held in new classrooms in the library close to the collections. Here's a look at what they will be doing:
Emilie Du Châtelet
Women Philosophers
Janiak does believe in digital education – his Project Vox recently launched a comprehensive website bringing access to primary and secondary source information about the exclusion of women from the philosophy canon. But for a classroom setting, Janiak thinks the real objects have the greatest value.
"It's one thing if you say, well, women never had an opportunity to be a philosopher. It's a more interesting question to ask why did they disappear from the canon? That's what I want students to grapple with," Janiak said.
To do that, students will look at contemporary discussion of philosophy and original publications from the Enlightenment, including Diderot's famous encyclopedia.
Entire sections of that work came from Emilie Du Châtelet, indication of her prominence at the time.
"There's something that's always going to be missing from a computer website," Janiak said. "You can't just look at something in Google Books and think it's the same as holding the real thing.  From the font to the handwriting you can experience much more."
Richard Powell's students will explore original documents from the Harlem Renaissance.
African-American Art
Powell has taught African-American Art History for years at Duke, but he's using the special collections to rethink the course. He worked with Dean of Undergraduate Education Steve Nowicki to "flip the class" -- having students watch video lectures before attending class discussions.
By flipping the class, Powell said, students will have greater opportunity to work with documents. They will make use of the library's extensive collection of original correspondence, newspaper articles, exhibition materials, book manuscripts, flyers, booklets, postcards, pamphlets, posters, periodicals, catalogues and photographs related to African-American art and culture. Many of these came from Powell's personal collection, which he has donated to the library.
Using the archives is an extension of Powell's desire to bring original art into the classroom.  The class will take a field trip to the Smithsonian Museum of African Art, where they will view an exhibit of African and African-American art, which includes works from Henry Ossawa Tanner, Archibald Motley, Romare Bearden and other remarkable African-American artists.
"For me, working with objects is magical," Powell said. "I know it sounds hokey, but in an era when most things are virtual and you're not engaging with a thing but with a virtual representation of the thing, I think it's special when you can engage the object itself. When I was a graduate student, there was nothing like being in the storeroom of the Field Museum and being able to walk down aisles and hold art in your hands, and smell it, feel it."
Students will use the archives in a research project. Powell hopes students will come out of the class approaching classroom work "learning with their eyes, their hands and their mind, engaging with objects and making their own interpretations.  I want them to leave this class thinking, 'I have a voice. I can create original scholarship.'"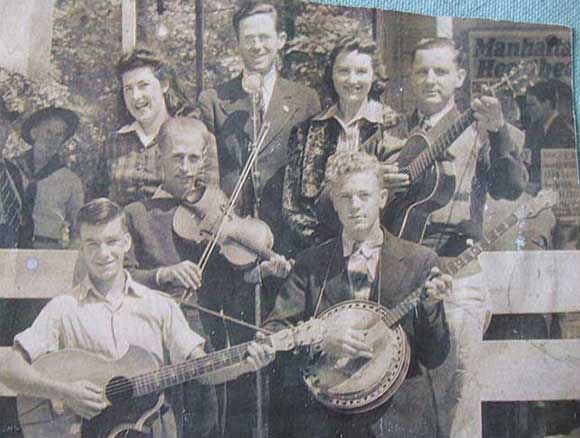 Duke scholar Trudi Abel has tracked down family members of one of the performers in this photo, part of the Frank C. Brown Collection.
NC Jukebox
In the 1930s, Trinity College English professor Frank C. Brown started regular journeys throughout the state – most to the North Carolina mountains – in search of music, folk tales and folklore. He captured hundreds of musical pieces and stories with recording devices using wax cylinders and aluminum disks.
The technology to listen to those wax cylinders today is rare and expensive, but fortunately for the students in Abel and Szabo's digital humanities class called NC Jukebox, one Duke student in the 1970s spent numerous hours listening to the Brown Collection and recording it on reel-to-reel tapes.
The result is a time machine allowing students to listen to music that "hasn't been heard in years," Abel said. There are numerous version of the popular ballad "Barbara Allen" and other traditional songs, gospel songs, prison songs, spoken word, tall tales and even folk remedies.
Abel and Szabo are looking to make the collection more widely available. Abel has tracked down family members of some performers in a 1939 recording. One goal of the class is for students to research, code, and build a digital jukebox that will be exhibited at the Southeast Music Library Association conference at Duke in 2016, as well as at a mountain music museum in Spruce Pine, North Carolina.
"Brown collected this music because he and other folklore scholars wanted to answer how did music migrate from Scotland and England to the United States," Abel said. "There was a sense that the music in Appalachia was more authentic to the original songs than versions collected in early 20th century Britain." 
Brown died before he achieved his goal of publishing a history of North Carolina folklore. However, colleagues continued his work and beginning in 1952 Duke Press published seven volumes of the "Frank C. Brown Collection of North Carolina Folklore." Those books will also be part of the class, as well as Brown's handwritten field notes and his manuscript letters.
A new set of Archives Alive classes will be offered in Spring 2016. Abel is currently recruiting faculty members for the courses.