Duke's Record-Setting Trees
Where to find the tallest, widest and oldest trees on campus
For all the decades-old architecture across Duke, there may be fewer historic aspects of campus than its trees. 
More than 15,000 of them line walkways, green spaces and quads across Duke's university and health system campuses, with countless more filling the 7,052 acres of Duke Forest. Many have been around from days before Duke was Duke, when it was still one campus and known as Trinity College in the late 19th century. 
"Our trees are as much a part of the story of Duke as the buildings," said Katie Rose Levin, natural resource manager with Facilities Management. "From a historical perspective, they've grown up with the campus and all the students that have come here."
Duke's natural landscape has even produced it's own champion. For six months in 2011, the North Carolina Forest Service recognized a Darlington Oak near the East Duke Building on East Campus as state champion due to its overall size of 56 feet high, a circumference of about 17 feet and a "crown" of branches that spread 68 feet wide at the top. After the six months, it was beat out by another Darlington Oak in Forsythe County that was larger.
That didn't leave Duke without other impressive trees. Here are three worth checking out during your next walk on campus. 
Tallest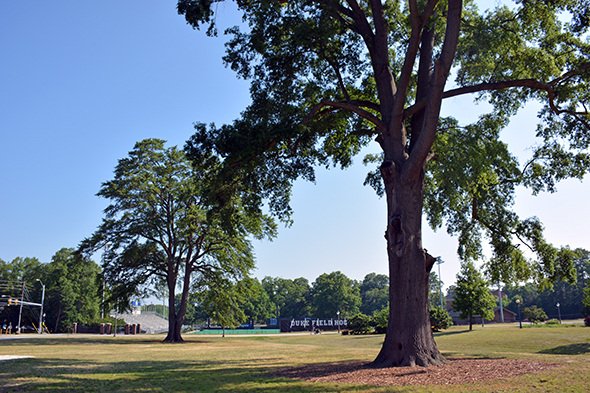 Dubbed as the "Volleyball Oak" by Levin and seen as the tree on the right in the above photo, this Willow Oak is around 100 years old and stands about 105 feet tall. Located about 50 feet east of the sand volleyball court on East Campus, it's an estimated five feet taller than a neighboring Willow Oak, seen on the left, close to the campus entrance off Broad Street. 
"Those two are kind of the rock star trees of East Campus and we're working hard to preserve them," Levin said. "We're giving them lots of room to grow and keeping them mulched will keep their roots happy." 
Widest
The "Green Devil Oak" has a circumference of nearly 20 feet around, more than a foot than the second-widest tree at Duke. Above, Facilities Management summer interns Lee Kimmel and Chantel Williams check the width.
Walkers and runners pass by this Willow Oak every day – it's spotted on the inside of East Campus' wall along Main Street, about 30 feet east of the Main Street-Campus Drive intersection. 
This tree isn't done growing, either. Levin estimated it adds about one-third of an inch of bark a year in order to support its 71-feet height. 
Oldest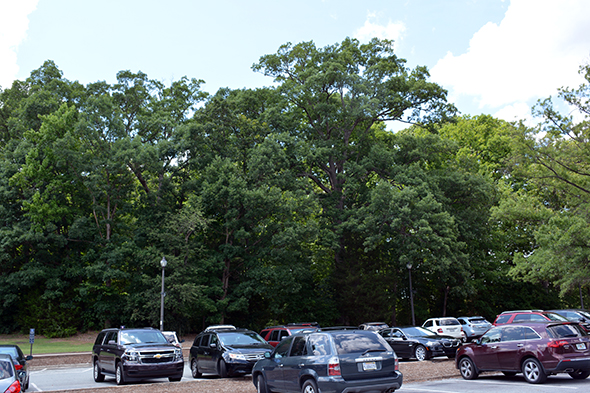 Levin isn't certain on the specific age of this White Oak, but based on its size and comparison to other trees of the species, she estimates it may be about 300 years old. That's only about half its potential lifespan, however, which could last up to another 300 years if maintained properly.
Spotting this "Grandfather" tree is easy from the Card Gym Lot. If you face the forest north of the parking area from the middle of the lot, this tree is taller than all the rest and grows right on the edge of the tree line, adjacent to a sidewalk that runs from Towerview Road to Krzyzewskiville.