Former Rhodes Scholar Named Faculty Director of Office of Scholars and Fellows
Comp Sci Prof Alex Hartemink starts July 1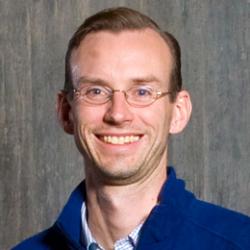 Alex Hartemink, a professor of computer science, statistical science and biology, has been appointed faculty director of the Office of Undergraduate Scholars and Fellows (OUSF), beginning July 1.
Hartemink has taught at Duke since 2001 and is a Duke alumnus, former Rhodes Scholar, winner of the David and Janet Vaughn Brooks Distinguished Teaching Award and member of the Bass Society of Fellows recognized for excellence in research and undergraduate teaching.
''I am very appreciative that Alex is willing to assume this key administrative responsibility," said Steve Nowicki, dean and vice provost for undergraduate education who oversees OUSF.  "Alex has a personal perspective on the job, as he was an A.B. Duke Scholar who graduated Phi Beta Kappa from Duke in 1994 with three majors: math, physics, and economics.''
In his time at Duke, Hartemink also was a member of Duke's award-winning math team and the College Bowl team. After finishing at Duke, he earned a master's degree in economics at Oxford University, and master's and doctoral degrees in electrical engineering and computer science from MIT, before joining the Duke faculty.
''I am excited for this opportunity to work more closely with Duke's outstanding undergraduate students, and to serve the university in this capacity in the coming years,'' Hartemink said. 
Hartemink's appointment is part of a larger effort to enhance the mission of the office, which oversees Duke's eight merit scholar programs and Duke's Phi Beta Kappa Society chapter.  OUSF also supports students seeking post-graduation fellowships, including the Rhodes, Marshall, Truman and Fulbrights.
A new executive director also will be soon hired to work with Hartemink to expand the role of OUSF activities and oversee its management.  Janie Long, associate vice provost in the Office of Undergraduate Education, is chairing a search committee.
The changes capitalize on a decade of achievements that have occurred thanks to strong staff efforts, Nowicki said. Yields for Duke's merit programs have risen in recent years.
Melissa Malouf, a professor of the practice of English who has taught creative writing at Duke and who led the office previously will continue to serve a central role in OUSF as faculty liaison for admissions and recruitment.