Behind the Scenes at Championship Celebration
Dozens of Duke staff worked on West Campus during Monday night's NCAA Championship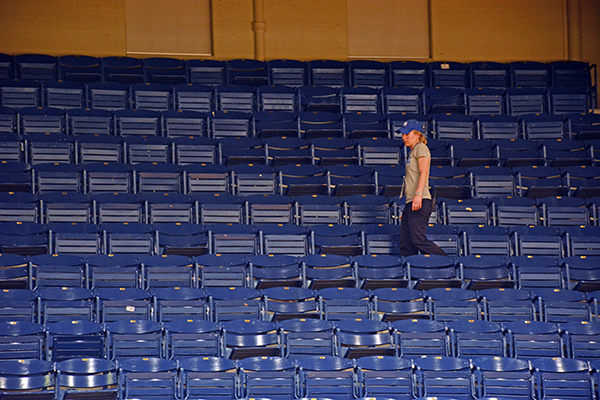 About 6,000 Duke students packed Cameron Indoor Stadium Monday night to watch the men's basketball team win its fifth national championship. The special event required an extra effort from a variety of staff, from Duke Police to News and Communication and Parking and Transportation Services.
Above, Becca Wilusz, assistant director of athletic facilities, game operations and championships with Duke Athletics, walks the upper deck of Cameron Indoor Stadium after fans exited to celebrate the championship win with a bonfire on the West Campus Quad. 
A welcome home celebration will be held for Coach K and the Duke men's basketball team on Tuesday afternoon. The event is open to all students, faculty and staff, as well as the public. The doors to Cameron will open at 3:30 p.m. and the team is expected to arrive at about 5 p.m.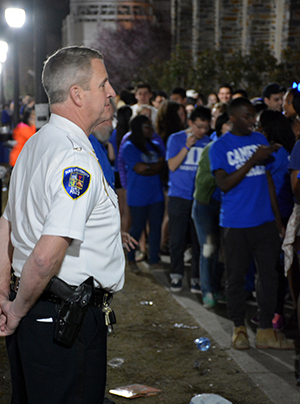 About 30 Duke and Durham police officers, along with about 100 event staff from Staff One, were on campus to help provide security during the broadcast of the NCAA men's basketball championship and post-game celebration. Maj. Jim Bjurstrom, Duke Police operations commander, monitors a line of students outside Cameron Indoor.
Following the game, hundreds of special posters created by The News & Observer highlighting Duke's win were distributed to fans. After students left the celebration in Cameron, Ryan Cakerice, associate director of athletic facilities, game operations and championships Operations stood among leftover posters as Duke Athletics and Housekeeping staff prepared to clean up the historic basketball stadium.
For eight more images from last night's excitement, visit the Working@Duke Facebook page.