Updated Schedule Of Events/Services During Restoration Of Duke Chapel
Work scheduled to begin May 11 and last about a year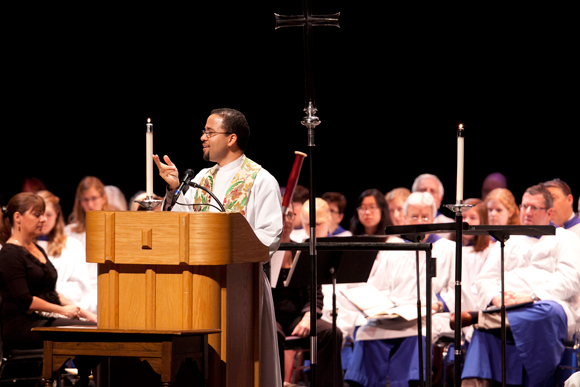 A Duke Chapel congregation worship service in Page Auditorium in 2012.
Previously announced restoration work at Duke Chapel, scheduled to begin May 11 and to last for about a year, will result in many events and services usually held in the chapel occurring elsewhere on campus.
A list of locations for events during the closure can be found below. 
The restoration work, which includes rehabilitating the ceiling and replacing the chapel's original roof, will displace services and events normally held in the chapel nave, the main worship space, beginning the Monday after commencement weekend. The chapel crypt and Memorial Chapel will also be closed. 
[Updated information] The chapel crypt, Memorial Chapel and basement offices will also be closed. Check the online Chapel staff directory to find where staff members are temporarily located. 
"I am reminded by this restoration project that we are caretakers of a grand, sacred building that will continue as a place of reflection, worship, prayer and celebration long after we leave," said the Rev. Luke Powery, dean of the chapel. "We are grateful to our colleagues across campus who are so hospitably offering the use of their spaces throughout the coming year.
"Closing the doors of the building for a time also gives the chapel an opportunity to live as 'a chapel without walls.'" Powery said. "Just as Jesus broke down the dividing wall between humankind and God, the chapel's ministry will continue beyond these walls to bridge God's reconciling love and the people of Duke and Durham."
Locations during the restoration year for events and services normally held in the chapel are:
University worship services, 11 a.m. Sundays -- Baldwin Auditorium on East Campus during the summer of 2015 and then Page Auditorium on West Campus during the 2015-16 academic year
Choral vespers worship services, 6 p.m. Thursdays when classes are in session -- Goodson Chapel, Duke Divinity School
Midweek prayer services, noon Wednesdays when classes are in session -- chapel basement
Catholic Mass, 9 p.m. Sundays -- Goodson Chapel, Duke Divinity School
Catholic Mass, noon Mondays and Wednesdays -- chapel conference room
Christmas Eve worship services, Dec. 24, 2015 -- Page Auditorium
Maundy Thursday service, March 24, 2016 -- Goodson Chapel, Duke Divinity School
Good Friday services, March 25, 2016 -- Page Auditorium
Easter Day worship services, March 27, 2016 — 6:30 a.m. sunrise service in Duke Gardens; 9 a.m. and 11 a.m. services in Page Auditorium.
The chapel carillon will continue to be played at most of its customary times: 5 p.m. on weekdays and on Sundays before and after the 11 a.m. worship service.
Some events normally held in the chapel will not occur during the restoration period, including chapel organ recitals and Tuesday evening communion services.
Updates on events, services and the restoration project will be available on the chapel website at http://chapel.duke.edu/contact/restoration.