Cyrille Atchadé stood before a packed conference room in downtown Durham, pointing to an image of six healthy pigs on the screen beside him.
"This farmer started with two pigs," Atchadé said with a sweep of his arm. "Now he has six."
The farmer lives in Togo, West Africa, and bought his pigs with help from a microlending program organized by DukeEngage, which since 2007 has sent thousands of Duke students around the world to work with nearly 600 community organizations. The image of the pig herd was one illustration of Duke's involvement in Atchadé's village and across the globe. 
A single image can't fully capture the layered 30-year relationship between Duke and Togo, though. Indeed, complex relationships are at the heart of service-learning, the focus of two Duke-led conferences that drew attendees from a dozen countries March 3-6.
A Community Partners Conference included DukeEngage partners from Russia, India, Colombia, Tanzania and other countries. Then an International Service Learning Summit drew additional participants from 40 colleges and universities, including event co-sponsors Northwestern University and Washington University in St. Louis. 
Atchadé was among the many speakers, describing how DukeEngage students have created a solar-powered cybercafé, a microlending network, a writing circle and more.
Duke sophomore Uzoma Ayogu travelled with DukeEngage to Togo last summer, helping create a latrine sanitation project that transforms waste into fertilizer and fish ponds. 
A mechanical engineering major, Ayogu was born in Nigeria and grew up in South Africa. Returning to Africa with DukeEngage helped him imagine a different future for himself back home, he said.
"It gave me new ideas for ways I can be effective using technology in a village setting," he said. "It opened up some new paths for me."
Ayogu's DukeEngage team was guided by Duke anthropologist Charles Piot, who has conducted fieldwork in Togo for 30 years.  Piot's deep knowledge of the area helps the students create meaningful projects, which many then explore further when they return to Duke through subsequent coursework with Piot.
Yet despite the rich relationship, travel between Duke and Togo – and with other nations served through DukeEngage – has typically flowed in one direction. The conference's organizers wanted to change that dynamic, so they arranged for 34 of Duke's partners to fly to Durham, many for the first time.
The results could be heard in the halls of the Marriott last week, where clutches of people chatted in English, French and Bengali between sessions focused on child health, potable water, education and more.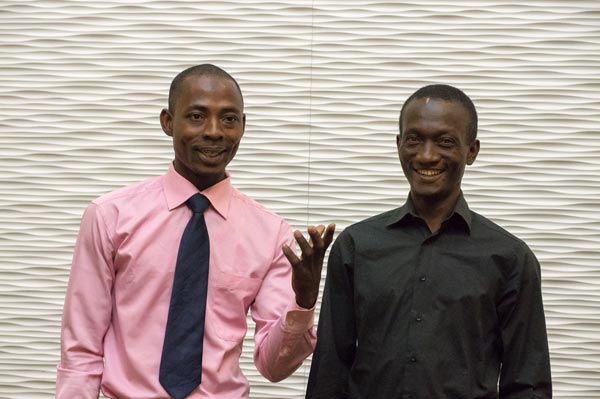 Cyrille Atchadé (left) and Eli Karma traveled from Togo, West Africa, to Durham last week to discuss DukeEngage's work in that country. Photo by Phil Daquila
DukeEngage Director Eric Mlyn said the presence of community partners was so valuable that conference organizers are already discussing plans to bring them back again.
Many of their comments surprised the organizers, Mlyn said. DukeEngage staffers often worry about overburdening community partners with demands, Mlyn said. Yet a recurring theme among attendees was: "Ask more of us."
"They clearly want us to be more in touch, but that's not all," Mlyn said. "A clear message was: 'Don't protect us. Don't protect us from questions, or from demands. "They want to be treated as partners."
In the hall between sessions, Cyril Atchadé sounded a similar theme. Now that he has visited Durham, he said, he views his country's relationship with Duke differently. 
"Back home, some people think DukeEngage teams come, and they bring money for projects," Atchadé said.
"It's not just about money. It's about learning; it's about collaboration; it's about relationships."
Maintaining those relationships across miles and years can be daunting. Charles Piot, for one, has watched waves of Duke students come and go during his years of work in Togo.
"The students are wonderful, and that's one reason I keep doing this," he said. "They come, and they create a lot of excitement. But then they go home. So continuity is a challenge. We are working to develop local leadership to carry this work forward."
In the meantime, like many of his counterparts in other DukeEngage programs, Piot himself provides a key thread of continuity, returning to the country regularly. He's traveled to Togo several times a year for decades.
At day's end last Thursday, as Cyrille Atchadé and other international visitors headed out the door of the Marriott to see a bit more of Durham, Piot hoisted a black bag over his shoulder. A cab was idling nearby, just outside the hotel's glass doors. Overhead, thick clouds threatened one last icy rain.
"Excuse me," Piot said, with a nervous glance up at the grey sky. "I have a plane to catch."