Wallace Wade Scoreboard Gets Repurposed
Morris Williams Track and Koskinen stadiums get tech upgrade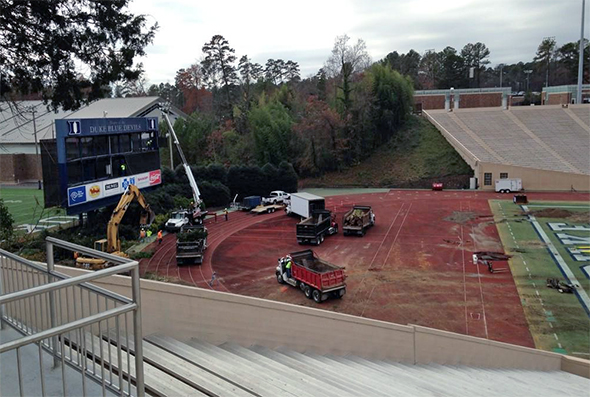 Two Duke Athletics facilities are getting a technology upgrade.
During the initial phase of construction at Wallace Wade Stadium in December, pictured above, crews removed the scoreboard to use at Morris Williams Track Stadium and Koskinen Stadium, where soccer and lacrosse teams host games.
Pieces from the old scoreboard, which was 19 feet tall and 67 feet wide, were split into two scoreboards and will have a new decorative framing around each. The new LED boards will be installed by the end of March on the south end of both Morris Williams and Koskinen stadiums.
"In the past, we've never been able to put up game stats at those locations, so this will be helpful to fans and the teams, especially with lacrosse," said Chad Lampman, executive director of the Blue Devil Network. "During penalty time, referees were strictly keeping time on stopwatches, so fans and coaches don't know when they'll rejoin the game. This will upgrade the whole game day experience."
In addition to stats and better time management, the boards will allow for the same capabilities seen at Wallace Wade Stadium, which includes live video and replays. The new scoreboard at Morris Williams Stadium will be 19 feet tall and 19 feet wide, while Koskinen will have a board 19 feet tall and 48 feet wide.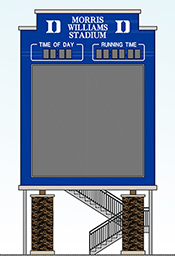 Artist rendering of new Morris Williams Stadium scoreboard.
As part of the Wallace Wade renovation, the football stadium will get a new HD LED scoreboard this summer that is 42 feet tall and 75 feet wide. The board will feature an improved sound system and graphics for live action video and replays that mirror the quality experienced at NFL stadiums.
Bob Weiseman, assistant director of athletics for facilities, game operations and championships, said repurposing the old Wallace Wade scoreboard for the two other stadiums will save Duke upward of $200,000. 
"We only used the Wallace Wade scoreboard for a minimal amount of time over five years, so it was still in great shape," Weiseman said. "Reusing it made good sense."