A Duke Grad and Grammy Winner
Eric Oberstein has been a part of two Grammy wins
Name: Eric ObersteinPosition: Associate director, Duke PerformancesYears at Duke: 2 years
What I do at Duke: I wear a variety of hats. I manage all our artist residencies and oversee campus and community engagement. That can include one-day visits by artists or yearlong residencies. I'll also write grants and oversee budgeting and strategic planning. We present upward of 70 shows a year at venues at Duke and in Durham.
If I had $5 million, I would: Pay off my student debt, then take all my closest family and friends on some exotic, international vacation, location to be determined. I'd poll everyone first, but hopefully it would be somewhere warm and scenic.
My first ever job: My senior year of high school, I worked at a recording studio in New York City in Greenwich Village. They paid me $6 a day and I got to learn a good deal about how albums were made. I'd take the train to work every day, but the $6 wasn't even enough to get me into the city and back. On my lunch break, I'd walk to Tower Records and burn my money on CDs.
My dream job: I'd love to run a performing arts organization with a strong educational focus. Perhaps one that brought artists to communities to help teach artists of all ages, but especially young people. A big, pie-in-the-sky dream would be serving young people in Cuba, which is where my mom's family is from.
If someone wanted to start a conversation with me they should ask me about: My unhealthy childhood affinity for Jim Carrey movies. Ace Ventura: Pet Detective was my favorite growing up. I did a lot of Ace Ventura impressions as a kid.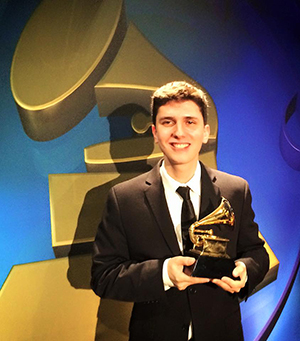 Eric Oberstein poses with a Grammy received Feb. 8 for his part in producing The Offense of the Drum, from Arturo O'Farrill & the Afro Latin Jazz Orchestra, which won Best Latin Jazz Album. Photo courtesy of Eric Oberstein.
What I love about Duke: I've considered myself a Dukie well before I enrolled as an undergrad in 2003. My cousin went to Duke in the 90s and something about Duke appealed to me. You see Duke basketball on TV and that was exciting, but when I came to my cousin's graduation, I was blown away by campus. 
The best advice I ever received: To be open to opportunities. I interned with Jazz at Lincoln Center in New York as a junior doing the Duke in New York program, and became a big fan of jazz pianist Arturo O'Farrill and the resident Afro Latin Jazz Orchestra. After I graduated from Duke in 2007, my brother got me a ticket to see the Orchestra's very first show at Symphony Space on Manhattan's Upper West Side, shortly after the ensemble had departed JALC and Arturo started his non-profit, the Afro Latin Jazz Alliance. After the show, I filled out an audience response card and wrote him a note telling him I was a big admirer, I'm half Cuban, and would love to help with his organization. About 10 months later, his wife emailed me, I began working with him, and a couple years later I became his first executive director.
Along the way, he invited me to produce some of his albums and we're working on our sixth now. We recorded a performance in June 2011 that won a Latin Grammy for Best Instrumental Album.
What winning a Grammy meant: I had been nominated for a regular Grammy and two Latin Grammys before, but never won. We don't get into music for awards; the real value is the opportunity to work with talented musicians whose work we respect and admire. It's a passion.