NC NAACP President, Concert Highlight MLK Event
Commemoration theme, 'Dignity Through Dissent,' pays tribute to John Hope Franklin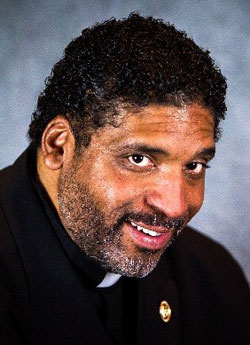 The Rev. Dr. William J. Barber II, president of the North Carolina NAACP and founder of the Forward Together Moral Movement, will deliver the keynote address for Duke University's annual Martin Luther King Jr. commemoration on Sunday, Jan. 18.
His 3 p.m. speech in Duke Chapel is part of a program that includes remarks from local and university officials, prayer and music and dance performances. The event is free and open to the public. Free parking is available in the Bryan Center Parking Garage.
Those unable to attend can watch a live stream of the event on the chapel's website. Viewers can post comments on Twitter using the hashtag #DukeMLK. An archive of the recording will also be posted online.
Other noteworthy events include a jazz concert, a two-day "Speak Up" on West Campus, students packaging meals for food pantries and a lecture. 
This year's theme, "Dignity Through Dissent: Demanding Civil Rights in a Modern World," honors the memory of Duke historian John Hope Franklin (1915-2009) as the university prepares to observe the 100th anniversary of his birth. Franklin is best known for his work "From Slavery to Freedom: A History of African Americans," first published in 1947, and continually updated. More than 3 million copies have been sold. In 1995, he was awarded the Presidential Medal of Freedom, the nation's highest civilian honor.
Barber, 51, has been a prominent advocate in North Carolina and nationally for economic justice and empowerment. Barber writes about the movement in his new book, "Forward Together: A Moral Message for the Nation" (Chalice Press).
Benjamin Reese, co-chair of the MLK Commemoration Committee and vice president of Duke's Office for Institutional Equity, said it is fitting that Barber, who has led many peaceful protests, is the keynote speaker. 
"As we reflect on the dignified and forceful moral dissent of Drs. King and Franklin, Rev. Barber is a living example of how the humanity and moral persuasion of a community can help bend the arc of justice," Reese said.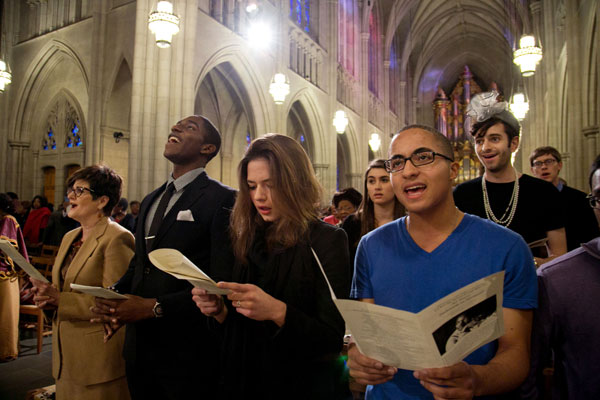 Participants join in singing during the 2014 MLK commemoration at Duke. Photo by Duke University Photography
Other highlights of the Duke Chapel program include performances by the University Choir of North Carolina Central University, the Collage Dance Company of Durham and remarks by N.C. NAACP field director Yara Allen, as well as greetings from Duke University President Richard Brodhead, Duke Hospital President Kevin Sowers and Duke Divinity School student Raquel Gill. 
A jazz concert honoring King, titled "Sounds of Justice & Inclusion," will be presented Saturday, Jan. 17, at Duke's Baldwin Auditorium, featuring performances by the Durham Symphony, the John Brown "Little" Big Band, Yolanda Rabun, the 100 Men in Black choir and the Shaw University men's chorus. Tickets are $10 for adults, free for seniors 65 and older and students, and are available through the Duke University Box Office, https://tickets.duke.edu or (919) 684-4444.
The concert will include music by African-American composers Duke Ellington, Scott Joplin and Durham Symphony Maestro William Henry Curry, jazz selections and spirituals. 100 Men in Black will perform "Lift Every Voice and Sing."  The concert is sponsored by Duke's MLK Commemoration Committee, the Office for Institutional Equity, Duke Chapel and the Office of the Vice Provost for the Arts.
Other campus events, which are all free and open to the public, include:
-- 8:30 a.m.-1:30 p.m. Monday, Jan. 19, Phail Wynn Jr. Student Services Center, Durham Technical Community College: Students from Duke and Durham Tech and members of the Rotary Club of Durham are coordinating a meal-packaging event, which is expected to bring 100,000 meals to pantries in the Triangle. The United Way of the Greater Triangle will distribute these meals to partner agencies in Durham, Orange, Wake and Johnston counties. Students should sign up for one of two available volunteer shifts: 9-11 a.m. or 11 a.m.-1 p.m. Bus transportation will be available from Duke's West Campus to Durham Tech. To register, go to https://duke.qualtrics.com/SE/?SID=SV_4ZLzCRsfTUIudx3;
-- Noon-1 p.m. Tuesday, Jan. 20, Duke Clinical Research Institute (DCRI), Lower Level Lecture Hall, 2400 Pratt St.: Wesley C. Hogan, director of Duke's Center for Documentary Studies, will deliver the keynote lecture for DCRI's annual MLK Celebration, titled "A Liberated Mind: Ferguson, Staten Island and Youth Activism in the 21st Century Civil Rights Movements." After the program, Hogan will sign copies of her book, "Many Minds, One Heart: SNCC's Dream for a New America." Light refreshments will be available in the North Pavilion Atrium beginning at 1 p.m. with a musical performance by Jessica Hall & Friends of Poetry. Paid parking is available in the deck. The H2 Loop campus bus stops at North Pavilion. Watch a live webcast or archived video of the program here.
-- 11 a.m., Sunday, Jan. 25, Duke Chapel: The Rev. Dr. Allan Aubrey Boesak is the guest preacher during the chapel's regular worship service. During the 1980s, Boesak worked alongside Desmond Tutu and Nelson Mandela to lead efforts in South Africa against apartheid and promote reconciliation. He is currently the Desmond Tutu Chair of Peace, Global Justice and Reconciliation Studies at Christian Theological Seminary in Indianapolis.
The commemoration will also include a two-day "Speak Up" event on Duke's West Campus.  An open microphone will be set up on the quad in front of Duke Chapel from 11 a.m.-2 p.m., Jan. 15-16, for all students, faculty and staff who want to give voice to their dissent in the tradition of historic sit-ins and protests. Participants can also share their comments on Twitter using the hashtag #dignitythroughdissent. For more information about the week's events, click here.