Home Energy Efficiency Pilot Program Seeking Duke Employees
Employee homeowners in Durham County may apply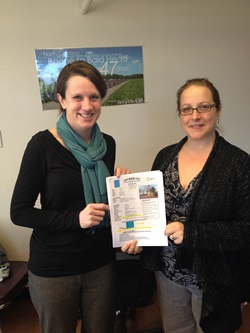 Duke University's Carbon Offsets Initiative (DCOI) has partnered with the Clinton Climate Initiative to bring a customized version of the Home Energy Affordability Loan program (HEAL) to a select number of Duke employees. The DCOI-HEAL program is offering free home energy assessments and Personal Energy Plans (a $500 value) to a limited number of Duke University employees in Durham County.
The program is designed to assist employees in making energy efficiency improvements to their homes through an easy, no-hassle process. By participating in this program, employees have the opportunity to save energy and money within their homes and help Duke University meet its goal to become carbon neutral by 2024.
"Working with DCOI and the recommended Energy Audit Contractor was an excellent experience," says Duke employee Arwen Buchholz, who participated in the first round of the program. "The entire process was managed efficiently and I learned a significant amount about my home."
Program details, program eligibility requirements, and an online application can be found at DCOI's Energy Efficiency webpage.
The webpage also includes employee experiences with the program to date, which has reduced energy usage an average of thirteen percent in the seven homes that have already participated in the pilot.
This is the second round of the pilot project and participation is limited to twenty Duke University employees.  Eligible participants will be booked on a first-come, first-serve basis.  Applications will be accepted through January 21, 2015. If you are selected to participate, you will receive an email with additional instructions by January 23, 2015 and invitation to a lunchtime orientation on January 29.
If you have any questions on the program, please contact Charles Adair, DCOI's Program Manager, at Charles.adair@duke.edu.