Global Health Leader Paul Farmer to Speak at Commencement
Commencement ceremony will be held May 10 at Durham Bulls Athletic Park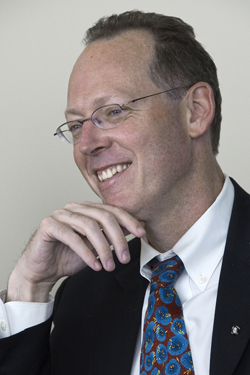 Dr. Paul Farmer, who has dedicated his life to improving health care for the world's poorest people, will deliver Duke University's commencement address on Sunday, May 10, 2015.
The commencement ceremony will begin at 9 a.m. at Durham Bulls Athletic Park and is open to the public. The event was moved from Wallace Wade Stadium because of renovations to the 85-year-old football stadium. More details on commencement are available at http://web.duke.edu/commencement/.
"At graduation, we want students to feel that their education has prepared them to lead significant lives in service to their world," said Duke University President Richard H. Brodhead. "It's hard to think of a person who could give this message in a more inspiring way than Paul Farmer. In Haiti, Rwanda, and most recently in the regions afflicted with Ebola, Paul has spent his life bringing the benefits of advanced medicine to places without the economic resources many of us take for granted. He is a great speaker, he'll have a powerful message, and he loves Duke. I'm delighted that he has agreed to be our commencement speaker."
Farmer graduated summa cum laude from Duke in 1982 with a bachelor's degree in anthropology. The next year he began helping dispossessed farmers in Haiti's Central Plateau while beginning work toward his Ph.D. and medical degree at Harvard University.
In 1987, he became a founding director of the international nonprofit organization Partners In Health (PIH), which provides direct health care services, undertakes research and advocates on behalf of people who are sick and living in poverty. Today, PIH has 12 sites throughout Haiti, and works in 12 other countries.
The development of Farmer's work in Haiti and elsewhere is chronicled in Tracy Kidder's book, "Mountains Beyond Mountains: The Quest of Dr. Paul Farmer, A Man Who Would Cure the World" (2003, Random House).
"His life and work really reflects Duke's emphasis on interdiscipinarity," said Ted Leonhardt, a Duke senior from Farmington, Connecticut. "It tells the Duke story, really, and shows that interdisciplinarity isn't something the university came to recently."
Nicole Krantz, a Duke senior from Long Island, said she appreciated having an accomplished Duke graduate as a speaker.
"We're graduating soon and starting this next chapter in our lives," Krantz said. "It really helps knowing this person was here where we are, and went out to really change the world."
Today Farmer is Kolokotrones University Professor and chair of the Department of Global Health and Social Medicine at Harvard Medical School, and chief of the Division of Global Health Equity at Brigham and Women's Hospital in Boston.
Farmer's recent writings include "To Repair the World: Paul Farmer Speaks to the Next Generation" (2013, University of California Press) and "In the Company of the Poor: Conversations with Dr. Paul Farmer and Fr. Gustavo Gutierrez" (2014, Orbis Books).
Farmer was elected to the Duke Board of Trustees in 2009 and serves on the Academic Affairs Committee and the Medical Center Academic Affairs Committee.
His numerous honors include the Margaret Mead Award from the American Anthropological Association, the Outstanding International Physician (Nathan Davis) Award from the American Medical Association and, with his PIH colleagues, the Hilton Humanitarian Prize.
Farmer is a member of the Institute of Medicine (part of the National Academy of Sciences) and of the American Academy of Arts and Sciences.