The Edge Opens, But Students Had Already Found It
New research space in Bostock promotes student research, team learning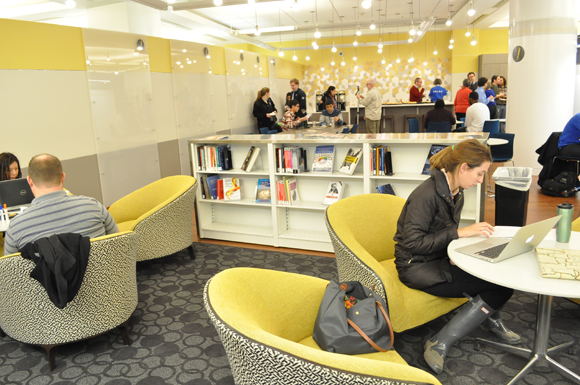 Maria Prebble, right, a second-year master's student in environmental policy, studies in The Edge's lounge area during the Open House on Wednesday.
The most impressive showcase of Wednesday's Open House of The Edge, the new research space on the first floor of Bostock Library, wasn't the project study rooms or data and visualization and textual analysis labs, but the mass of students who weren't there for the event but who were already using the research hub.
One week after opening, students are filling The Edge's study and research spaces, and the rooms for project teams. At the open house, students had filled the whiteboard walls with notes, while others were busy at the computers in the different labs. 
Deborah Jakubs, Rita DiGiallonardo Holloway University Librarian and vice provost for library affairs, welcomed the visitors to The Edge during the open house, noting the immediate popularity of the space. She said the space will meet the increasing needs by students and faculty for interdisciplinary, team-based, data-driven and digitally reliant research. (See a floor map here.)
The hub's staff will assist students and research teams in finding the right tools to use to explore data and present research. The walls are filled with innovated data visualization, such as maps showing the history of science fiction from Plato's The Republic to Star Wars, and graphs following the increase in research papers on autism. 
The images are part of a traveling exhibit "Places and Spaces: Mapping Science" with three locations on campus: The Edge, Gross Hall and Smith Warehouse. The exhibit will be up through April 10, and there is an opening reception for the exhibit on Jan. 21 in The Edge.
Below, Deborah Jakubs welcomes visitors to The Edge, at the open house Wednesday in Bostock Library.