Duke in Pictures: Veterans Day Commemoration
Community members gather for annual ceremony outside Duke Chapel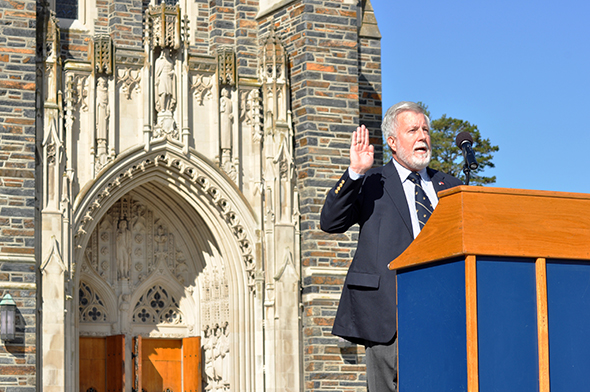 About 100 members of the Duke community and local veterans gathered Tuesday to take part in Duke's annual commemoration service for Veterans Day.
Above, retired Maj. Mike Snyder, safety manager for Duke's Facilities Management Department and a Marine Corps veteran, greets the crowd by reciting the Oath of Enlistment that members of the Armed Forces take when they enlist or are commissioned. Snyder spent 26 years in the Marine Corps, serving in both the enlisted and officer ranks between 1974 and 2001.
As guest speaker for this year's event, Snyder shared his story of how and why he joined the Marines as well as the value it's brought to his personal and professional life.
"The work ethic you develop in the military is one that is not easily, and perhaps never, surrendered," he said. "You work until the job is done. I believe it has stood me well here at Duke over the last 13 years."
In the Marines, Snyder served in headquarters, corrections, artillery, security and infantry units around the world, from California to Egypt, Germany, Japan and more. Before retiring from the Marines in 2001, he worked as the Marine Officer Instructor teaching military history with the Naval ROTC units at North Carolina State University, University of North Carolina-Chapel Hill and Duke.
Sponsored by Duke Human Resources, the event also featured remarks from Kyle Cavanaugh, vice president for administration.
"I ask that each of you here take a moment as you go through your day to think how fortunate we are to have men and women who dedicate themselves to secure freedoms we enjoy on a daily basis," he said.
Below, Duke-affiliated members of the Armed Forces salute a wreath placed at a memorial outside Duke Chapel that commemorates alumni who died while on active duty.
To see more images from this year's Veterans Day event, visit the Working@Duke Facebook page.