Commemorate Veterans Day with Duke Colleagues
Annual ceremony takes place Nov. 11 at Duke Chapel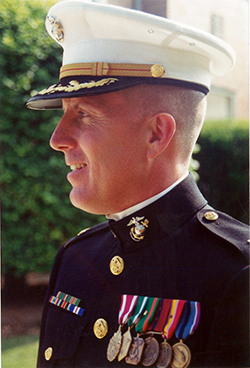 As part of Duke's annual tradition, students and employees will gather together Nov. 11 to commemorate Veterans Day.
Beginning at 11 a.m., on the steps outside Duke Chapel, the event will feature representatives from Duke's ROTC units, including the Army, Air Force and Navy. Along with Kyle Cavanaugh, vice president for administration, those gathered will hear from retired Maj. Mike Snyder, safety manager for Duke's Facilities Management Department and a Marine Corps veteran.
Snyder, who has worked at Duke for 13 years, is one of about 800 employees at Duke identified as a veteran.
"I'm humbled to have been asked to be a part of this and represent all the veterans we have at Duke," said Snyder, who spent 26 years in the Marine Corps, serving in both the enlisted and officer ranks between 1974 and 2001. "I hope I'm able to invoke good memories for all the veterans. Our title is worn proudly."
In the Marines, Snyder served in headquarters, corrections, artillery, security and infantry units around the world, from California to Egypt, Germany, Japan and more. Before retiring from the Marines in 2001, he worked as a Marine officer instructor with the Naval ROTC, teaching military history at North Carolina State University, University of North Carolina-Chapel Hill and Duke.
"Veterans Day is a day worth taking the time to express our sincere gratitude to the men and women who have served our nation," Cavanaugh said. "Their individual and collective efforts have enabled each of us to enjoy the many freedoms of our society and this is a small way to honor their commitment and what it's meant to our quality of life."
The half-hour program is sponsored by Duke Human Resources and will include light refreshments on-site after the ceremony.
Read more about Duke student veterans.